Many of us who enjoy the River Deben will have delighted at the sight of a seal swimming past or hauled out on the river bank. The predominant species on our river is the Common or Harbour Seal (see picture taken near Bawdsey May 17).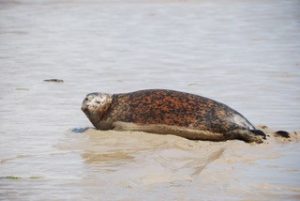 The Zoological Society of London (ZSL) has used public sightings to monitor seal numbers in the Thames Estuary since 2004 and this data has been supported by boat and aerial surveys done every August and September since 2013.
Harbour seals moult in August/ September and at this time spend much less time in the water so are easier to count. ZSL have shown a decline in Harbour Seals since the beginning of their surveys and many people have suggested that the Deben may have had a similar decline. We do not have any data to back up these views and so it was proposed at a recent River Deben Association meeting that we ask for the help of our members, or any other person who would like to take part, to report any Deben Seal sighting during August and September. If we get a good response we could repeat the survey annually to monitor our seals.
If you would like to report any seal sightings we would be most grateful if you could record:
The approximate position on the river.
The date that the seal was seen.
Whether it was on the bank or in the water.
If it was alone or in a group and the size of any such group.
It would also be helpful to know if it was a Harbour or Grey Seal.
There is a good guide to help identify seal species at: http://www.discoverwildlife.com/british-wildlife/how-identify-british-seals.
Please send information about any Deben Seal sightings to the RDA Email at sealsurvey@riverdeben.org