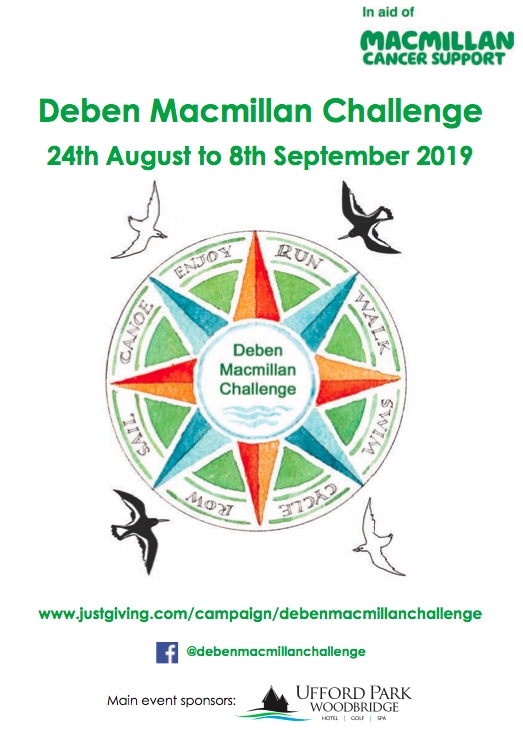 We thought that you would like to know about a major charity activity centred on the River Deben this summer in aid of Macmillan Cancer Support. You and your family and friends are encouraged to invent your own challenge around the river between Saturday 24th August and Sunday 8th September.
You can sail, swim, walk, row, run, canoe, kayak, cycle, paddle board, horseback ride, kite surf or whatever takes your fancy! There are potentially about 28 miles of the river Deben to cover and lots of places on the way where you can get your "passport" stamped to prove your arrival. The passport booklet will be available free of charge in each location and participants that collect all 16 stamps will be able to enter a prize draw. You can do as little or as much as you like and you can do it on 1 day or over many days. You can mix disciplines, you can do it alone or in a group. Just make sure you get lots of people to sponsor you in aid of Macmillan Cancer Support. In Suffolk, there are 4,600 people diagnosed with cancer each year and approximately 28,300 are living with and beyond cancer.
The challenge is being kicked off on Saturday 24th August at 9.30am at the Ufford Park Hotel. Anyone who is taking part – especially if they have a 'quirky' way of doing it – is welcome to join in. There will be tea and coffee and pastries. The Mayors of Woodbridge and Felixstowe will be setting everyone off on the Challenge. The end of the challenge is being celebrated in style with a Soiree on Saturday 7th September at The Old Rectory, Bredfield, IP13 6AX from 7 p.m. until midnight. Tickets are £40 each and there are tables of 10. There is a champagne reception, a 3 course meal, donation bar, Force Eight band, dancing and a raffle/auction. The final event will be a screening of 'Life on the Deben' on Sunday 8th September at 6pm at the Riverside Theatre. Tickets are £8 each – book through the Riverside. There will be a Q & A after the screening with Malcolm Hodd, Producer and hopefully John McCarthy. Profits from all the events go to the Deben Macmillan Challenge. To get you into the team spirit, T.shirts are available for £10 each from the main hotel reception at Ufford Park.
We attach the flyer giving more details about how to organise your individual event, the Passport, and details of the Soiree and here are links to the Just Giving and the Facebook pages:
Just Giving: www.justgiving.com/campaign/debenmacmillanchallenge
Facebook: @debenmacmillanchallenge
To download a copy of the Passport to collect your stamps https://drive.google.com/open?id=1Sa8rPf5bLh4ssaWVzxhcqEoZSB6ffdsF
To download a sponsorship form for offline donations https://drive.google.com/open?id=119mdFyMdKx8-bdOC5d_y-9VPrupI6ptm
To download information on how to pay in your sponsorship money https://drive.google.com/open?id=1XSuAIEcAUWkhFd9XepJFuG0rJ7DbmMK_
We look forward to cheering on those in Deben Macmillan tee-shirts in, on and next to the Deben during the fortnight.