Home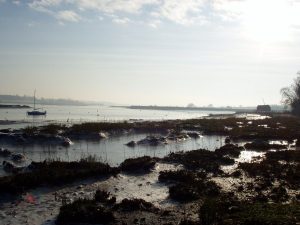 NB May 2016 – This website is currently being reviewed and brought up to date. Please bear with us whilst this is happening.
The River Deben in Suffolk flows through largely unspoilt countryside for nearly 25 miles from its source near Debenham to the North Sea at Felixstowe Ferry.  For about 13 miles, from Bromeswell (just upstream from Woodbridge) to Felixstowe Ferry it becomes a tidal estuary.
The river is a source of enjoyment for many.   Whether people sail, swim, walk the banks or watch the birds, the common factor is this unique river in its beautiful valley.  The RIVER DEBEN ASSOCIATION (RDA) was formed over 20 years ago as a strong local interest group to represent all concerned with the future of the Deben and its environs.  The Association now has over 900 members.
We initiate and support developments that will safeguard the river and its valley, and take steps to resist or ameliorate those that are likely to have a detrimental effect.  Where possible, we seek to reconcile conflicting interests and to be a voice for all river users.  We work in partnership with statutory and voluntary organisations at local and national level.
In 2012 we  carried a survey to find out how people use the Deben and what they like, or don't like, about the river and the area immediately around it.  Click the link river user survey results to see what people said.  The survey helps us to represent the views of people who use and enjoy the river, in our discussions as part of the Deben Estuary Partnership (DEP), and with local authorities and other local and national organisations.  The DEP, of which the RDA is a founding member, expects to publish the Deben Estuary Plan later this year.  
Click the links on the right for a map and photos of the Deben valley.
25th Anniversary 'Parade of Sail'
To mark the Anniversary there will be a Parade of Sail on Sunday 5th July
You are invited to join in the parade and afterwards at Waldringfield Sailing Club for a barbeque.
All boats are welcome and it is the intention to arrive off Waldringfield Clubhouse at 1500 hrs just before High Water.
Please start where most convenient but suggest Felixstowe Ferry or Woodbridge. On arrival circulate anticlockwise around Stonner Island (if draft of vessel allows).
The Excelsior Band will be playing at the Club to celebrate your arrival
There will be a limited number of moorings available for visitors. Please contact Mark Barton (Waldringfield Boatyard: 01473 736260) or Tony Lyons (Harbour Master: 07925 081 062).
The barbeque will commence at 1700 hrs two hours after the sail past and is intended to give skippers time to return to their moorings or if they prefer to anchor at Waldringfield before the barbeque. Yachts 'dressed overall' will add to the occasion. We will have a traditional jazz band playing from about 6pm.
So that we can estimate numbers please contact Peter Thubron (see below) with your name, telephone number and the name of your vessel with a brief description of it (special prizes to be awarded), before the end of June. If you are joining in the barbeque tickets are £10 or £8 for children 8 years and under. Please send a cheque payable to the RDA.
Peter Thubron, Turner Gardens, Woodbridge, IP12 4JD (01394 387 343, pjthubron@yahoo.co.uk).
Note: This is not a race so should not affect the insurance of your vessel but check with your insurers if in doubt. The RDA will not accept any responsibility for damage sustained during the Parade.
Sponsored by: