Where is 'Nellie' Now?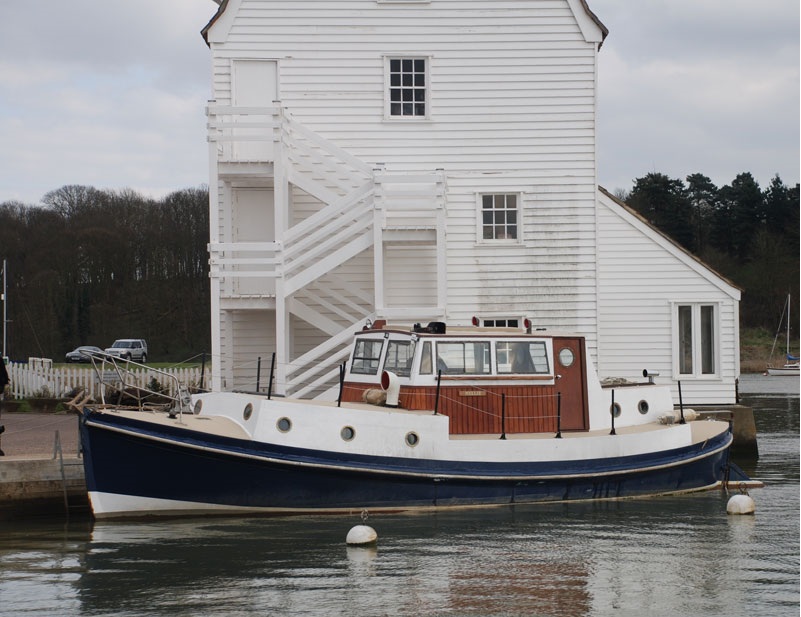 Nellie was familiar site to many of us, moored above the Horse Sand and then fore and aft in Woodbridge.  As Yacht Broker Tim Allen, her former owner says 'a character boat with a certain charm' (a euphemism for a porker if ever there was one!)'  Nellie was the home to several local people including a Felixstowe fisherman, an Everson's boat builder and a part time yacht broker. Sadly Colin Parish who lived aboard her with his dog Tegg drowned and she was then sold to Tim Allen of Temple Marine.  Tim sold her to the present owner Bevis Musk.
I had l always been intrigued by Nellie, her name and her attractive lifeboat lines topped with a rather 'in your face superstructure' and chimney.  Tim's daughter has aptly labelled her as a 'Postman Pat' boat.
I met Tim and Bevis in 2009 when Nellie was being refitted in Mel Skeet's yard.  Bevis told me that he wanted to sail her round Britain and write as he went. There were mutterings round the yard that this was an unwise thing to contemplate and that she would be soon be consigned to the deep. So how has Bevis got on?
When I met Bevis he had removed all the floors.  Perched on the side of Nellie's wheelhouse he showed me Nellie's massive engine and recounted her history*.
Nellie was built by JS White of Cowes in 1932-33.  Her full name is 'The Nellie and Charlie'.  Her 'benefactor' Mr Neil Robertson of Pitlochrie named her after his wife and cousin. She is a Liverpool Class Two single screw life boat of which only 12 were built.  She has the order number 746 carved into the bulkhead and her weight is 6 and 74/100 tones also carved on the bulkhead. The original Bill of Sale was for £3416. She was built traditionally in double diagonal mahogany over Canadian elm ribs on a teak keelson with English grown bent oak stem posts.  (Oak specifically grown in a bend for the RNLI).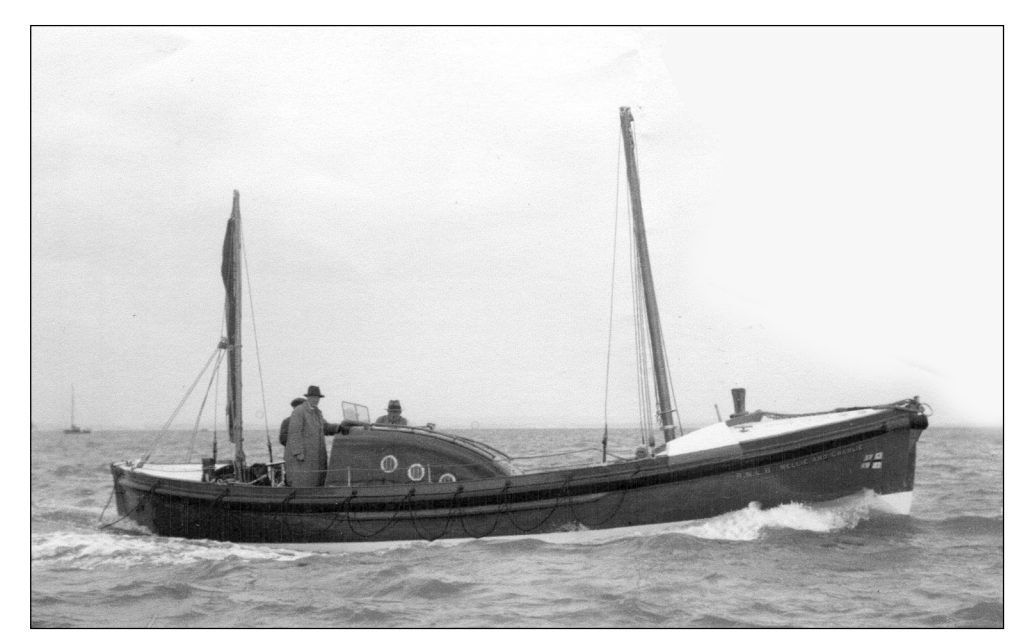 She was shipped to Dundee on the SS. Lugar and then sailed round to Anstrutha on the east coast of Scotland.  Nellie in those days had a 35 hp Weyburn petrol engine together with auxiliary sails.
Nellie served as the Anstrutha lifeboat between 1933 and 1950 and is accredited with 72 lives saved.  Although, as Tim says, the figure is likely to be much higher as 'shouts' in the war, involving army and navy personnel, were often not recorded for propaganda purposes.  In the early 70's she was worked by two brothers farming seaweed off Shoreham selling it for iodine. Later she was converted and the stern cabin added with an open hold in the bow.  The bow cabin was added later.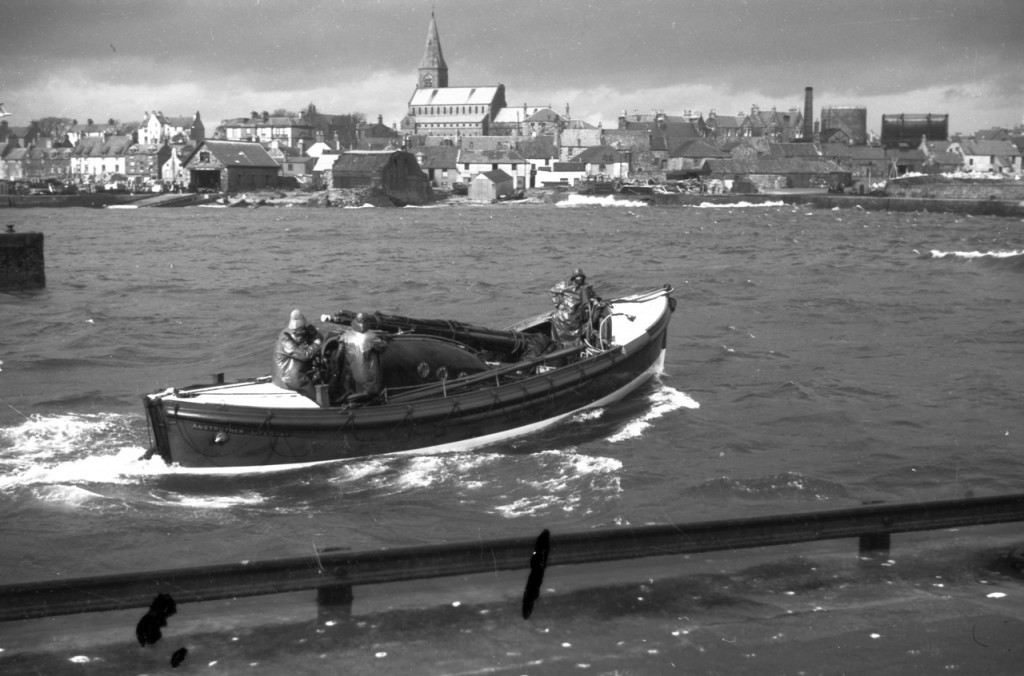 When Nellie moved to the Ferry she served as a houseboat and also a yacht.  Tom Goulding, who worked for Eastern Counties, installed the 130 hp Leyland bus engine.
After Bevis Musk bought her, Nellie was out of the water for 18 months at Mel Skeet's. Bevis worked to get her ship shape and reconditioned the engine – getting married in the meantime. The hull was surveyed and found to be 'literally as good as new, 75 years on with 'dust in the bilges'.   When she was put back in she did not take up any water.
Bevis decided to go to Bristol via the Thames.  Nellie motored happily to Reading where she made the rest of the journey to Bristol by road.  Nellie is based in the old Sharpness Dock now a marina on the Gloucester and Sharpness canal.
Bevis's story is as good as Nellie's.  Latterly he was making carbon fibre parts for Grand Prix cars, including many of the wheels. He was particularly associated with the F1 Williams Team.  His current business makes carbon fibre wheels for military vehicles.
Bevis fitted out the forward and main cabin and wheel house; installing a dry and wet locker. He has fitted a calorifier and a marine hot water system.  He is in the process of restoring the external fabric of Nellie and is replacing her cork fenders which have rotted.  These will be replaced 'like for like' but will be hollow and made from carbon fibre.  They will have automatic valves to pump out any water and this should help Nellie's stability in rough weather.  While Bevis is hopeful of finding the original mast and sails, he is preparing to make a new mast out of carbon fibre which would be much lighter than the original.  Bevis has also fitted an air filter system which is normally fitted on racing cars.  Bevis says this makes the engine quieter and smoother.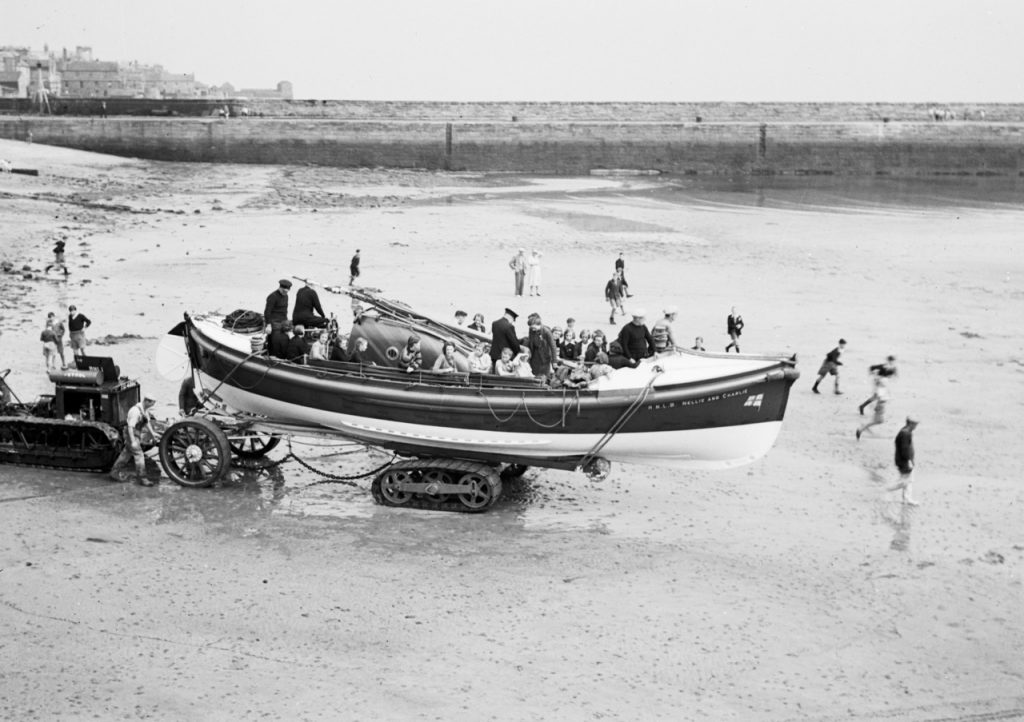 As Bevis says, part of the enjoyment of owning a boat like Nellie is that he meets so many interesting and good people.  He has met one of the original crew members who recognised the boat and also an elderly lady who was present at the ceremony when Nellie was commissioned in Anstrutha. Nellie is registered with the Historical Society and is much in demand at Festivals.  Bevis has been asked to organise a display of lifeboats at the Historic Ships display as part of the Bristol Harbour Festival.  At one festival Nellie was united with her sister ship Always Ready No 748 who she hadn't been alongside since they were built in Cowes together over 75 years earlier.
And for those who doubted her seaworthiness, Nellie has just completed a 1000 mile voyage round the Isle of Man, Holyhead and the coast of Wales, Lundy and Cornwall.
She came up the Bristol Channel after a force nine gale.  'She rolled terribly for six hours but she gets there.' says Bevis.
So built in the south, Nellie served in the north, became a houseboat in the east and is now completing her journey in the west – a  wonderful story of 'renewal' if ever there was one.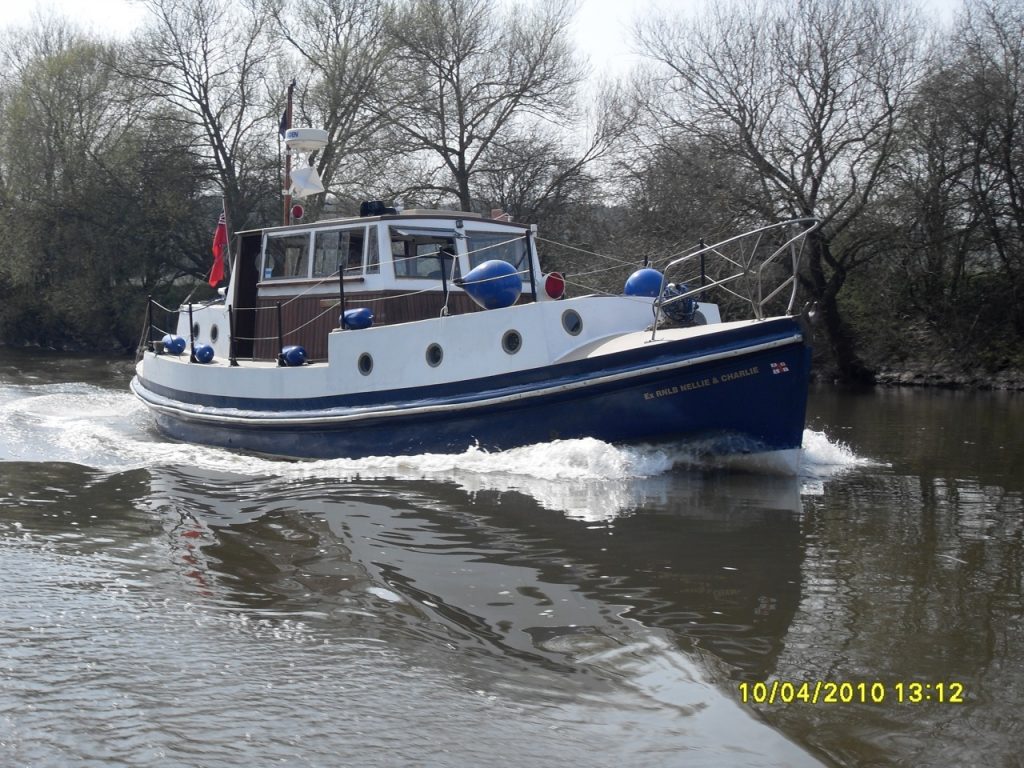 David Bucknell
* Thanks to Tim Allen of Temple Marine and Bevis Musk for the story and the pictures.