Artists of the Deben
Ron Wragg
It is appropriate that Ron Wragg should start this series as he has provided many of the illustrations for the magazine. He does not charge for this work and has given the RDA the copy write. Currently, we do not have all his pictures and consequently the need to repeat the ones we do have has not done his work justice. Ron is also a wood carver.
Three examples of his work are below (double click on the images to enlarge).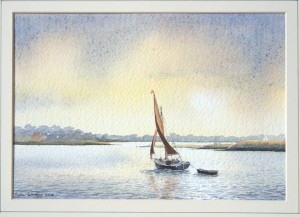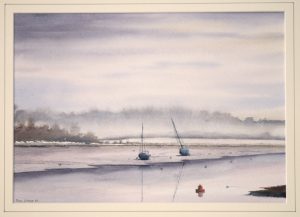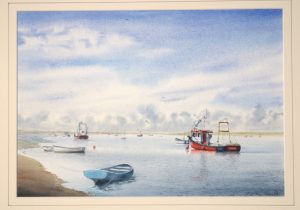 In 2006 he wrote: 'My affair with Deben began in the mid 1950's. I was a teenager and a pal of mine suggested a jaunt. I rode pillion on his motor bike and went for the first time to Felixstowe Ferry. I was a town boy, brought up near the busy Ipswich Docks, full of majestic Thames barges. By contrast Felixstowe Ferry with its little fishing boats looked quaint and old fashioned, and pleasantly scruffy. I recognised the hulls of half a dozen old flying boats, wingless and propped up on the shore where now the house-boats are moored. I still found them exacting because I loved aeroplanes. We wandered round, lost in a world that seemed slow and comfortable, governed by tides and not clocks.
Since then, I have at various times walked almost all the west bank and quite a bit of the east bank from Ufford down to the sea. I've swum it, sailed on it. As an amateur photographer I have taken many photographs of the Deben, in all its moods and tides, and used many of the photographs as material for my paintings. My wife, waiting in the cold for me to take another shot, claims I have taken that picture on a previous occasion, but it is not true – every time I see the Deben there is something new to see- the light, the tide, the weather, the season. I think my wife is going to get cold on many other occasions because I don't think will ever tire of taking photographs of this lovely river.'
Ian Moore
'Living in Bawdsey and working full-time at Felixstowe Ferry Boatyard requires a commute by rowing boat or a long drive on stormy days, however, my part-time occupation is based at my studio Butley. I paint mainly in oils, the majority of my work being depictions of elements within the coastal landscape, both locally and, and on the Hebridean Islands which I visit annually.
Recently I have been concentrating on trees and hedgerows in local landscape. Accuracy of colour and detail are important to me, I describe my work as 'painterly realism'. Available and past work can be seen on my website at: www.ianmoorepaintings.co.uk
Ian also made the clinker built rowing boat he uses to cross the Deben at the Ferry. If you need to learn about how to cross the Deben in different conditions including gales, wind against tide – watch the course Ian takes to make the journey. As someone said to me it only takes 'Three good strokes to get across!' If you understand their meaning
Paul Bruce
'My love and affection for the River Deben goes back to the 1950's. At the age of seven my father had a houseboat at Felixstowe Ferry. It was a converted Naval Cutter lying in a mud berth behind the boatyard along with about seven other houseboats that were being used for holidays and weekends. Along with two of my cousins, we spent summer holidays exploring the creeks and the banks around Felixstowe Ferry. When I became old enough to own my own boat I sailed from Woodbridge and in 1975 I purchased 'Windhaver' a fifty foot Dutch fishing Botter which laid in the corner of Woodbridge Quay for 25 years. When I was in business I used her as a weekend retreat along with sailing my 20 foot gaff rig Hillyard, 'Twinkler'
In the mid 1990's I acquired a mooring at Ramsholt having sold Twinkler, and moved on to a more manageable craft. Over the years the intrigue of the Deben, changing light and amazing colours has inspired me to paint every aspect of the river.
In 1993 I had a one man show at the Haste Gallery in Great Colman Street, Ipswich entitled 'The Deben and Beyond'. Also, during these years I staged exhibitions on board 'Windhaver' with contributions being donated to the RNLI. The sunsets especially, from my mooring at Ramsholt are absolutely remarkable and I have been fortunate enough to exhibit some of these subjects with the Royal Society of Marine Artists at the Mall Galleries in London, along with sculptures which have also been inspired by the Deben. Some of my paintings can be seen at the Ramsholt Arms, mainly of the Deben shoreline.'
In future the magazine will feature artists including Simon Read, Margaret Wyllie, Hugh Webster (who paints from a hut at Felixstowe Ferry and who has an exhibition at the Peter Peers gallery starting on the 11 October). John Barham, Paul Reeve who has painted the Ferry on many occasions, Caroline Poole and others.