By Sally Westwood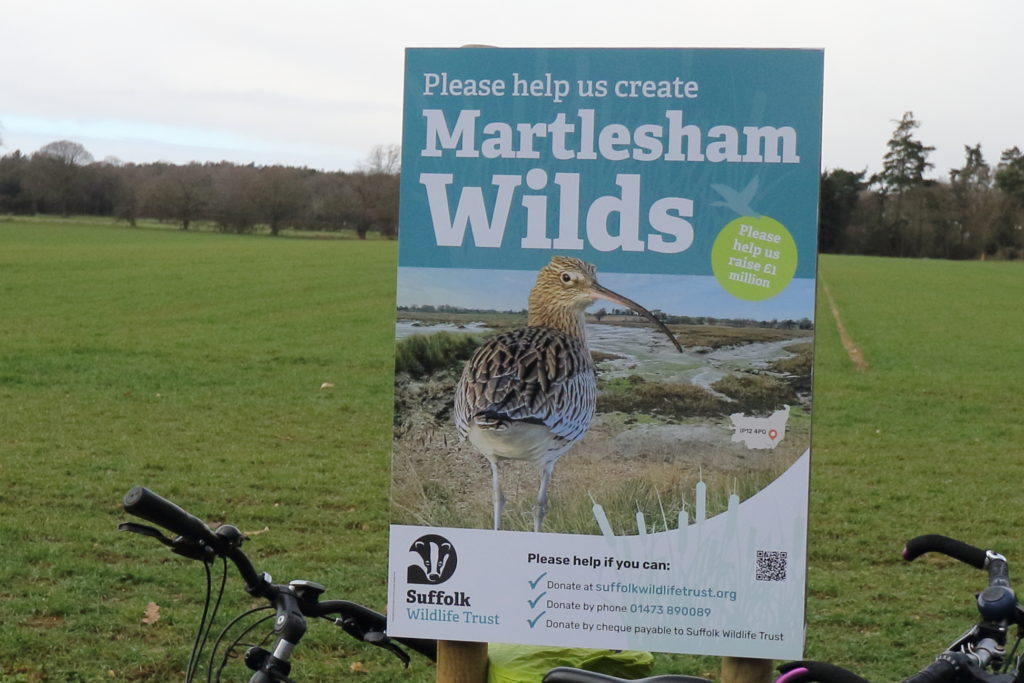 Martlesham Wilds Bill Board.
I popped along in the car, the day before my arranged walk with Suffolk Wildlife Trust's meeting point for the Martlesham Wilds walk, at the car park for St Mary's Church, in Martlesham. I scanned the field to the right of the car park and spotted four Curlews, two at the edge of the field, and two more in the centre of the field. I could see a pair of Geese in the distance, in the same field but could not identify them without my binoculars. This looked promising. Curlews were in residence, feeding near Martlesham Wilds. It was farmland, a stone's throw from the River Deben.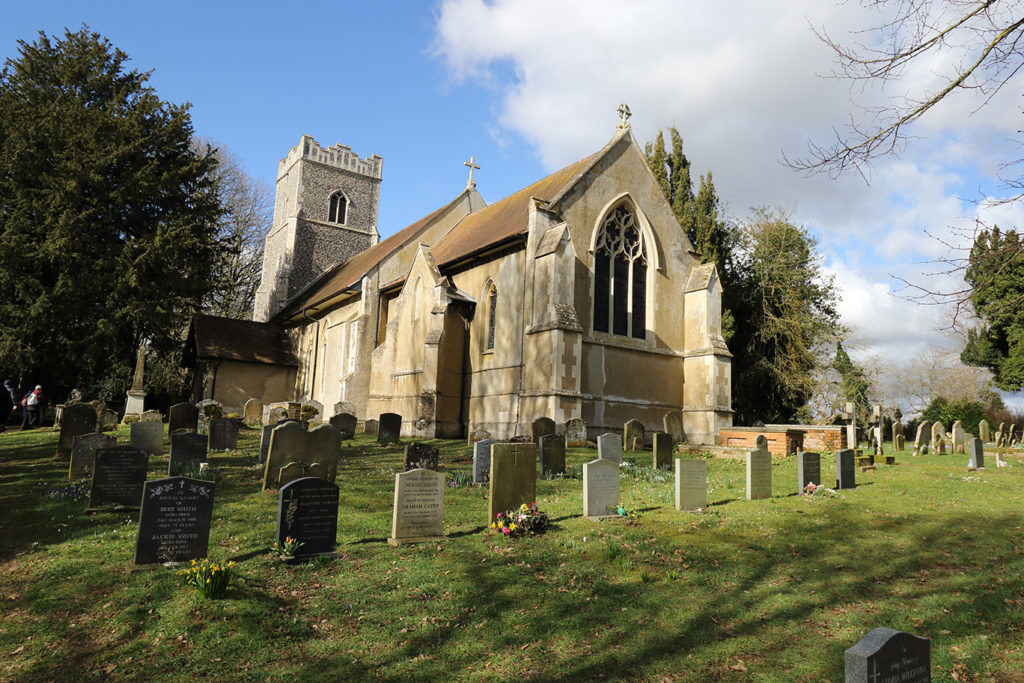 St Mary's Church.
I arrived for the walk, the next day. The car park was full. There were about 30 people gathered, ready for the walk. We would be stopping several times along the walk, and given details about the farmland, the new nature reserve, and the fund raising for the reserve. We walked through St Mary's Church into the reserve. I noticed the purple flowers surrounding the grave stones, like a soft, gently swaying, purple carpet.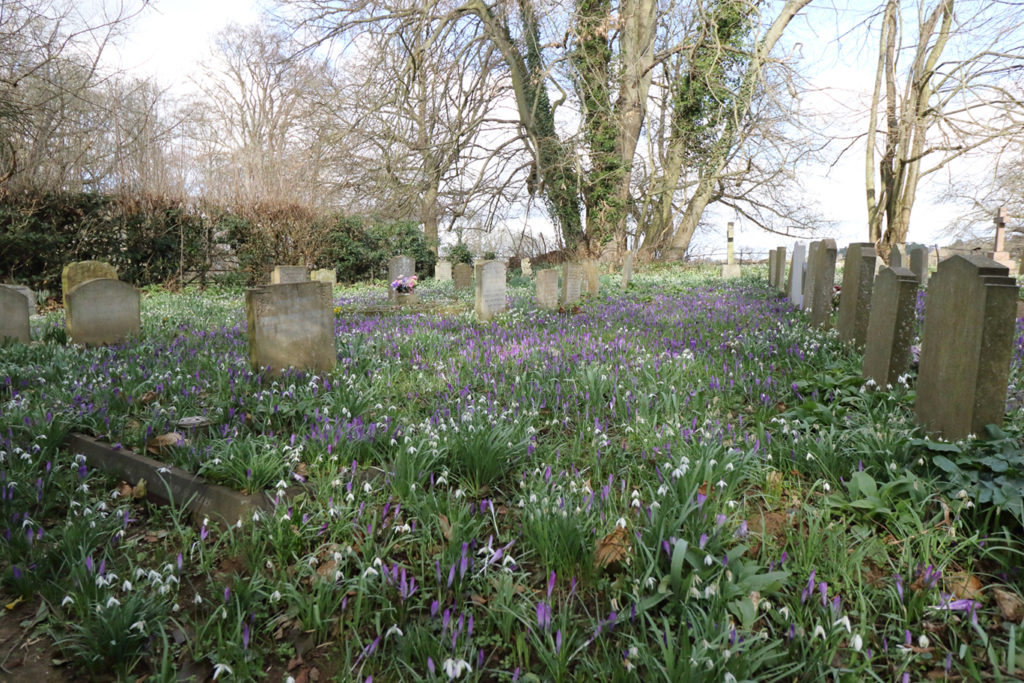 St Mary's Church flowers.
1. Introduction to Martlesham Wilds
We arrived at our first stopping point along the pathway. We had a good vantage point for the whole reserve, and what was included. Martin explained he had been working with Charlie on the campaign for Martlesham Wilds for some time. Many people had asked Martin the question, "What is Martlesham Wilds?" He explained:
"Everything that runs up the field to our left, down to Martlesham Creek. Everything behind us, to the right, running up to the fields into the tilled field behind the meadow. There is an ancient woodland, called Lumber Wood, which is a county wildlife designated site, which has botanical interest. The site runs up to the old farmhouse, which will remain. The farmhouse is not a part of the reserve. The reserve runs all the way down to the River Deben, three or four fields down to the river wall."
Martin described the history of the land:
"The farm was owned by John Simes. He has farmed the land all of his life. He joined Suffolk Wildlife Trust, as a member in 1965, perhaps as a teenager. Through his tenancy of the farm, John has left many natural features, which are going to provide amazing seed sources for this place to wild up."
The reserve has a variety of benefits for wildlife, which for me is one of the major reasons why Suffolk Wildlife Trust wanted to take on ownership of the land. Martin described the beneficial aspects of the reserve, it has:
"Beautiful, thick hedgerows, diverse species, and a county wildlife woodland site, which is in a decent status … down on the marshes, we've got reed-bed, grazing marsh and salt marsh, [and] they are in a decent state."
The farm has been operating as an organic farm. Martin pointed out, for example, that, "an unimproved meadow [to our right] has never received any pesticide or fertilizer, so it has interesting flora".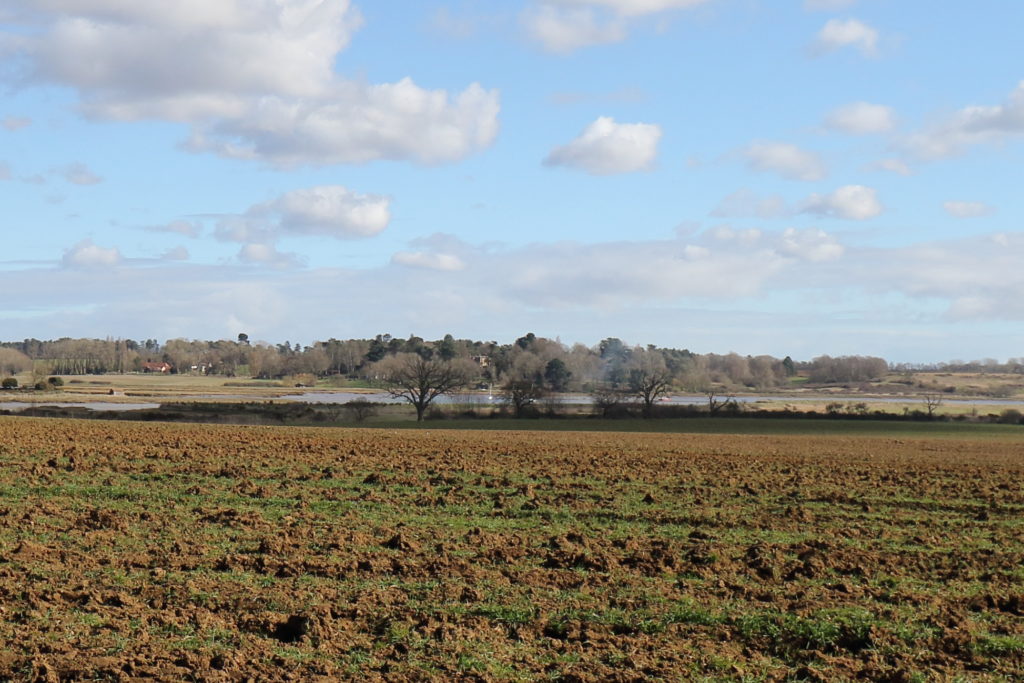 An organic field.
The details about what was expected to happen to the land, once farming ceased, were interesting and full of opportunities and possibilities for nature, to take over as it wished. Martin explained:
"As we allow these agricultural fields to do their own thing, led by nature, it's going to be really fascinating, to see what emerges through the soil, not just because of the seeds that are in there, but because as you can see from a Suffolk landscape point of view, there's quite a lot of character here. We've got different facing slopes, aspects of slope, undulations, bits that are shaded, and bits that are very exposed, different conditions, different micro-climates throughout this place. From our experience wilding other parts of nature reserves in the county, we know that it will have benefits over short periods of time for certain species. We might have corners where there are a proliferation of thistles, for say three years, which will bring in Goldfinches and Linnets and then it will change to something completely different."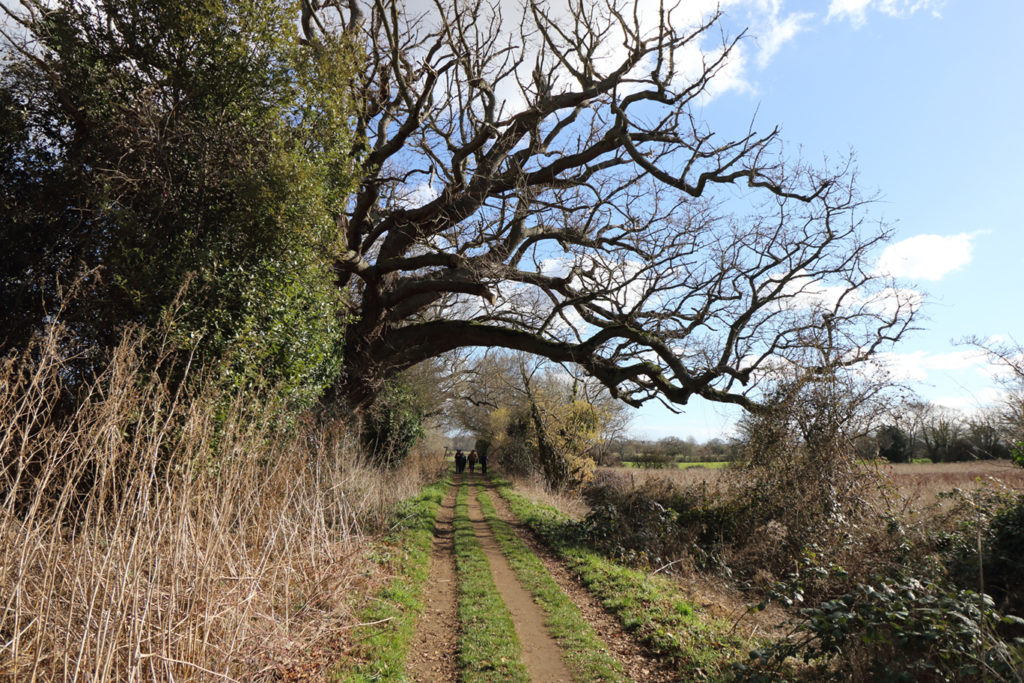 He reassured us that nature would take it's own course:
"It is okay just to leave it to nature. We have some idea as to what will happen, as we have seen it happen before, at other places, but we don't know exactly what's going to happen or when it is going to change. This makes it a really exciting, a land of possibilities."
People can monitor the changes to the land, by visiting the land at different times:
"We encourage people to come down every six months or so, over the next five to ten years because it will be changing all the time. You will start to see a break up of hard lines in the landscape as growth occurs and starts to slowly creep out and meld and blend. It will become a lot softer on the eye."
A lady asked if any trees would be planted in the reserve: "As policy" Martin replied, "as a Trust, we don't plant any trees for landscape purposes."
Martin explained how interesting it would be to watch the land change, over time:
"It would be really interesting to watch and study, because we've got not only the lumber wood up there, but as you probably saw by the car park, the wood all along the creek, which is a mature woodland. Then we've got the woods at the back, which you can walk through up to Tesco. This is a vast woodland with a great variety of species, in theory, you've got every seed around. We would expect the seedlings to appear, just next to the edges of these old oaks, and they will either be blown in by the wind, or squirrels or Jays might plant them. Badgers also plant seeds. We don't know where they would appear, but it is likely they would feed in from the parental species. There is also evidence to suggest that the pair of trees, the mature trees would look after their own species near them and the fungi would connect beneath the soil to create the correct conditions. If we were to plant trees in the middle, in times of drought they would not thrive. We will have droughts, so by letting the older trees nurture the newer trees, hopefully they'll have more chance of survival. Time will tell, but we haven't carried out any survey work yet. Land survey's would start in the spring."
A man in the group, asked: "What about grazing, will there be any?"
Martin explained that strategies for the site were in early stages, but there might be some grazing in time:
"Currently, we have got no fixed plans, but we are working out what the strategy is for the site, including a philosophy. What one might expect when engaging in processes of 'wilding' especially on a scale like this, bringing in large herbivores, the chances are we will probably introduce some grazing, but to what extent and how we would do that is not decided yet, because as you will have seen already, there are lots of people who use the site, and it's proximity to a huge population, from a Suffolk point of view, Ipswich,"
"Martlesham and Woodbridge. We have got to balance those needs out, but there is terrific potential for grazing here."
Martin described the location of the reserve:
"For those of you who don't know the area, we have got Martlesham Creek just here, down that way is Woodbridge, which has a large population. We've got Martlesham Heath that way, another large population and then Kesgrave and Ipswich. We've also got Waldringfield, and further down there is Felixstowe. This is really exciting, with many people living nearby who we can reach out to and help them to discover nature and learn about nature. People who wouldn't even know what a Nature Reserve is, let alone visit one. It really opens up a lot of opportunities for Suffolk Wildlife Trust being here, including people management, we will have to see how we go."
Martin added, "Just to finish off, … I started off by talking about John Simes and went off at a tangent. This parcel of land came on the market out of ongoing farming concerns the year before last in actual fact."
2. Greater amount of territory and increased species
In the second talk further along the path, towards the Deben, Martin introduced the species that might benefit from the new reserve:
"We'll talk about some of the species we know exist here, and what we were hoping bring back in abundance. The site is terrific for birds on the estuary, like the wintering wildfowl and waders, which we hope to see today, and the tide's out. What we hope to see in terms of birds on the land and bring back some of those farmland bird species that are drastically in decline, which are Linnets and Yellowhammers, and in time once the scrub starts to grow, some more rare species might appear, like Nightingale, and Turtle Dove. It depends on what might happen with the health land. There is a chance the Dartford Warbler might come. But that might occur in fifteen to twenty years time."
More roosting and nesting sites will be availabe:
"We know there are Turtle Dove and Nightingale on the other side of Martlesham Creek. So they haven't got far to come. They are going to have a much greater amount of territory in which to find appropriate nesting, roosting and feeding habitat. It is a brilliant site all ready for reptiles and amphibians. We have slow worm, grass snake and common lizard all ready here. We have seen a dead snake here a few weeks ago, unfortunately. We are really excited about the invertaebre life, as you can imagine. Once this land is left, and the ruderal flowering species come up, its going to be amazing for all kinds of Hoverfly, bees, wasps, beetles. These insects will provide the food source for everything else to come along."
In recent years, Suffolk Wildlife Trust has managed to take on other farmland for rewilding, which could be used as a snapshot of what Martlesham Wilds might look like, in the future:
"If you want go and see what Martlesham wilds might look like, in three or four years time, go to Foxborough Nature Reserve, which used to be foxborough farm, at Melton, just on the other side of Woodbridge. That was taken out of agricultural tenancy, about nine or ten months ago. That reserve is about nine months ahead of this one. There is also Blackbourne Valley, which is in the centre of Suffolk, near Norton and Thurston. That has been rewilding for about six years and some parts of the nature reserve have been rewilding for longer than six years."
Other farmland taken on for rewilding includes "Arger Fen down near Assington, in the south-west of the county" which started to rewild in 2004.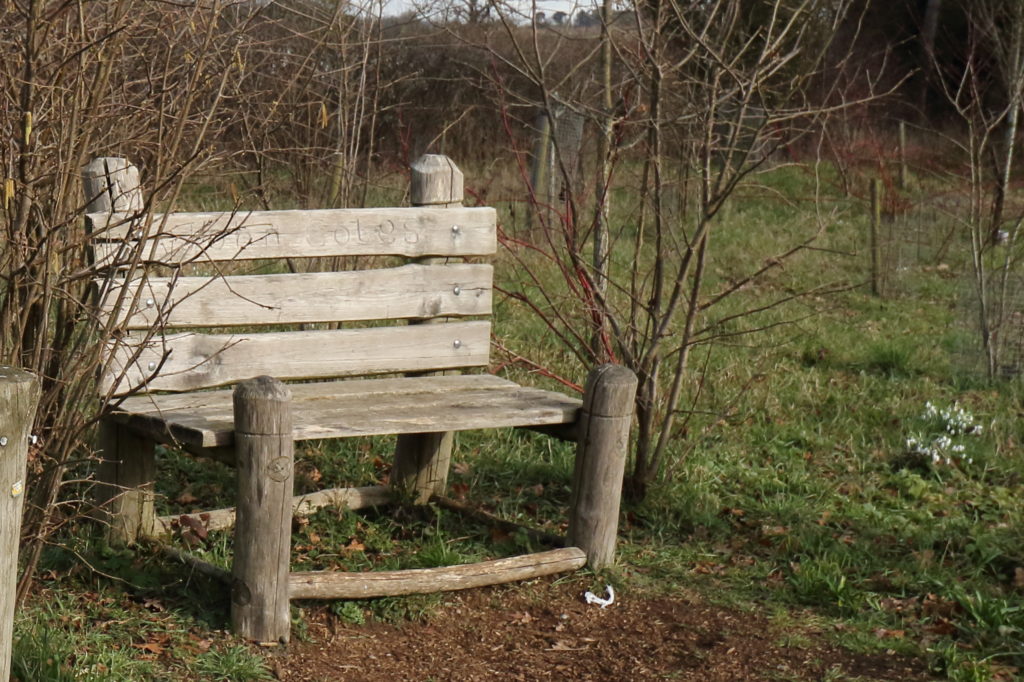 An inviting bench.
Martin pointed out that these reserves offer an idea of a time line for rewilding:
"You have a few nature reserves to go and have a look at. The soils will be different and each site will be slightly different, but you can get a sense of the space that's been managed. The process of rewilding is a rare occurrence for us to take part in."
Charlie explained the difference in Martlesham Wilds and the other sites:
"This farm has been farmed organicallyfor the last fifteen years. Therefore, the rewilding could occur much faster and could be more abundant faster, time will tell, but it's a really interesting experiment, particularly with Foxborough which has fairly similar soils, and is a fairly similar comparison and just looking at them a year ahead. Will Martlesham wilds follow these other nature reserves or will it lead in the rewilding process?"
Someone asked "Why wasn't this bought by another farmer? Wasn't it profitable? Or is it too difficult?".
Charlie replied:
"It didn't sell, it was on sale as farmland for months and months, before Suffolk Wildlife Trust became aware of it. I don't know. I walked here for years and I always called it the 'gleaning fields' because I found crops just lying on the soil. I wondered why they were lying there. I don't know if supermarkets have been treating them, as supermarkets do, making it untenable."
She continued:
"This area used to have a cricket bat willow tree. We've been told from people who know the site about ten or fifteen years ago, it was harvested and these trees were planted. So these trees are about that old, and they have survived and are doing well. It's lovely walking through here in the summer. We've come down a public footpath, but if you do want to come back, there is another public footpath that goes up there [towards Lumber Wood]. The trees have survived [considering] it is quite a wet space."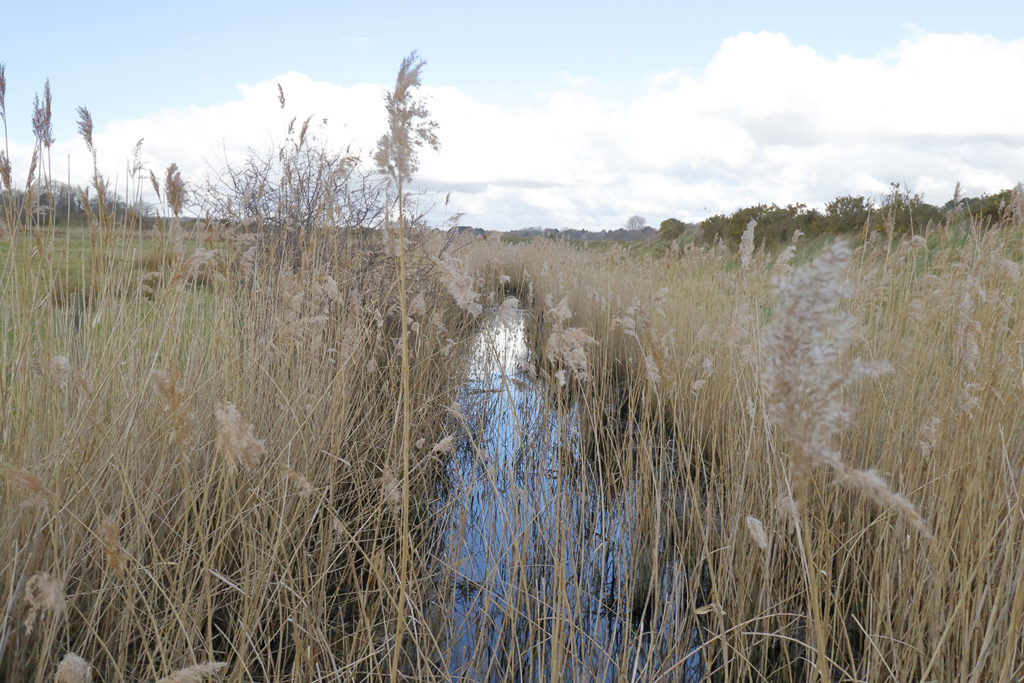 3. Grazing marsh and river wall
We walked along a natural pathway bordered by gorse bushes. Martin said, "It is a wonderful heat trap in the spring and summer. It's a good spot for Hover Flies and butterflies".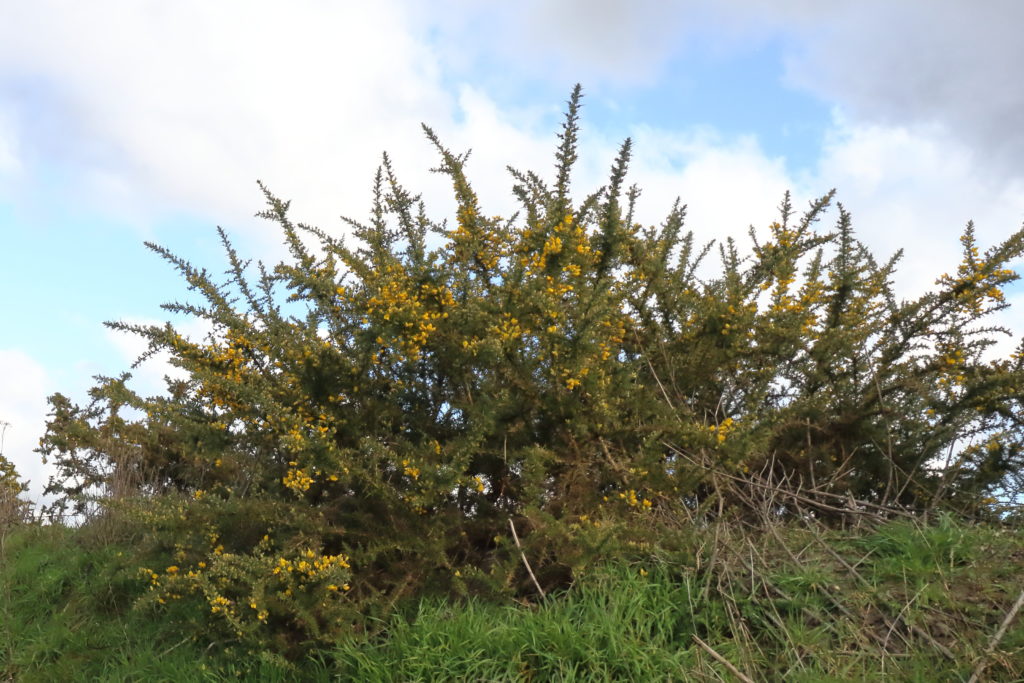 Gorse.
We stopped for the next talk in a large grazing marsh. Martin indicated towards the river wall and explained:
"That is an internal river wall that was created by John Simes [the farmer] to prevent the saline tide from coming in, and destroying his crops. The gorse indicates to us, that there is quite a lot of health land opportunities, here."
Charlie pointed out that everywhere, all around, there used to be heathland, and it is still being grazed and built on. This is a really valuable habitat that locally has been lost at I think, an alarming rate. At worrying rate, particularly habitats for grass snakes, nightingales.
Martin told us about the flooding through the river wall into the marsh:
"This area has been grazed by sheep for quite a few years. A designated footpath runs along the river wall. But you can't get any further than about a half a kilometer to the right, because the river wall was breeched there, and the tide comes in. This whole grazing marsh can be flooded with high tides, and certain conditions. There are some really attractive opportunities here, not just from a wildlife point of view, but from a climate point of view for the trust, because we can look at the creation of salt marsh."
By allowing this area to flood we are taking pressure off Woodbridge for future flooding, but also the more the roots are submerged in water, the greater the amount of carbon will be locked into that soil. This means we would be taking part in a small way for climate change too.
Martin highlighted the important of the grazing marsh for wading birds and wildfowl:
"We have considerable experience managing similar habitats of grazing marsh elsewhere in the county. We know there is an interesting aspect to wading birds, and wildfowl. Whenever we see them, we think about them on the estuaries, but actually what happens to the birds when there is a high tide. People don't think about that. The birds need to come inland and they need to find suitable habitat to roost and to feed. We are considering putting in some large open water bodies, scrapes, and drainage ditches. We'll be looking at the whole hydrology of this site, to improve it for these international important waders and wildfowl, to give them refuge for somewhere to come, and raise chicks."
4. Down at the riverside and species on the water
The tide was out. A swirl of a channel was fringed with wading birds, here and there. Martin explained the future possibilities for the salt marshes and the species present on the mudflats:
"We are hoping to provide a lot more scrapes for the bird life to have the opportunity to breed, feed and develop here in the salt marshes. We also will be looking at the water quality here, as the water quality in the River Deben has definitely declined during the last decade. There are probably about ten species here at the minute, like Wigeon, Teal, ducks, Redshank and Cormorant, there's an Avocet over there, and Black tailed Godwits."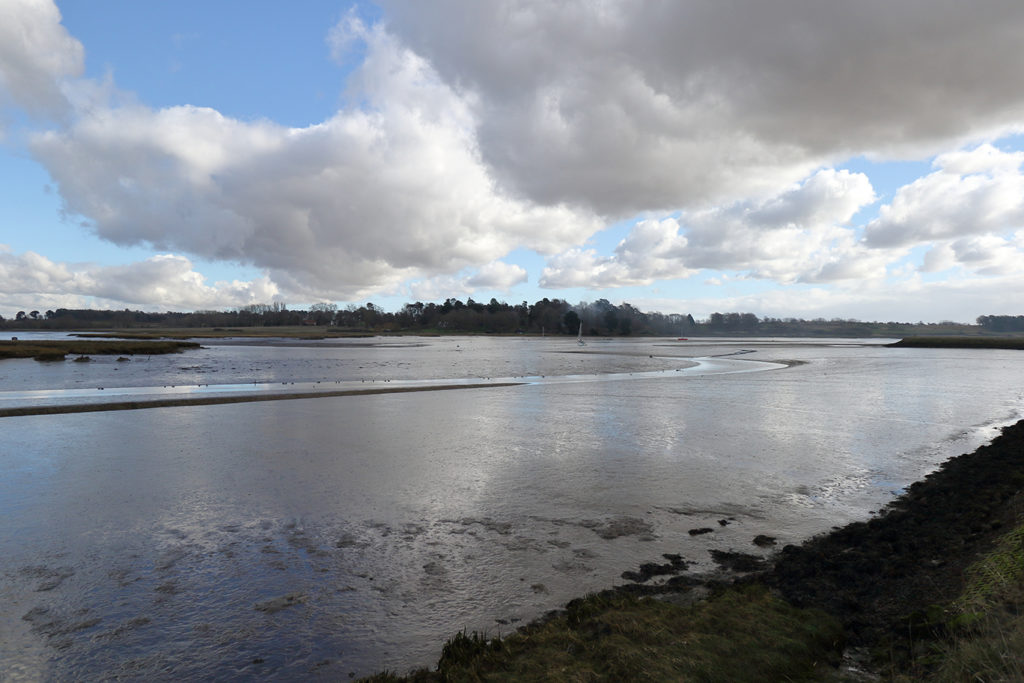 Mudflats (north-east).
Martin talked more about the location and interaction with local landowners:
"Sutton Hoo is on the other side of the river, over there. I think what this is for me, is the connectivity in the landscape. You've got Martlesham Creek all the way up into the Finn Valley, which runs all across the northern edge of Ipswich, which has got some terrific semi-natural habitats. You have the whole river estuary. There are a number of land owners on the other side of the river who the Trust have been advising recently on their land. We are building an advisory force to work with farmers in groups, across the county. With people who want to do more for wildlife with their land. This connectivity in the wider landscape is crucial for the reserve, as a hub from which species can come out to and for species to find their way here, and take up residence here. It offers a superb opportunity both for wildlife and, as I hope for people like yourselves as well."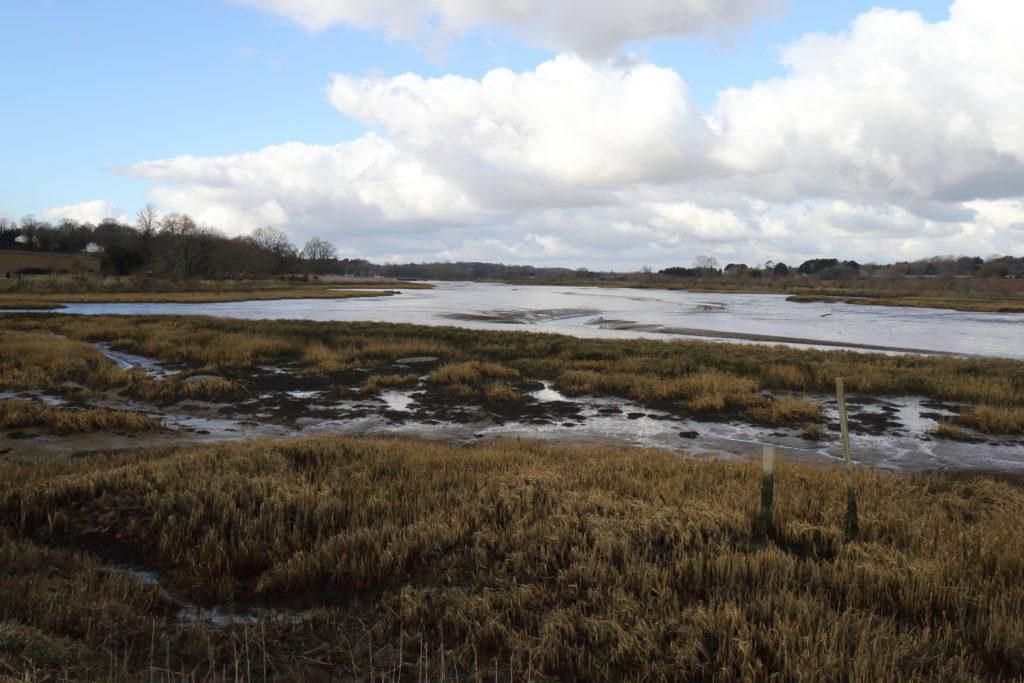 Mudflats (towards Martlesham Creek).
Martin explained Suffolk Wildlife Trust's plans for the river footpath, and the possibility of a pub at the beginning and end of a river footpath walk:
"The footpath we are on, as I mentioned is a designated footpath, but we are going to be encouraging people not to go that way, but to go inland and on the new National English Coastal Path, which is being re-aligned, back, where we originally came from, on the other side of the Turner wall and inland a bit, back towards the woodland that you can see on the rise there. Then it will connect to Waldringfield. If you want to come here and start your walk with the pub in Martlesham, and walk halfway to a pub in Waldingfield and finish back here. You will be able to in January."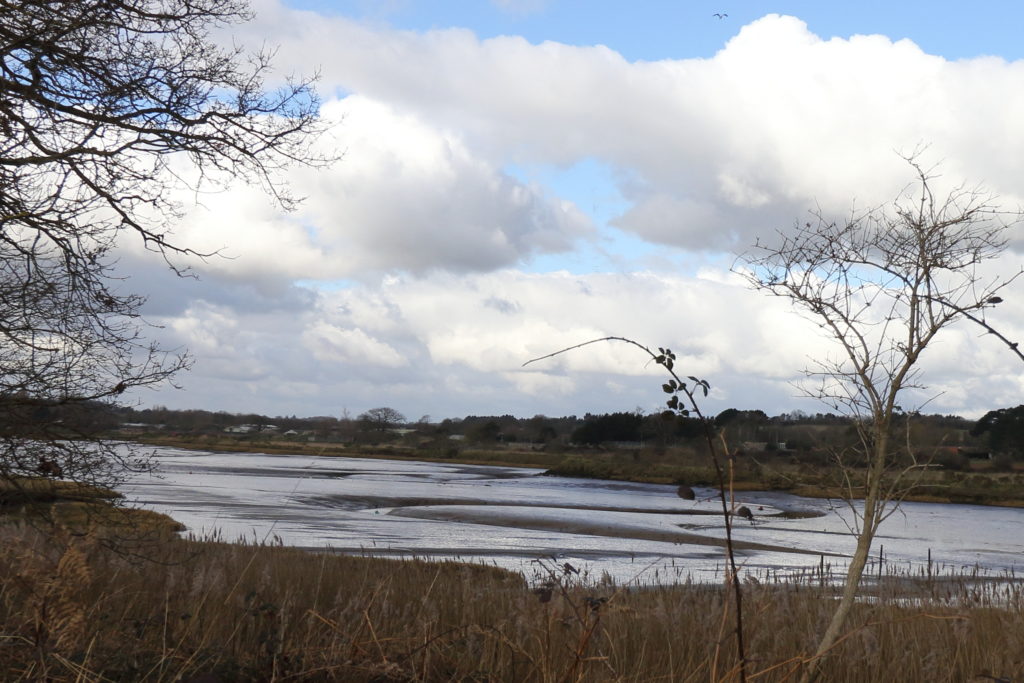 Mudflats (towards Woodbridge and Martlesham Creek).
Our walk had only covered a fraction of the land:
"In terms of our landholding, I can't see it from here, but if you look at the oak tree in the distance, that is still our land. We are really covering only about one-third of the land on this walk today. There is a more of our land over there, and this new footpath will enable us ways onto that land. That part of the reserve that will be a quiet area, where wildlife will be left to do its own thing, but we will be able to view from a distance. We will keep these current footpaths, were you see these lovely views here, for you to come and visit."
5. Up on the hill, amongst the fields
Martin brought the walk to an end:
"This is our last stop before the car park, as there a quite a lot of us, please take care, moving around, as we have filled up the car park. I want to thank you all for coming along today and celebrating with us, by sharing your thoughts, your questions and your ideas about the site. Really nice to chat to a number of you in between these points. If you have any further thoughts, please do get in touch with us, it would be really interesting to hear, what you have to say. It is really very important."
Martin finished off, by letting us know about the fundraising campaign for the land:
"I am now going to do my last bit by being Community Fund Raising Manager. We are doing very well in the campaign, but we would like to encourage you to support it in whatever way you can. Not necessarily a direct financial contribution but if you feel able to make a donation, that would be terrific."
Martin talked about membership opportunities with Suffolk Wildlife Trust:
"I have got a number of campaign leaflets, for you to take away. It has the information we have shared with you today and a map and a donation form. If you hear of anyone saying "I haven't heard of Suffolk Wildlife Trust before", this is helpful in enabling them to join. Joining as a member is a way of giving us your long-term support. We don't get funding from anyone else. It is our members who have enabled us over the last sixty-five years to be able to get to this point now. To be able to share all of this with you and it is that long-term support which is really critical. If you are interested in becoming a member, please take one of these leaflets, or I can easily join you up today. We have got people doing some amazing things to raise funds: we have someone running a local chess competition; someone quilting, and two people running marathons."
Charlie added:
"Some children did a bake sale for us. We've had people doing 'progressive dinners' …I didn't even know what that was… it's one where you move forward each time…people have done some really creative things. Every single penny counts. This campaign is lots of individual, small donations, which is really adding up."
Sally Westwood
Sally Westwood is a Psychologist, and works as a researcher. She has taught in higher education as an English Language teacher. Her interests are varied. She has written many articles for Bird Magazines and Journals. She is also a professional bird photographer. Birds are her passion. She loves to draw and paint birds. She lives on a boat on the Deben and loves to sit and be with the birds, simply watching and photographing birds, in their daily activities.