By Matt Lis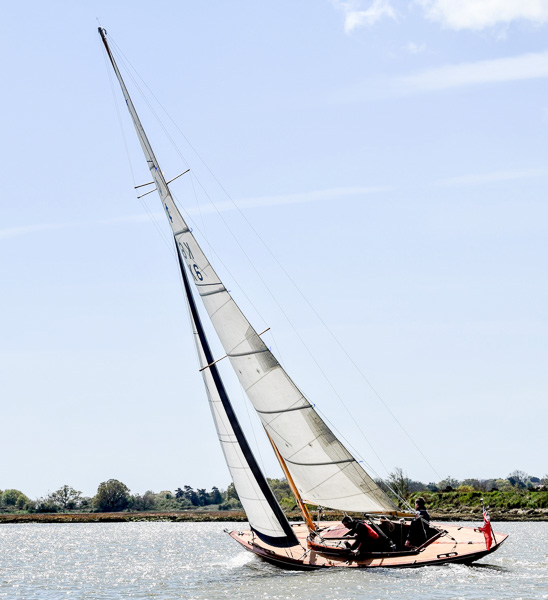 Photo courtesy of Charmian Berry.
An International One Design is not a typical Deben boat. The International One Design with its long keel, deep draft, powerful rig and sleek lines was actually designed for the waters of Long Island Sound and Bermuda, with one purpose in mind: to race. International One Designs, IODs for short, are now found all over the world. The design was quickly popularised after their initial build in 1936 and spread across the United States. Soon fleets sprung up in Norway and at the Royal Corinthian Yacht Club in Burnham-on-Crouch, Essex, too. To give some more local context, in 1936, whilst Bjarne Aas was designing and building the first IODs at his yard in Norway for the class' conceiver and driving force Cornelius Shields, in Woodbridge Everson & Sons were building the penultimate Deben Cherubs and Whisstocks Boat Yard was building the first of the Deben Four Tonners.
So why am I talking about IODs? Well, right now an International One Design named Falcon is shortlisted for Classic Boat magazine's Restored Sailing Vessel of the Year Award in the under 40ft length category. That restoration was carried out by ourselves, the Woodbridge Boatyard (previously Everson & Sons), with considerable help from many invaluable local friends. In being shortlisted she has become the third boat from the Deben in three consecutive years to be shortlisted and, should she get enough public votes to win her category, would become the third boat from the Deben in three consecutive years to win a Classic Boat Award. The previous two were Deben Cherub Ariel and Sam Doman's Longshore.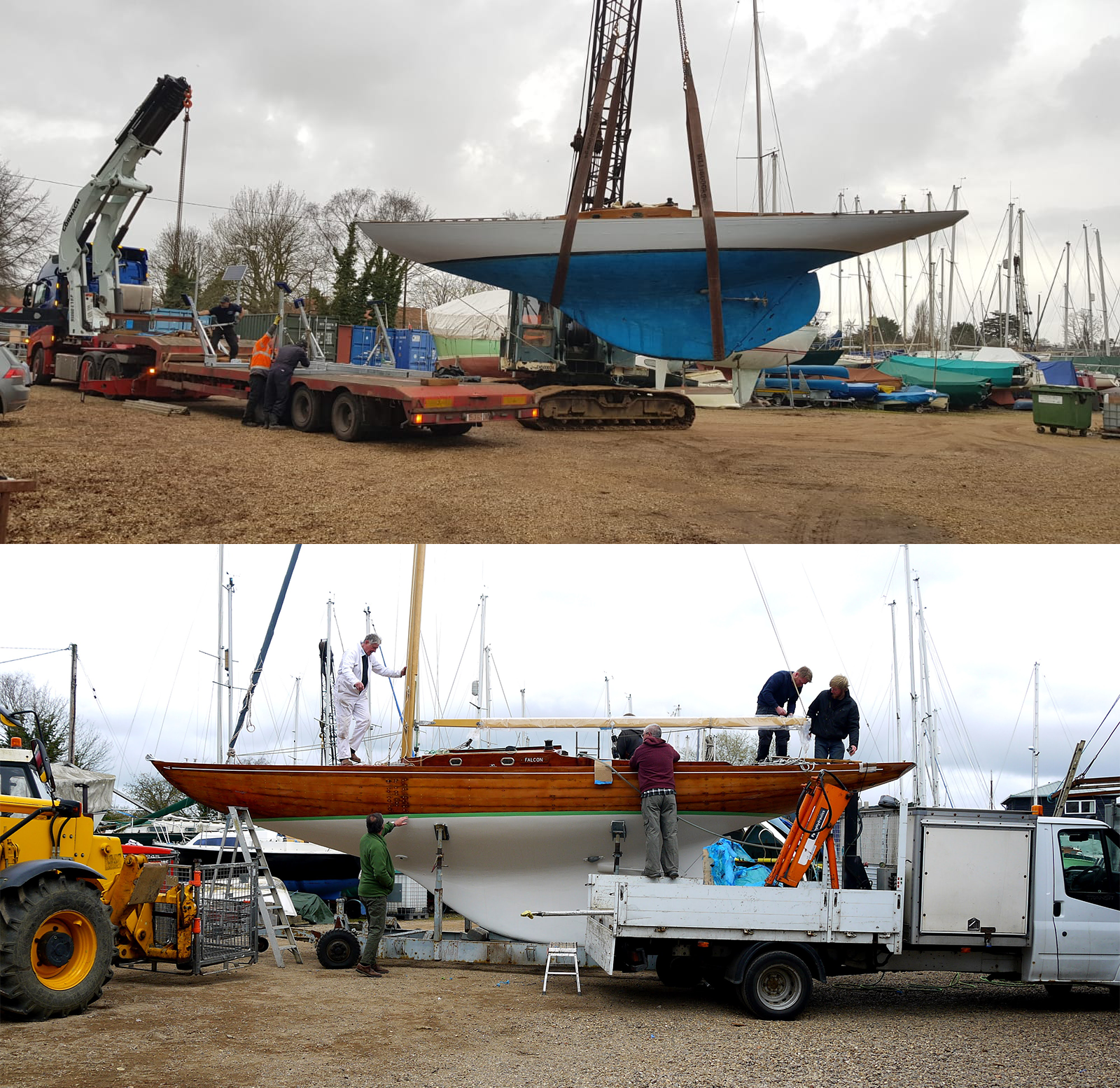 Falcon, before and after.
If you are reading this before 9am on the 15th of March 2022 then please, it would be deeply appreciated if you would take a moment to vote for Falcon here – https://awards.classicboat.co.uk – and whilst you lend your support to Falcon please consider voting for some of the other Suffolk boats too: Ipswich's Spirit Yachts hope to see their Spirit 30 crowned best New Sailing Vessel, whilst Levington's Suffolk Yacht Harbour have Flower Power and Ryegate taking on Southwold's Harbour Marine Services' Lazy Days for the title of Restored Power Vessel of the Year. In the Centenarian of the Year category a Deben regular, albeit not a resident, Firefly competes for the top spot against other vessels aged 100 years or older.
For our own part we are very proud of the work that we carried out, the finished boat and the amount of local content that went into her restoration.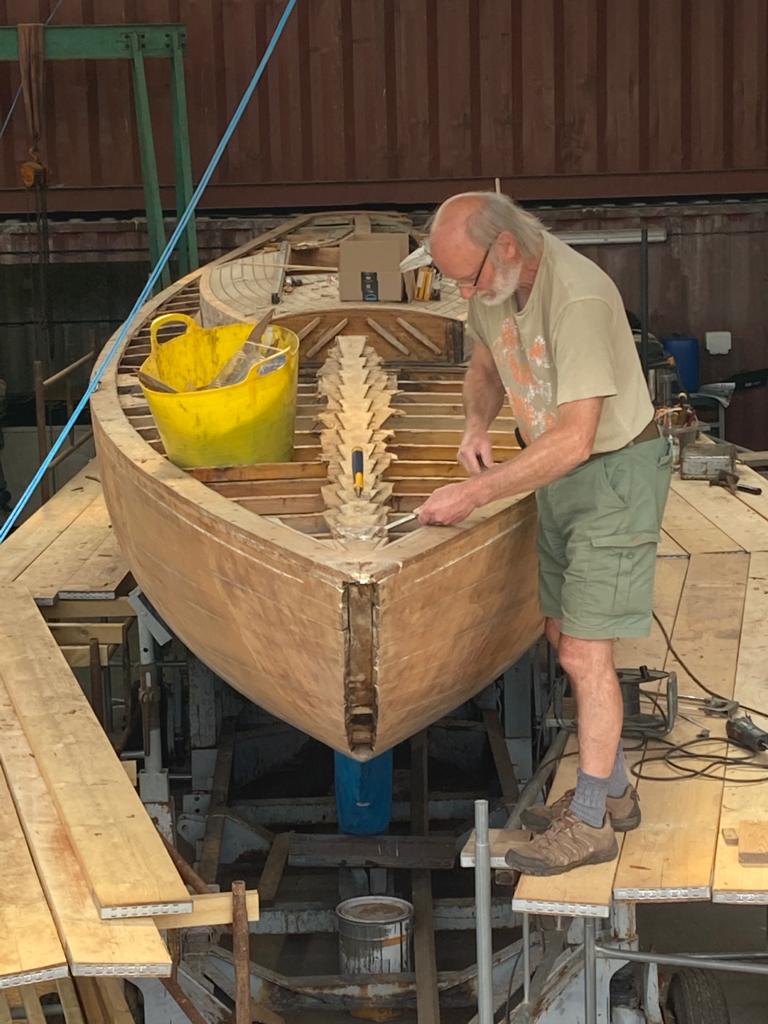 Paul Batey, shipwright, working on Falcon.
Falcon had been sailing on the Orwell for 35 years before we received a phone call from her owner enquiring about bringing her to Woodbridge for some work. Her owner, Edwin, explained that he had recently inherited the boat from his father and that, whilst his father and his friends had maintained her with great enthusiasm over many years of ownership, she was showing her age and needed some professional attention, and apparently we might be able to help.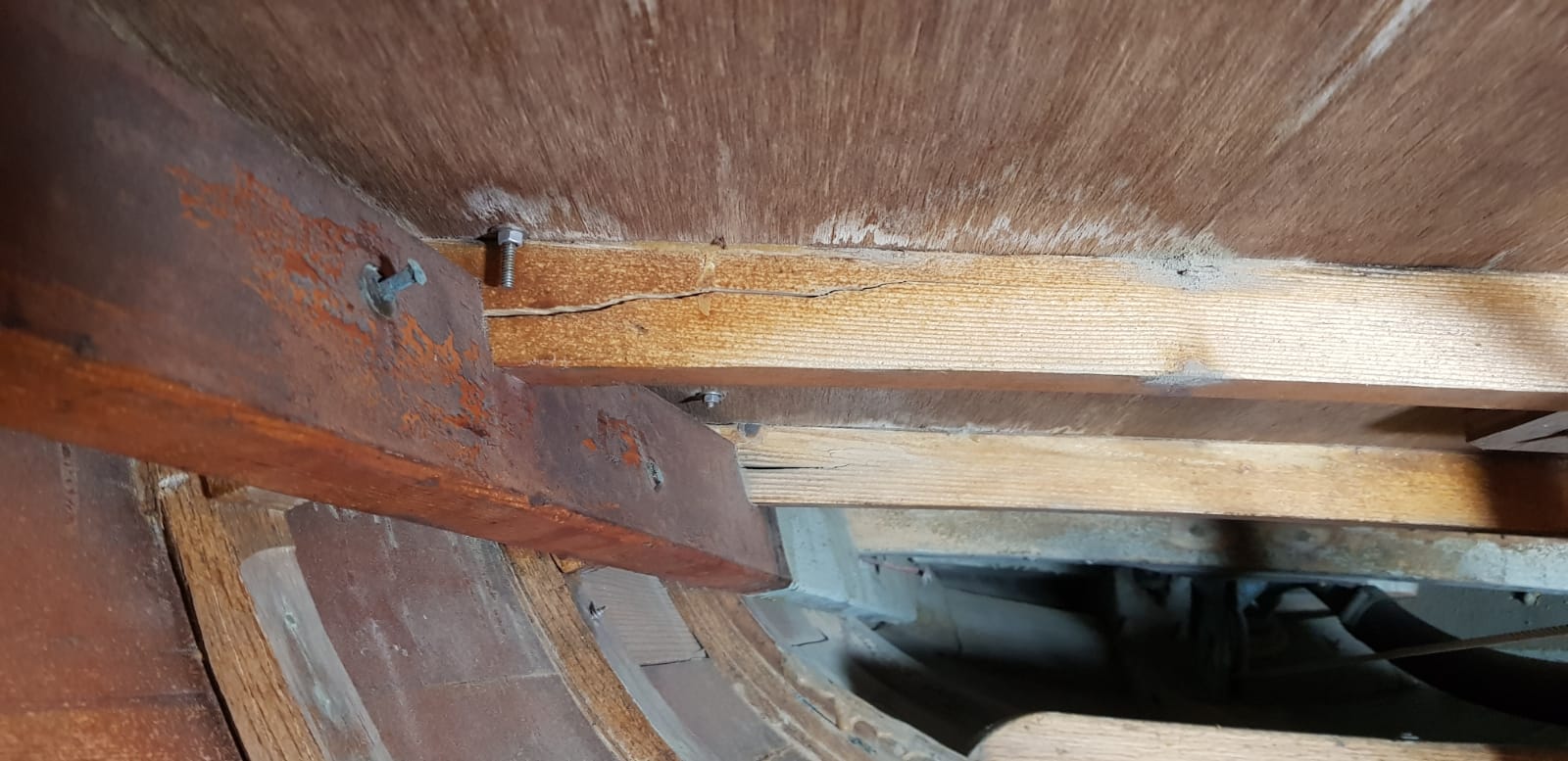 A brief meeting huddled under Falcon's cockpit cover on a rainy late autumn afternoon was followed by her being lifted ashore at Woolverstone Marina to travel by road to Woodbridge, just as well she was travelling by truck because upon being lifted ashore we immediately noticed that her aluminium mast had corroded and cracked almost all the way through! Safely in Woodbridge Boatyard a survey quickly followed and the extent of the problems onboard began to become clearer. A great number of Falcon's ribs and frames were cracked and broken, the glue that held her laminated deckbeams together had failed with age, her stem had a large crack and its fastening to her apron had broken, the screws holding her planks to her ribs and frames were all corroded to the point of failure and her teak decks were wearing thin plus of course, the broken mast.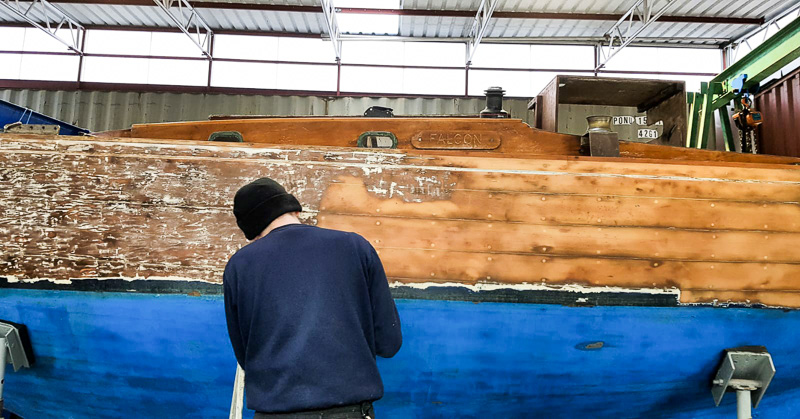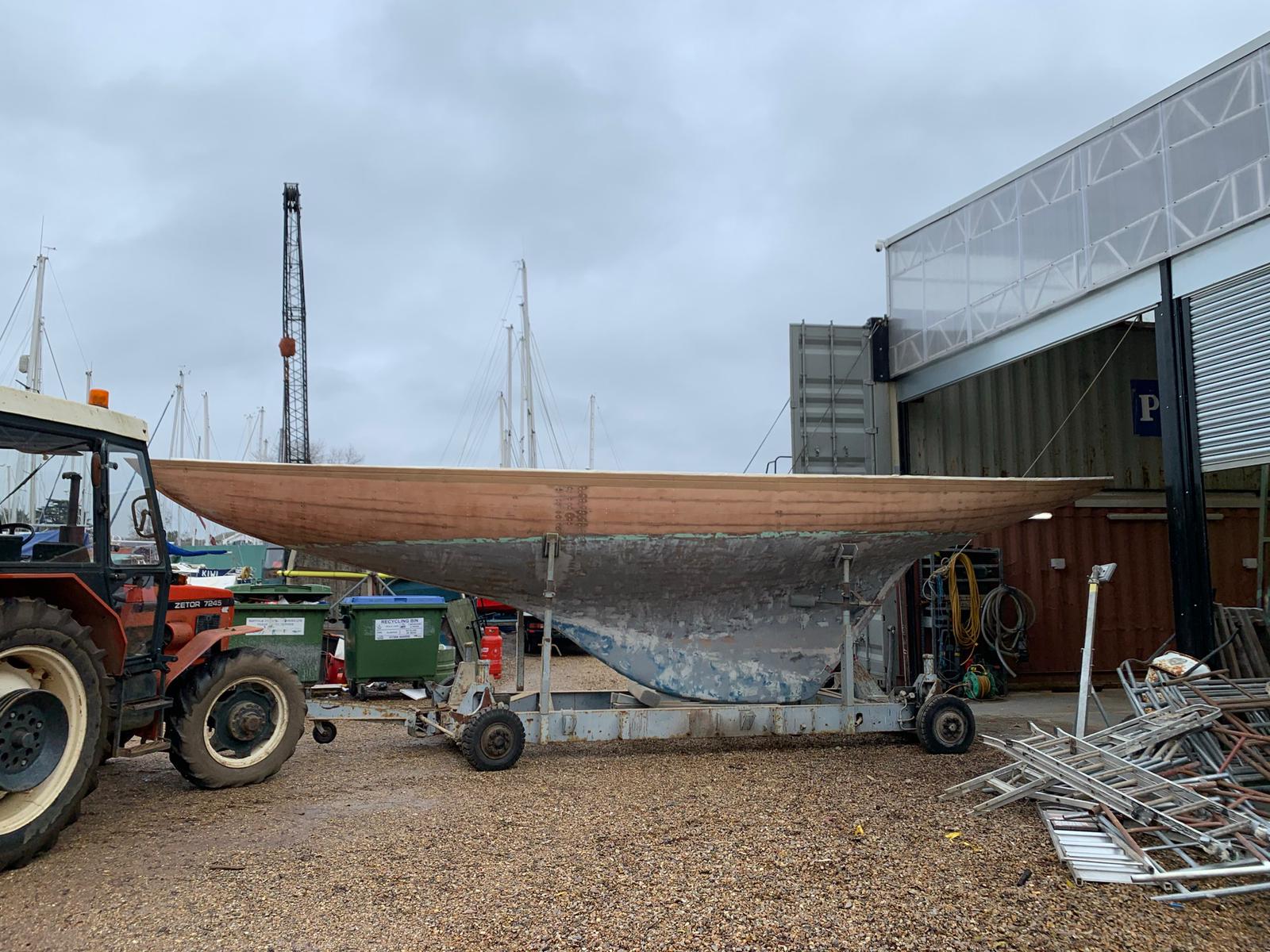 Having been grit blasted inside and out to remove all of her paint and reveal any other hidden problems (a couple of planks in her portside had poorly done repairs, probably old battle scars from racing, and her transom was found to be made from 7 different bits of wood glued together), she was moved into the shed where her stem and apron were replaced and repaired respectively and her deck and deck structure removed. For a long time after this the skeletal frame of Falcon's deck structure hung above her, in the ceiling of our workshop, looking somewhat like the blue whale skeleton displayed in the atrium of the Natural History Museum in London. Our own display attracted fewer visitors but still got plenty of comments.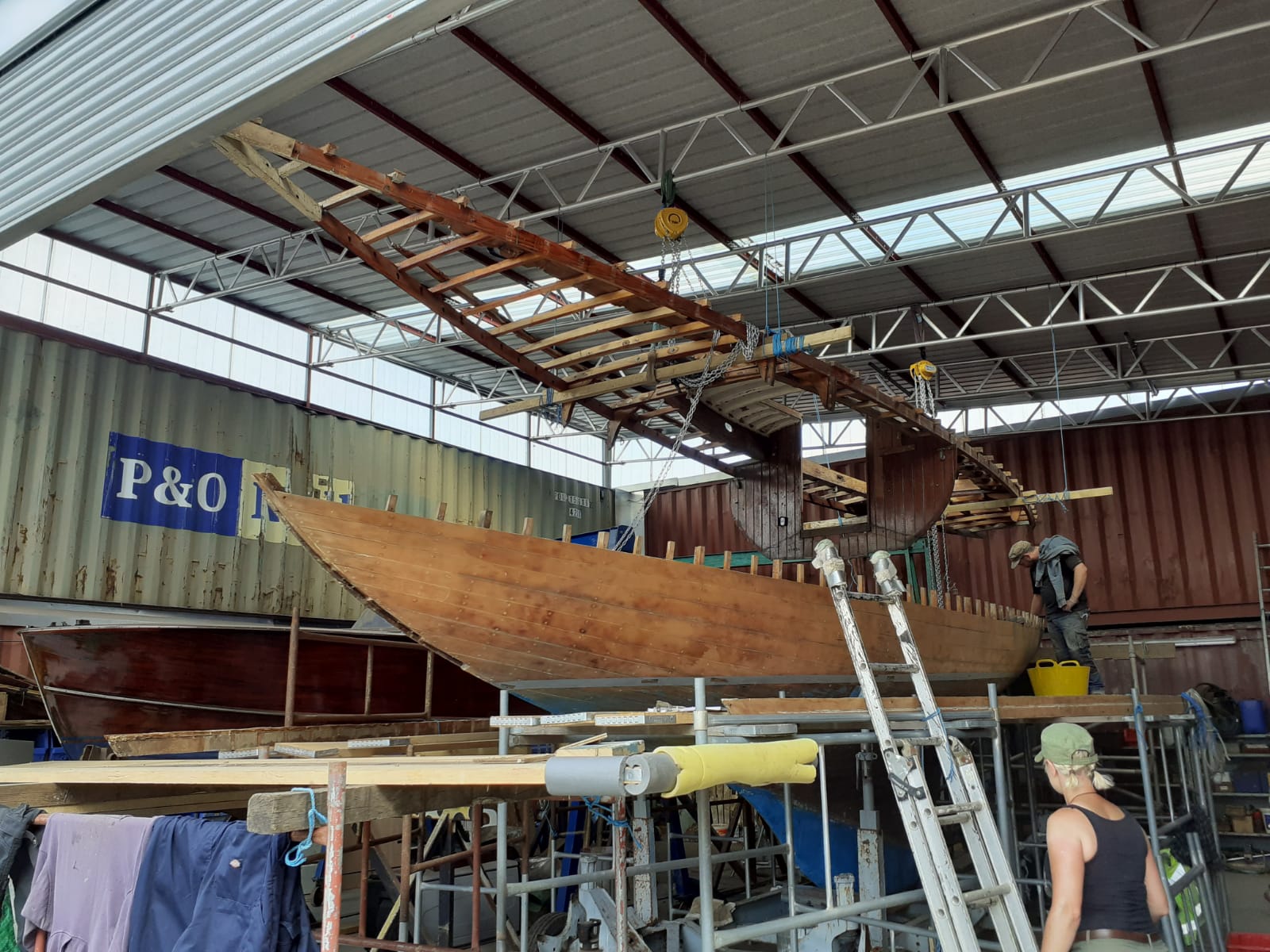 Broken ribs were replaced with steamed oak from a mill near Beccles, planking repairs were carried out and the whole hull refastened. Her shear planks, the uppermost planks either side on the sides of a boat, were replaced using a timber marketed as Lignia, a modified softwood with properties resembling that of an exotic hardwood but a lower ecological impact. This is believed to be the first time anybody has used Lignia for planking. With strength in the hull renewed, focus moved to the deck and its supporting structure; the beamshelves were refitted, new larch deckbeams were laminated to give them their curved shape and strength using modern epoxy glues and then fitted. The deck itself, top-class marine plywood, also laminated to make her stronger and stiffer still, and topped with Lignia planking and mahogany for the kingplank and covering boats. Having put her back together again her topsides, cabin, covering boats and new transom were all varnished by hand and her insides and antifouling painted in a distinctive off-white and green to contrast and emphasise the golden colour of the timber.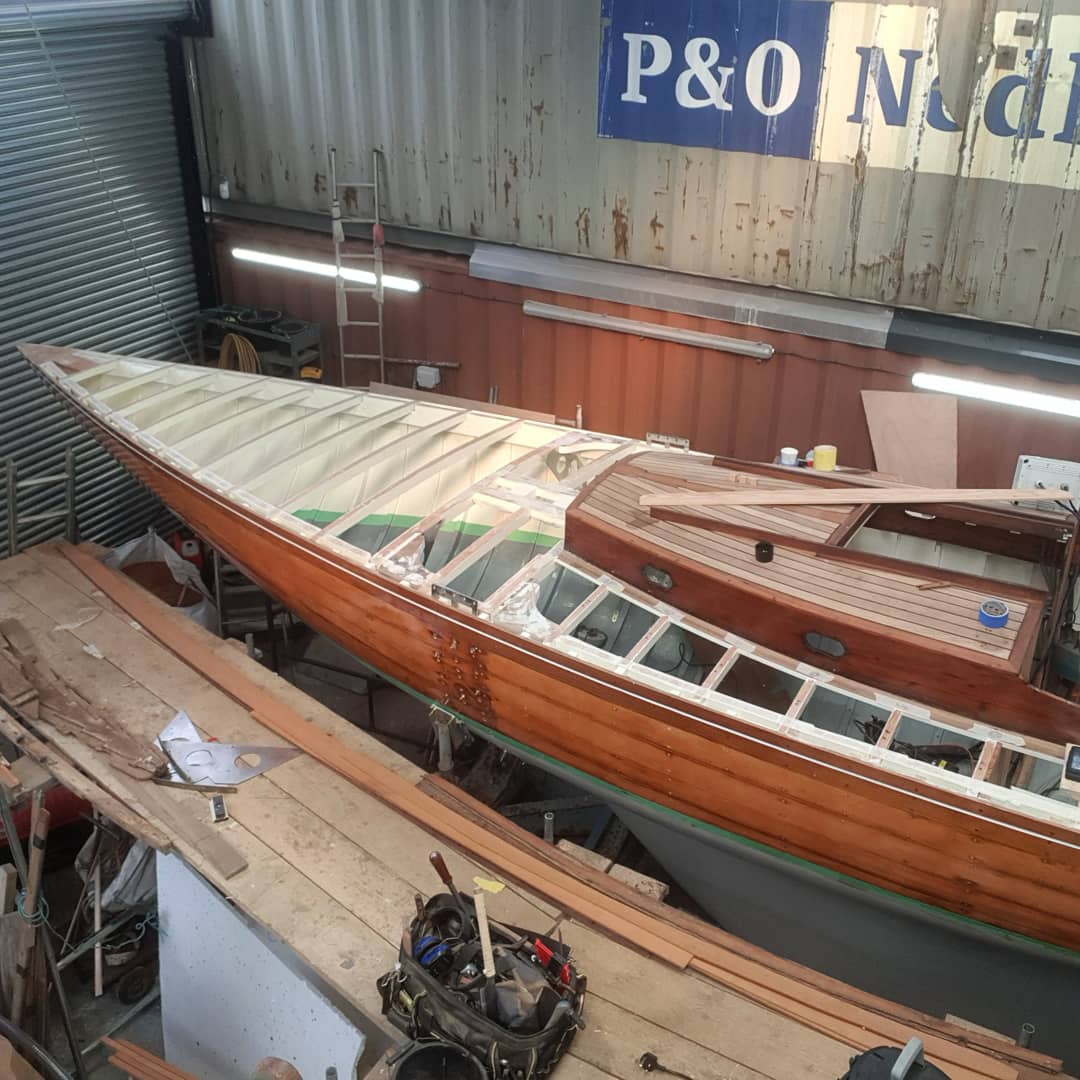 It was decided early on that we had enough on our plates with the hull of Falcon and numerous other projects, so the job of building Falcon's new spars was sub-contracted to a specialist mast maker near Oxford, who made a beautiful set of wooden spars in close cooperation with Woodbridge Boatyard, RDA Membership Secretary / classic boating guru Moray MacPhail, and a team of specialist metalworkers in Ipswich who fabricated the new polished stainless steel fittings that were designed especially.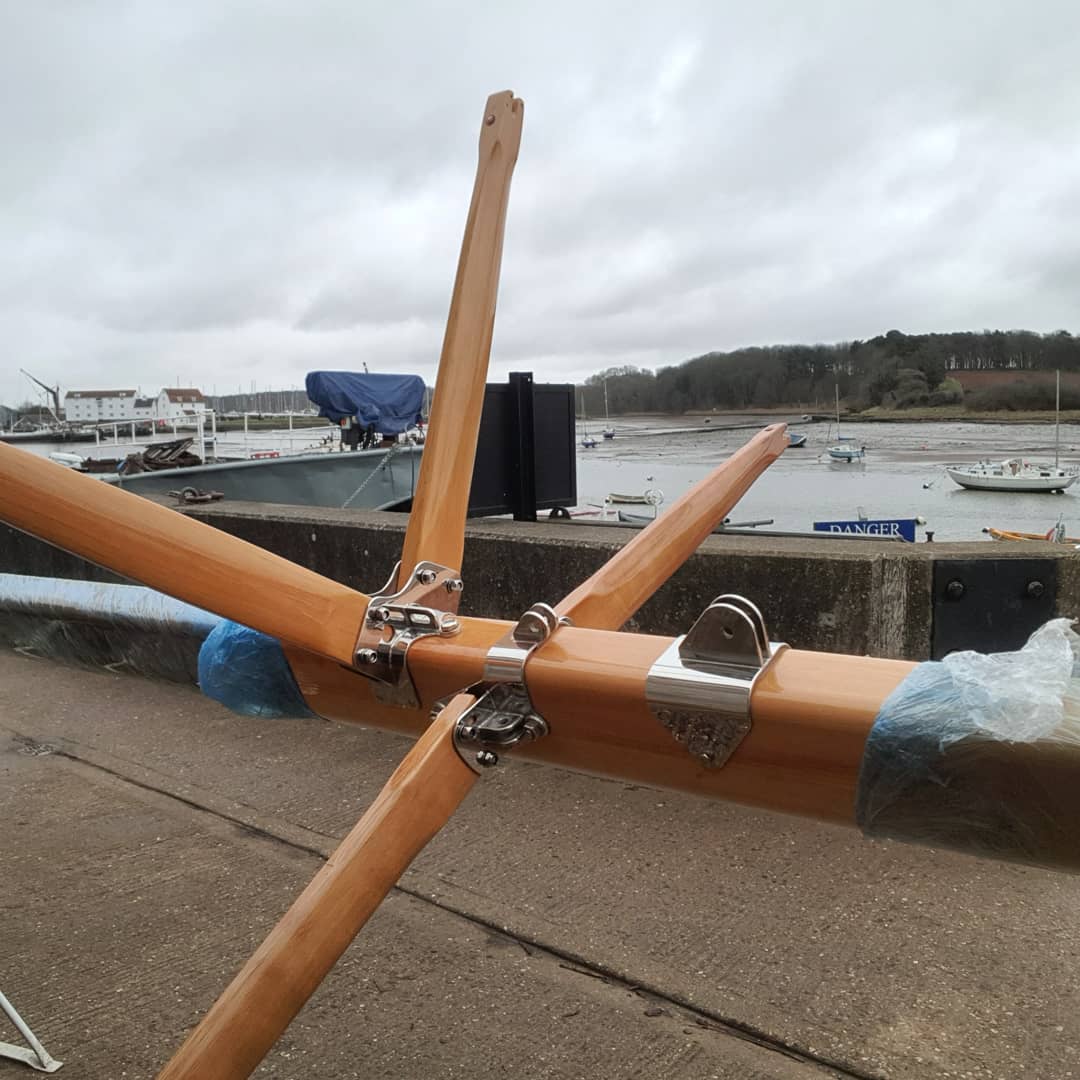 Whilst striving to remain within the strict rules of the IOD class (their founding principle), small modifications were made to suit her new owner and his young family such an altered tiller and mainsheet arrangement, improved sail controls (as part of a package of new standing and running rigging) and a more comfortable bunk arrangement that will allow Edwin's children somewhere to shelter when they need a break from being on deck, a luxury which didn't exist when Edwin and his sister were learning to sail aboard Falcon. Small details made this part of the project particularly challenging and rewarding, right down to sourcing buff-coloured Dyneema halyards with subtle flecks of colour braided into them to help young sailors distinguish one from another whilst maintaining her classic looks (now more widely available but at the time a special order direct from the factory because it was so new). Those details were necessary to do justice to her.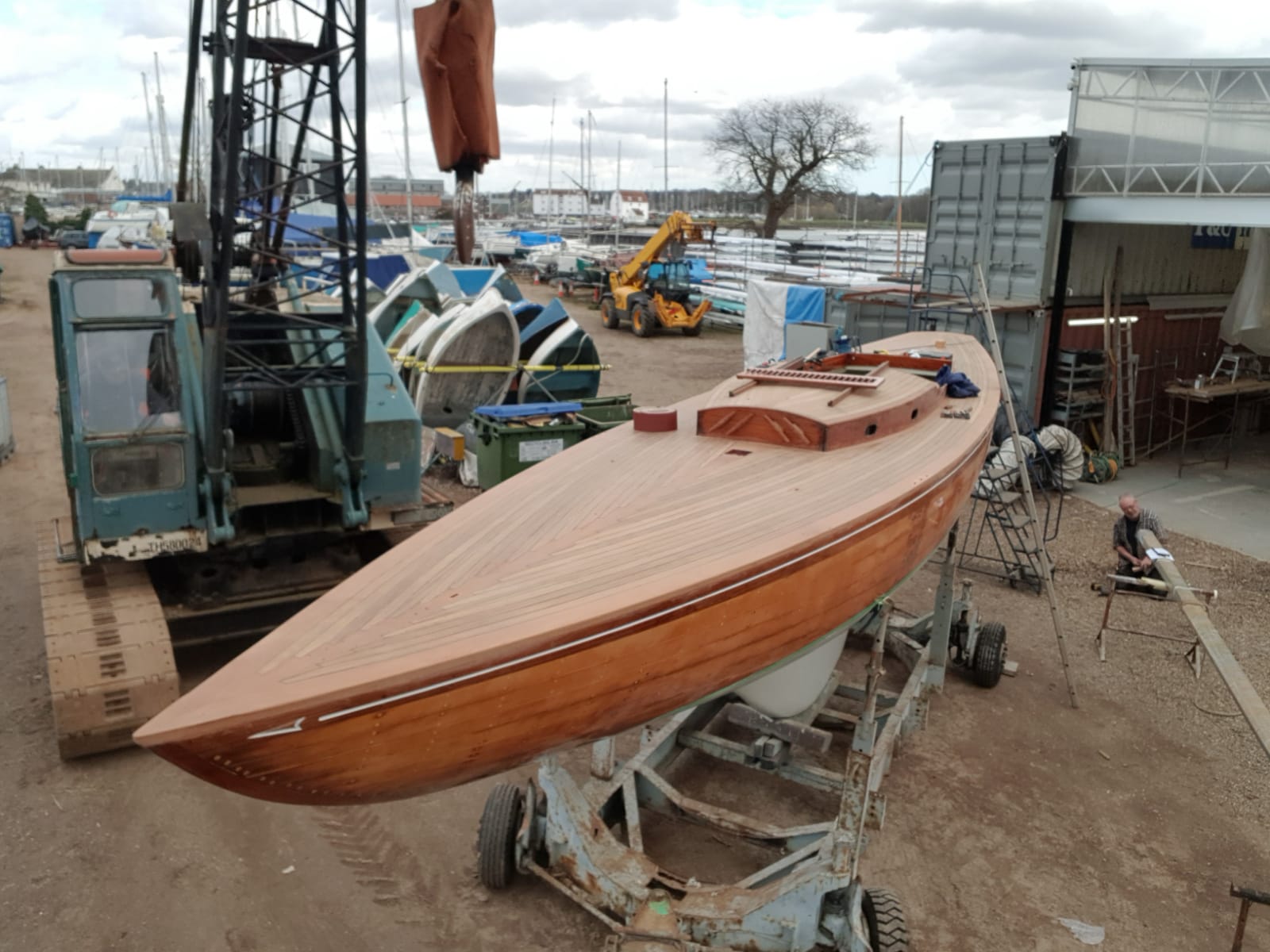 Whether Falcon wins or not, having three consecutive Deben boats contesting for the international Classic Boat Magazine awards is a great credit to the strength of the deep-rooted boating industry in our area as a whole. The Deben has very good boatyards catering for all manner of boats throughout its tidal length, which form part of an excellent community of people and businesses that serve and are centred around the river, and we couldn't do that without the support of the wider community on and around the Deben.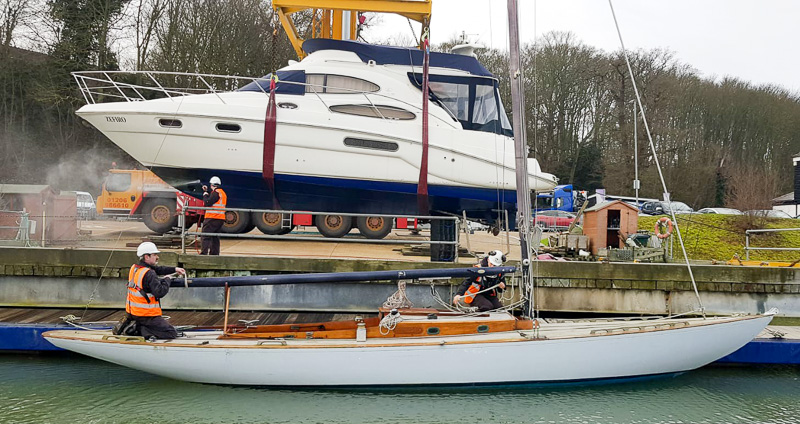 Falcon, pre-restoration.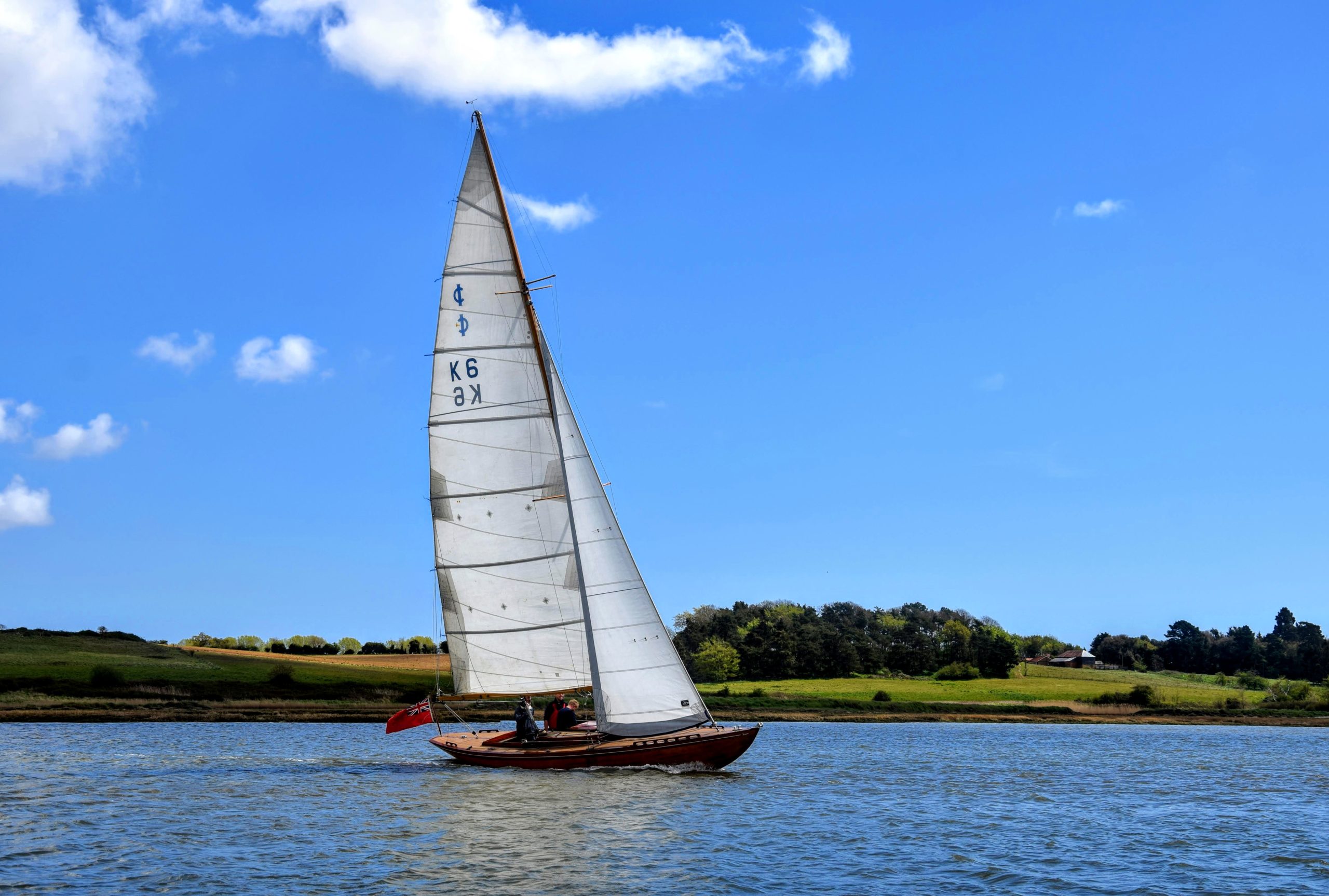 Falcon, post-restoration (photo courtesy of Charmian Berry).
Matt Lis
Matt Lis has been the General Manager of Woodbridge Boatyard since May 2019, when the yard moved into the ownership of Eric and Maxine Reynolds. Matt, growing up in Burnham-on-Crouch in Essex, has sailed since he was 5 and comes from a boating family of marine engineers and professional sailors. Under Matt and the Reynolds', the Woodbridge Boatyard has grown from a team of 3 to a fulltime team of 8 with more during school holidays.