By Matt Lis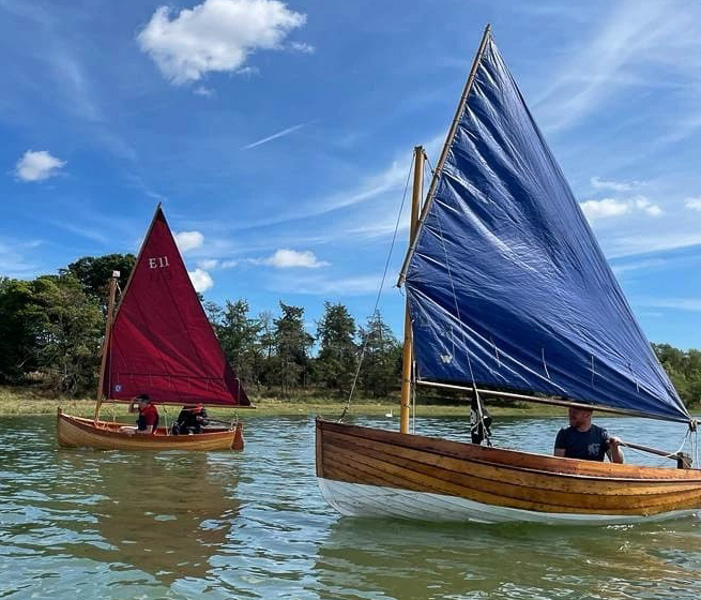 The vintage Everson-built 11 footer (Blue sail) with award nominated replica 'La Mouette' (Red sail)
A little over a year ago I was asked to write a piece for the RDA Journal covering the work carried out in restoring a yacht named 'Falcon'. 'Falcon' had been shortlisted in Classic Boat Magazine's annual awards in the Restored Sailing Vessel Under 40ft category and my piece began "An International One Design is not a typical Deben boat" but this year I am pleased to say that I am writing about a very Deben boat.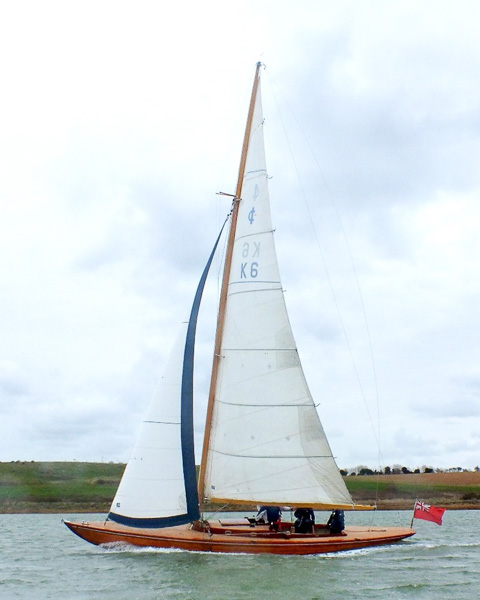 International One Design 'Falcon' freshly restored by Woodbridge Boatyard in 2021
'Falcon' was the third boat shortlisted in three consecutive years to represent Deben craftsmanship in the CB Awards and we were delighted when she was announced as runner up following the public vote joining Deben Cherub 'Ariel' (Winner 2020) and Sam Doman's 'Longshore' (Winner 2021) in the Deben's trophy cabinet. This year 'La Mouette' makes it four years from four that Deben boats have been in the running! 'La Mouette' takes her name from her owner's favourite Daphne Du Maurier novel 'Fisherman's Creek' and is in many ways the antithesis of 'Falcon', at least within the sphere of classic boating; the International One Design is a carvel-built thoroughbred racing machine designed for the open waters of Long Island Sound whereas 'La Mouette' longs for lazy summer afternoons spent exploring the inlets and creeks of the Deben with friends and a picnic.
'La Mouette's story begins in the summer of 2021 when her future owners bought a little RIB from our neighbour, Andy Seedhouse Boat Sales, with which to explore the Deben. The RIB was brought through to our yard, launched and moored on our pontoon from where it pottered off regularly with Vicki, George, a pair of dogs and often some friends or family aboard. After several months of enjoying the river with 'Maverick' Vicki raised the question of a clinker dinghy. We have seen an increasing number of traditionally-rigged dinghies, old and new, on the river in recent years used for picnics, tenders, exploring the more secret stretches of water or visiting the various waterside pubs. They're a joy to see and to sail, can be rigged as quickly as any modern dinghy and can drop their rigs in an instant to pass under bridges and explore upriver so they have a huge and diverse appeal. It was seeing these dinghies at play which brought back memories of learning to sail in similar boats with her father. We quickly organised an opportunity for Vicki to go sailing with a group of these dinghies and to borrow my own vintage Everson 11 footer and, whilst sailing skills were rusty (my poor little boat was soon seen gently nuzzled into a patch of saltmarsh with Vicki aboard laughing), clearly none of the magic of those Swallows and Amazons days had diminished.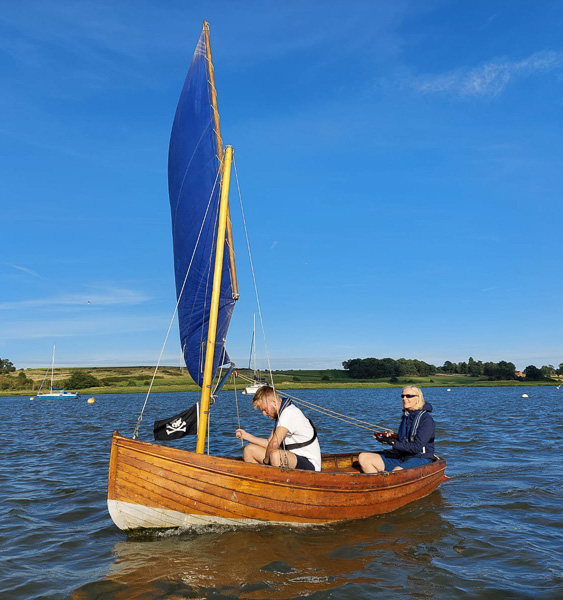 Vicki and her son try the vintage Everson 11 footer out and find it a good fit
Many options were discussed to find the right way of achieving Vicki's dream boat including refurbishing an older boat and building in fibreglass or plywood but eventually it was decided that a faithful and traditional replica of the 11ft Everson was the way to go.
Very few drawings survive of the many boats built by Eversons Boatyard between 1889 and today and the dinghies were so numerous and everyday that they were not even given build numbers so we can only estimate at my own boat's age but it seems fair to assume that she probably dates back to the 1930s and, based upon the several surviving examples that we know of, the design was scaled up and down at will to satisfy customer requests. Here at the yard, we also have a 9ft example and from Felixstowe Ferry sails 'Cariad' a 12 footer. In the case of 'La Mouette' it was decided to stay at 11ft LOA (Length Overall) so moulds were taken directly from the boat, recording her shape and allowing it to be replicated.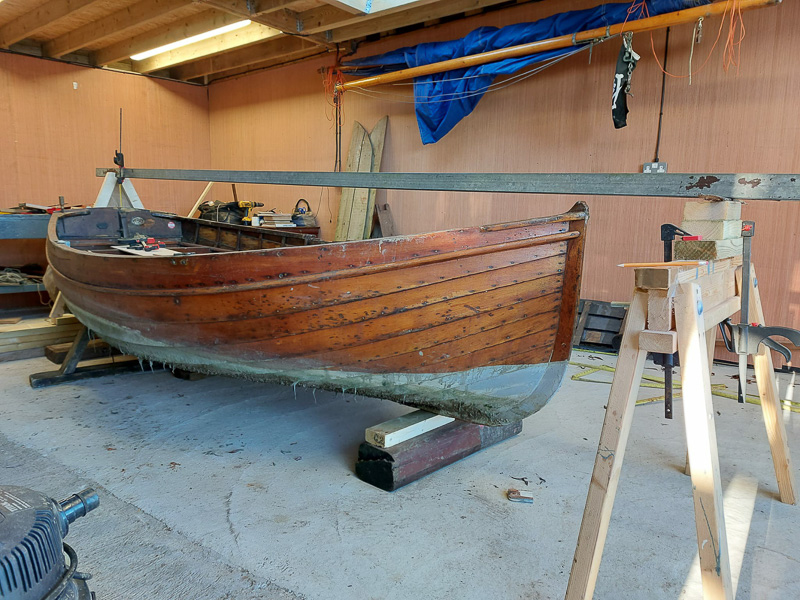 The vintage Everson in the workshop for her lines to be taken
Now in January 2022, with her lines defined, we could begin the process of building the new dinghy. A strongback was erected and three moulds positioned along its length. With the addition of her transom, cut from a wide board of khaya African mahogany, her Norfolk-grown oak stem, apron, keel and hog her shape appeared for the first time. 'La Mouette's stern post is fashioned from a piece of oak from Vicki and George's family farm; a relatively small part of the boat but a deeply sentimental and symbolic piece for the project as a whole.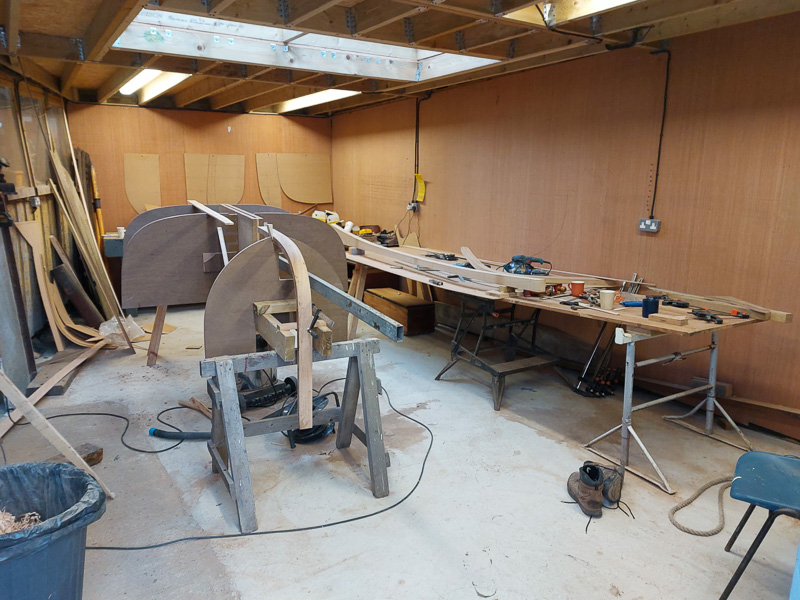 The moulds and strongback set the shape for the boat to follow
'La Mouette' is planked in Siberian Larch, a fantastically versatile boatbuilding timber and one that we are able to source in well-sized, clear lengths. Each plank is secured on to locally-grown oak ribs with copper nails which are secured in the traditional way with a copper rove. This is the same technique of securing timbers as you will find on the 1,400 year old Sutton Hoo ship and wooden boats around the world – if it ain't broke…
Over her many years, my own boat has had a handful of repairs and modifications and where possible we have tried to make 'La Mouette' truer to how the original would have once been when she was first built. These are only small details, a scored line around the lower edge of the thwarts and inwales or the delicate shape of the hanging knees but by taking reference from some of the other surviving Everson dinghies we were pleased to be able to replicate them.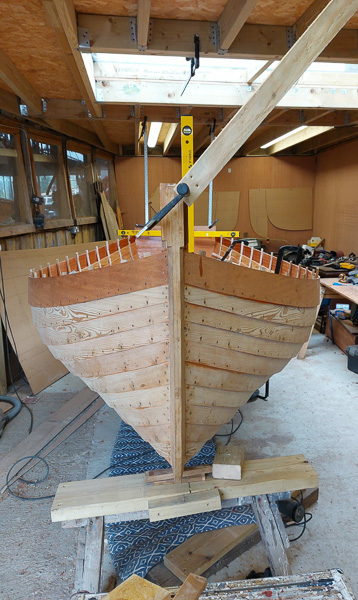 'La Mouette' fully planked
Finding the right balance of sailing performance and comfort was important and various styles and sizes of rigs were considered. We did not feel that we were straying from historical accuracy in this respect as the sail on my own dinghy is secondhand and so we have no evidence of the sailplans that she has carried through the years. We toyed with the idea of different styles of lug rig and even going open-footed (without a boom) but in the end a fairly high-peaked, balanced lugsail was selected and made at Suffolk Sails, within sight of the yard.
As the weeks became months passers-by along Woodbridge's river wall witnessed the little boat taking shape, first upside down and then righted, until finally her sheer planks were fitted. The sheer lines of many Everson boats, the yachts as well as the dinghies, are quite distinctive, with an exaggerated sweep upwards towards the bow; a more expensive way of building a boat as wider timbers are required but with very pretty results (to my biased eye at least).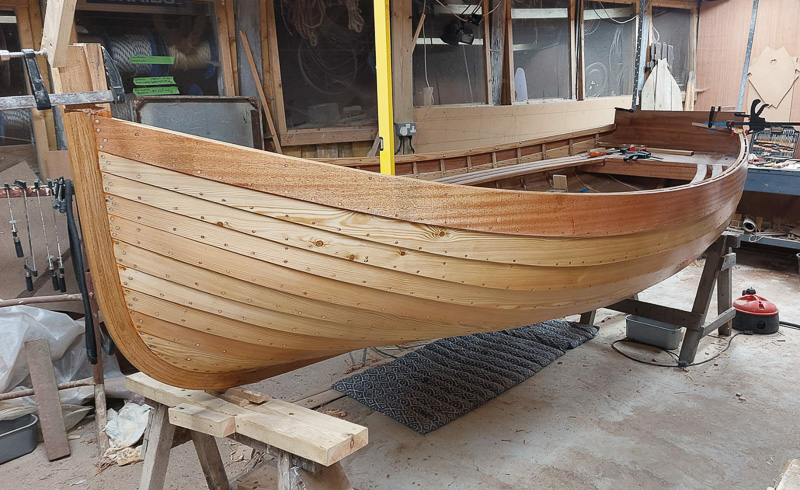 Fitted out now 'La Mouette' receives her first coat of varnish
Spars were made from douglas fir. The rudder and centreplate were carefully modelled on the various example we could find and made in-house.
With everything made, attention was turned to painting and lots of varnishing. Coat upon coat was built up emphasising the natural beauty of the wood until in late May she was ready. Plans had been made and the yard coordinated with the Old Gaffers Association to combine their rally which was based from Waldringfield Boatyard with a celebration of the Queen's Platinum Jubilee, 'La Mouette's launch and Everson-built 'Clytie's 100th year afloat. On the Sunday of the bank holiday weekend 20 or so classic and traditionally-rigged boats descended (Can you descend upriver? Ascended?) upon Woodbridge in fairly spectacular fashion, charging around joyfully in the breezy but sunny conditions. During that first sail and subsequently, 'La Mouette' has proved herself nimble, seakindly, stable and fun; well suited to the waters for which she was designed. Having enjoyed their sail, crews headed for land and a BBQ at the boatyard where 'La Mouette' was brought ashore for inspection under many expert eyes. I'm pleased to say that she was gladly welcomed as a fine addition to the fleet.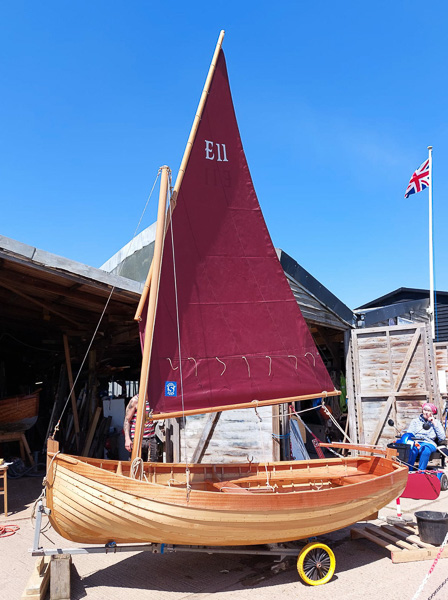 'La Mouette' waits ashore for her customer handover and first sail as part of the Jubilee weekend celebrations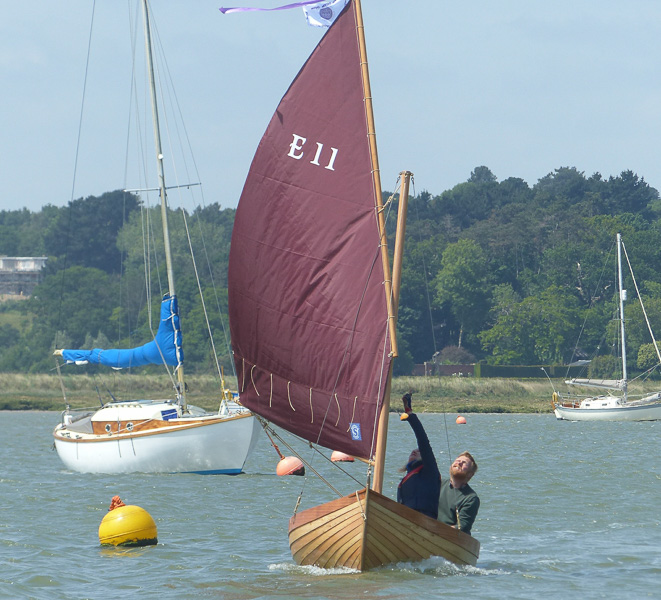 Myself and Vicki taking 'La Mouette' out for her first sail, Methersgate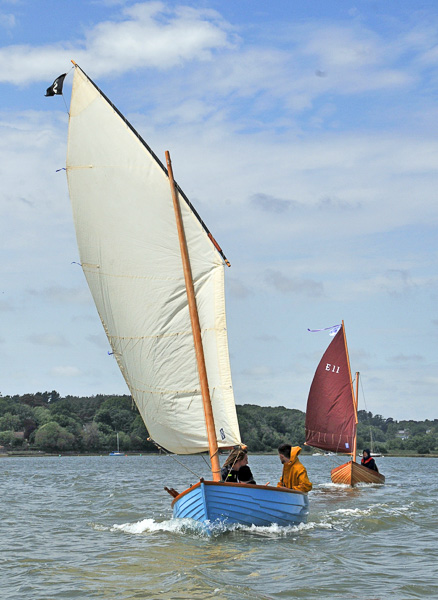 'La Mouette' follows 2021 award winner 'Longshore' in more ways than one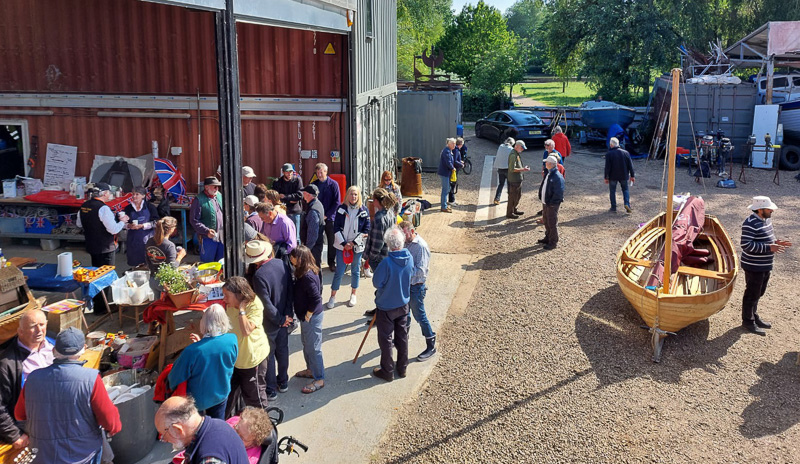 Ashore, 'La Mouette' takes pride of place at the celebration BBQ
Since that weekend in June 'La Mouette' has been busy with lots of sailing on the Deben and a 10 day trip to Southampton for the boat show where she sat proudly on the Wooden Boatbuilders Trade Association stand and caught the eye of Classic Boat Magazine's editor who subsequently nominated and shortlisted her for the 2023 awards in the New Sailing Vessel category. Needless to say she is in fine company and up against tough competition which takes the form of 'Constance', a handsome 34ft gaff cutter built in Cornwall by Ben Harris Boats, and 'XFC 22', a sporty 22ft strip-plank catboat built in Massachusetts by Arey's Pond Boatyard.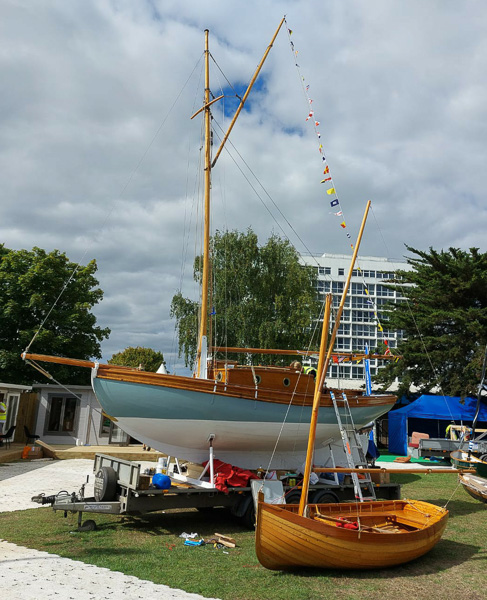 'La Mouette' and Deben Cherub 'Jubilee' on the WBTA stand at Southampton Boat Show 2022
It is worth noting that of this year's 28 boats in the newbuild and restoration categories 5 come from Suffolk yards; 'La Mouette' from Woodbridge, 'Selina King' from Pin Mill, 'Rummer' and 'Jorvik' from Southwold and 'Anima II' from Ipswich. In such an international field Suffolk stands out as a hotbed of boatbuilding and restoration.
Voting is open until 09:00 on the 20th of March 2023 and done online here – https://awards.classicboat.co.uk/. Should you wish to support 'La Mouette' it will be greatly appreciated.
Matt Lis

Matt Lis has been the General Manager of Woodbridge Boatyard since May 2019, when the yard moved into the ownership of Eric and Maxine Reynolds. Matt, growing up in Burnham-on-Crouch in Essex, has sailed since he was 5 and comes from a boating family of marine engineers and professional sailors. Under Matt and the Reynolds', the Woodbridge Boatyard has grown from a team of 3 to a fulltime team of 11 (6 boatbuilders, an engineer, a painter, two trainees and Matt) with more during school holidays.