with thanks for their enduring contributions to the Nancy Blackett Trust, Maritime Woodbridge, the Longshed, River Deben Association & Woodbridge Cruising Club
Micheal Rines (1933–2023)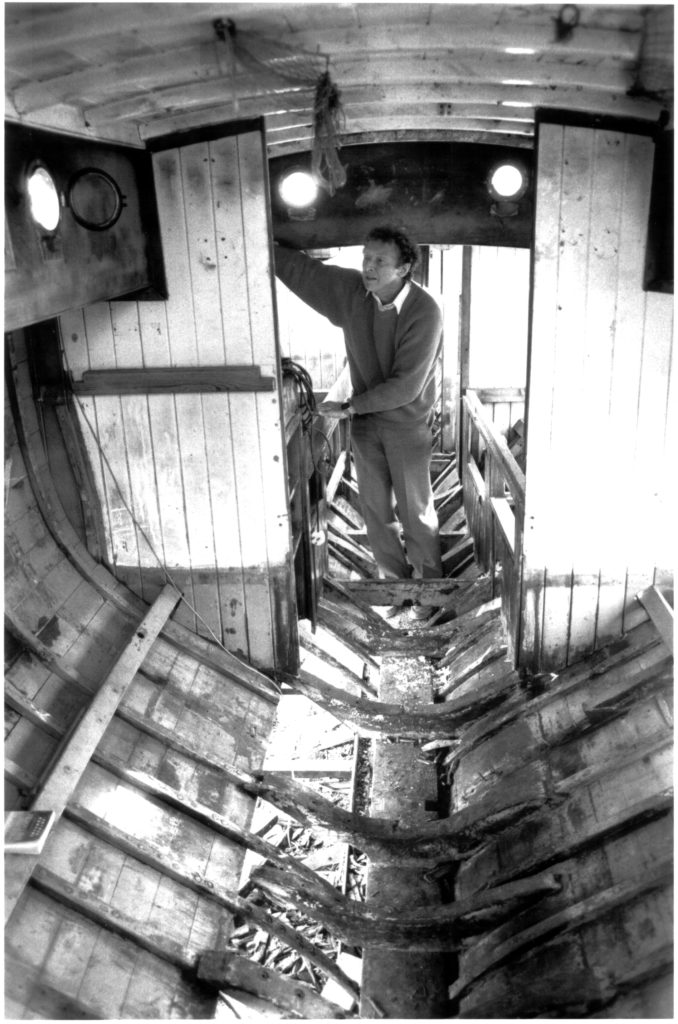 Mike Rines restoring Nancy Blackett.
Peter Willis writes…
Mike Rines, rescuer and restorer of Nancy Blackett, has died, at the age of 89. He first discovered Arthur Ransome's boat virtually derelict in Scarborough Harbour in the early 1980s. Initially unaware that she was the inspiration for We Didn't Mean to Go to Sea, and the original of the Goblin in that book, he simply saw a boat that, as he said, 'was too pretty to die'. He eventually persuaded her owner to part with her, and had her transported back to the River Orwell in Suffolk, where the opening of the book is set, and where he himself then lived, as it happened only a few hundred yards from where Ransome had lived when writing the book.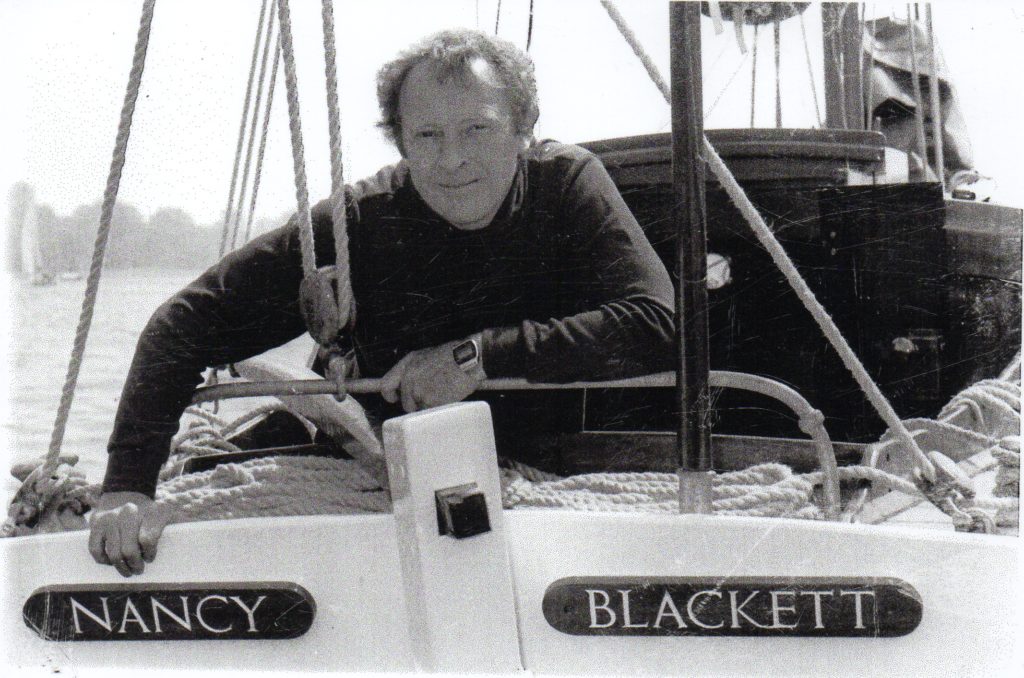 Mike on Nancy.
Between 1988 and 1990, with the aid of a single shipwright he virtually rebuilt the boat at Fox's yard. His 1990 relaunch dinner at the Butt and Oyster, Pin Mill, was attended by Ransome devotees, including two of his biographers, and members of the Altounyan family, the originals of the 'Swallows' in Swallows and Amazons. The event is credited with having contributed to the successful launch of The Arthur Ransome Society (TARS) later the same year.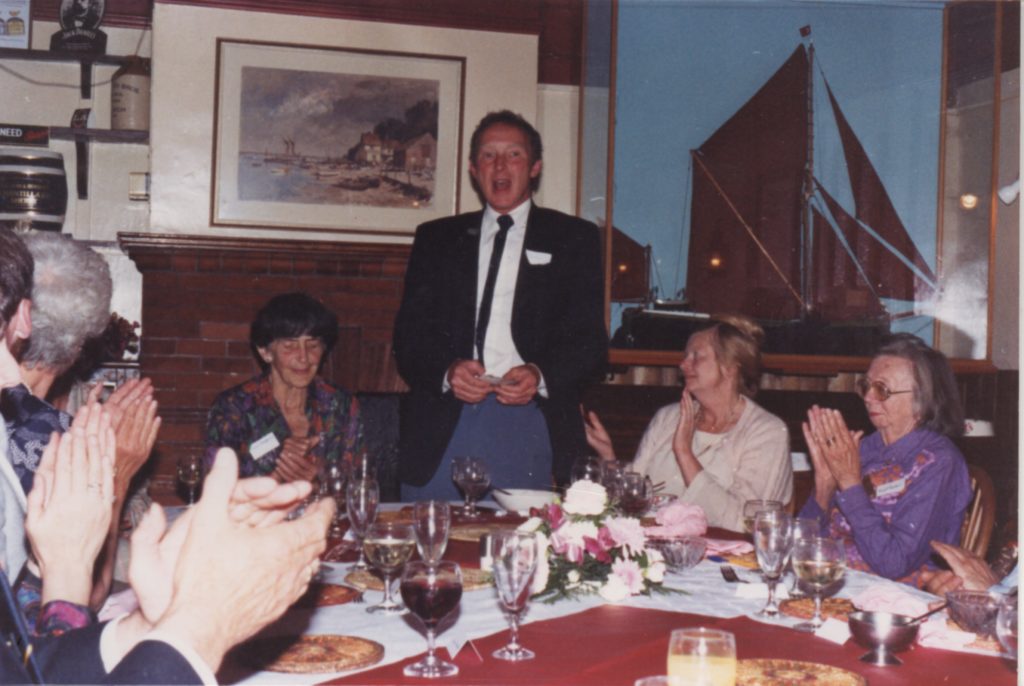 Mike at the dinner to celebrate the relaunch of Nancy Blackett.
Nancy Blackett herself was sold to recoup the costs of the restoration, and later bought by the group that became the Nancy Blackett Trust, of which Mike was made an Honorary Vice-President. Mike retained a keen interest in Nancy's fortunes, and enjoyed his last sail aboard her in the summer of 2021, after contributing to a short film about her for Anglia TV.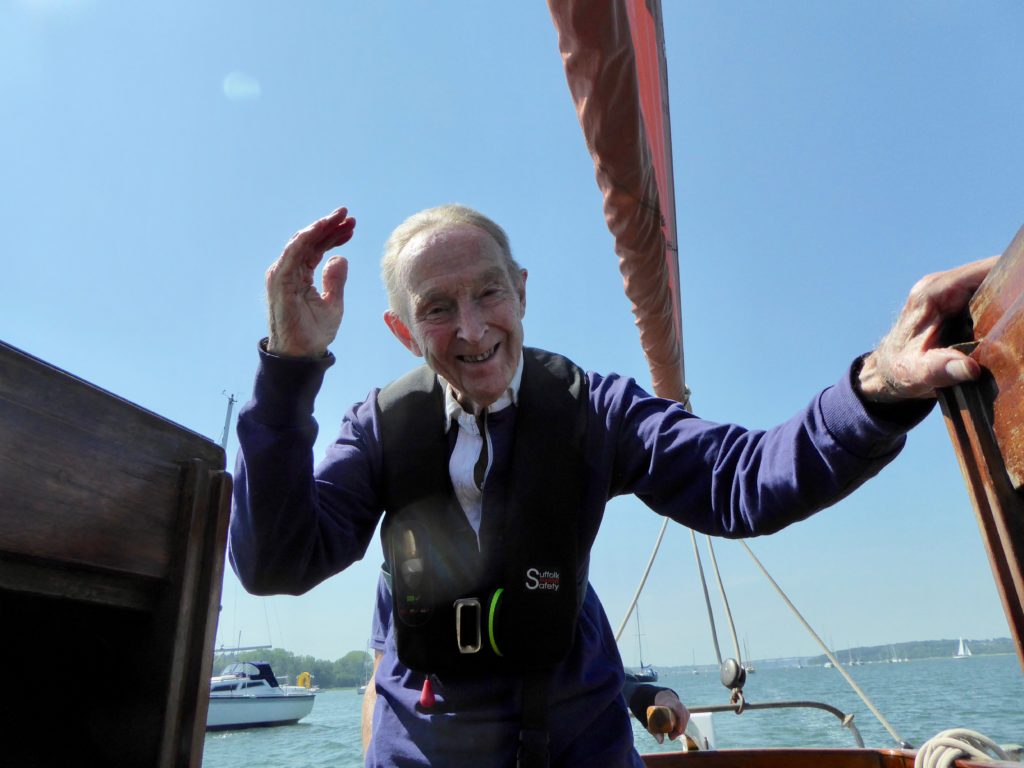 Mike sailing Nancy in 2021.
Donald Michael Rines, as he was christened, was born in Scarborough on May 3rd 1933. He went to the Boys High School there, then to Oxford before embarking on a distinguished career in industry, journalism and public relations. He was Editor of Haymarket Publishing's Marketing magazine from 1970 to 1980. He continued to give public lectures until very recently. He died in Ipswich Hospital on February 15th with his children by his side.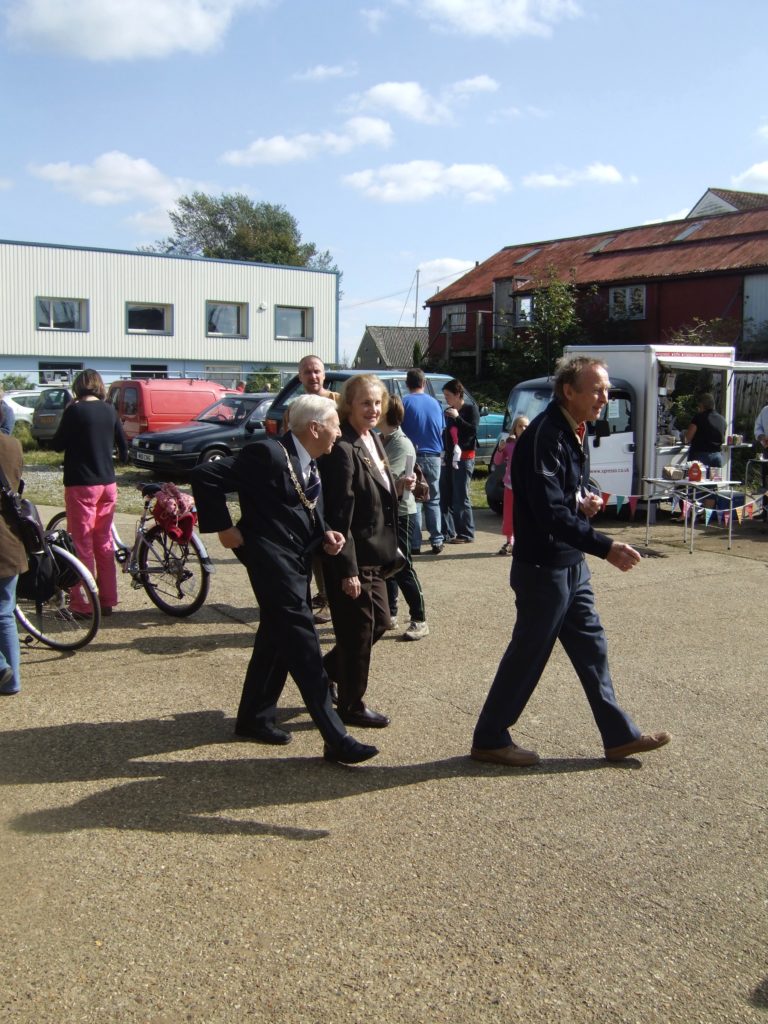 Mike Rines with the Mayor of Woodbridge at Maritime Woodbridge 2008.
Martin Wenyon writes…
Not many people realise that it was Mike who was the initial driving force behind the success of Maritime Woodbridge. He was asked to put something on for the Heritage Open Days and immediately saw the long term value of such an event in raising awareness with the public of the heritage value of the riverside and in particular the future of the Whisstock's boatyard site which had recently been sold and whose future was uncertain. He quickly roped in some foot soldiers and we met every day on a table between the cinema and railway station to get our instructions for the day and brainstorm ideas. In a few weeks he had organised what became the first Maritime Woodbridge in 2006 which was so enjoyable it was decided to make it an annual event which went from strength to strength under his leadership 2007 and 2008. He was a rare man who could motivate others to get things done without even asking and the Woodbridge Museum and the Sutton Hoo shed on the Whisstock's site are there in no small part due to his ability to change perceptions as a result of the success of Maritime Woodbridge.
Annie Leech (1948–2023)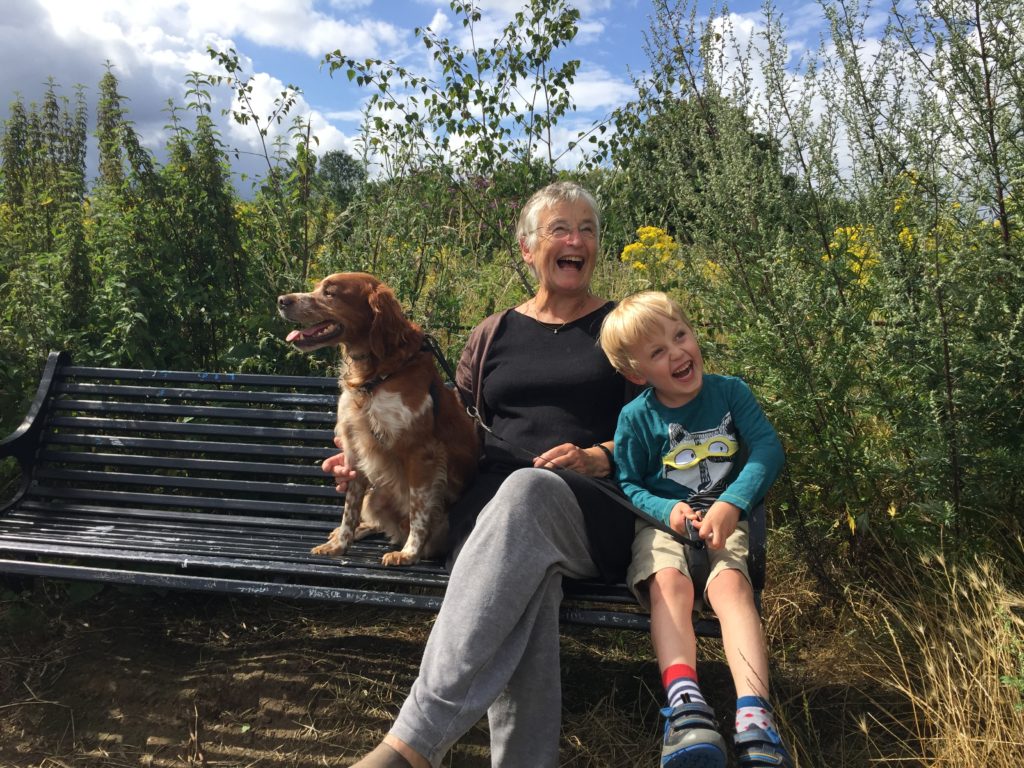 Annie with one of her and Philip's ten grandchildren.
Andrew Fitzgerald writes…
Annie Leech's death has taken a warm, strong, totally civilised person away from her partnership with husband Philip and from the rest of us.
We will miss the hospitality she dispensed, the food she cooked and her conversation.
Her Woodbridge home was typically elegant, comfortable, filled with craftsman designer furniture and books: very much their own stamp.
She was steadfastly Europhile, and spent time in France in her splendid maison de maitre house in a solid country town near Carcassonne, which was gradually polished up under their care. It was the focus of walks in beautiful countryside, buying local products, and appreciation of good food.
Annie helped steer the Longshed to fruition through endless meetings with fellow pressure group members, the Town Council and developers. She had the smarts to get to grips with the detail of meeting minutes and the agreements which needed to be developed – especially the legal points which it was essential were not skated over or lost.
The first public outing for the Whisstocks re-development was as the venue for the King's River musical event, based on the story of Raedwald, which was generated from a standing start, and without which, the re-development would only have started with a whimper. The creation of the event was not due to Annie, but the hard yards of helping it get into the air, surely was. Annie convinced the Arts Council to fund a major part of the cost, paying for musical composition, performers and sets.
The next phase in the evolution of the Longshed was the founding of The Woodbridge Riverside Trust as a charity, with aims of protecting and enhancing the Woodbridge riverside. It needed to be a charity because of its aims and financially because of the need to raise money by donations. Annie single handedly created and carried through the requests for cash from industry and charitable trusts that kept the Riverside Trust able to improve the Longshed from shell to usable space.
The hard work of fundraising continued with two applications to the Lottery to fund the build of The Ship, and many smaller applications for projects to move the Trust on in its role as a Woodbridge destination.
Annie was instrumental in bringing in Philip to chair the Ship's Company, later, after that charity was set up.
Typically, she did not stop holding the infrastructure together: carrying on fundraising in general, and successfully getting funding for training.
She was a splendidly indomitable person, whether at the helm of a sailing vessel in foul weather, in the upper reaches of the Civil Service, or our local enterprises.
Anyone who worked with her will know she was never fazed, never irritable.
It is after a linchpin such as Annie is missing that her quiet competence and utter niceness as a person will be felt more and more.
Philip Leech writes…
Annie was, I think, principally active before, during and for a while after Leigh Belcham was chair. She was a mover and shaker and full of ideas but never sought the limelight or any office. That was coloured by her experience as a pretty senior civil servant as well as her quiet but forceful personality. She was conscious of the role of the RDA as a lobbying organisation (and not, therefore, a charity) and as well as trying to improve the systems and the website she was keen to seek the views of members to inform the main objects of the RDA. She developed, tested and implemented a detailed survey by electronic questionnaire and the findings were swiftly adopted into policy. She had a hand in everything and always put up convincing arguments – but she was also democratic and sensible enough not to be too concerned if she didn't win the argument, except where it was a matter of principle.
Stephen Lines (1954–2023)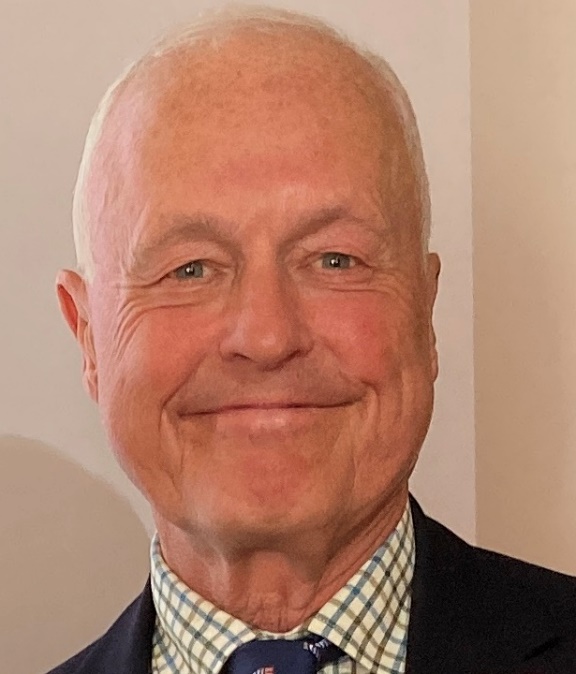 Stephen Lines.
Sue Sutherland writes…
It is sad that we have to report that Stephen Lines died in February this year. He died in St Elizabeth Hospice suffering from pancreatic cancer. Stephen was 68 when he died, having been born in 1954.
Stephen's love of sailing started when he was invited out on the water by a friend some 20 years ago. Subsequently Stephen and Sarah owned a Hallberg Rassey (Lydia of Dart), a Naijad 355 (Mathilde) and a shared Contessa 32 (Star-Ven). Stephen's most recent sailing trip was racing with friends in Greece last autumn.
Stephen, joined the Woodbridge Cruising Club in 2014 and was a very active participant in cruises, winter walks and social events. He served on our Committee for many years, initially as Bosun and then serving as a Rear Commodore and Vice-Commodore.
Stephen took over as Commodore in November 2020 at a very challenging time. We were in the midst of Covid and associated lockdowns and there was a real challenge to the sustainability and viability of the Club.
Stephen and the Committee had to take some big, difficult decisions to steer the right course which would keep the Club alive but not put members at undue risk. Stephen built a strong, cooperative and friendly committee, which achieved consensus on those decisions, and managed to keep the Club operating as much as possible through the pandemic – with cruises, walks, the bar, and functions operating whenever possible. Throughout his 2 years as Commodore, he led the Committee and the Club impressively, with a calm, good-humoured style.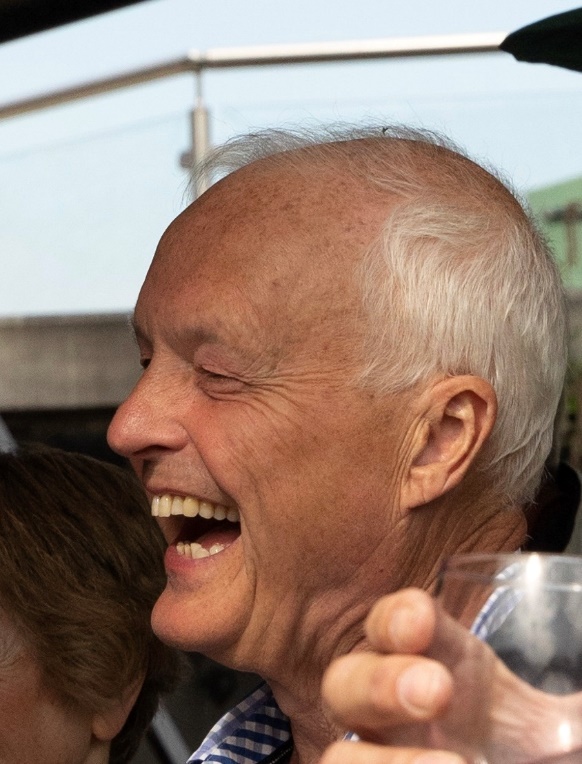 Stephen Lines.
Stephen was also active in organising the last big Maritime Woodbridge weekend in 2018. The festival celebrated our maritime heritage and a full weekend of activities and displays were available to all. Stephen served on the Committee and they were in the throes of organising a 2020 event when Covid got in the way.
Stephen was a lovely person, a very competent sailor and a real gentleman. He had a positive, "can do" attitude to life and met every new challenge that came his way with a disarming smile and a determination to sort it out. He was much loved and will be sorely missed.