By Julia Jones
As well as being the fortunate editor of The Deben Magazine and The RDA Journal I have what I consider the dream job of 'literary contributor' to Yachting Monthly magazine. My duties every month are to select a 1000-word extract from any nautical book – old or new – which I think readers might enjoy and include it in the print edition of the magazine with a few details about the author and publisher. I also provide short reviews of three new books. They can be cruising stories, nautical fiction, instruction, advice, pilotage – or matters connected. (I've just selected an extract from an extraordinary book about the music of coastal foghorns for our March 2022 issue.)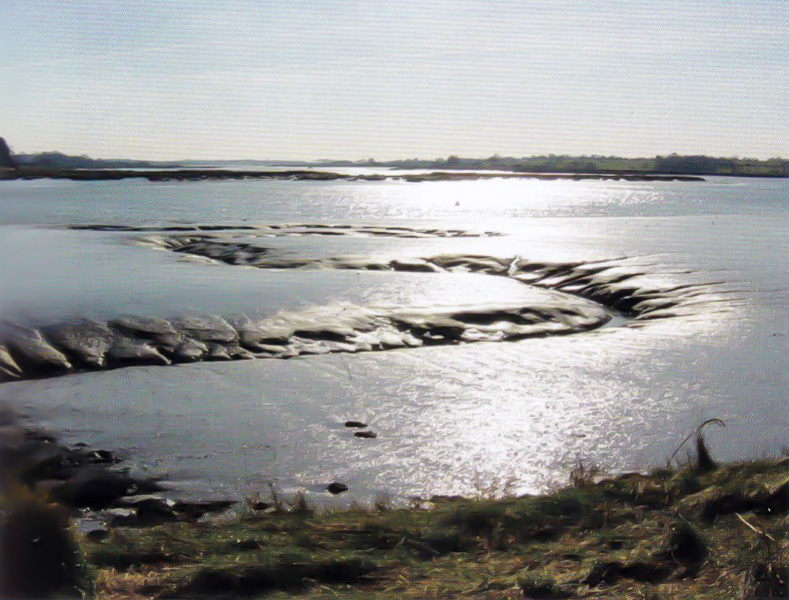 Tidal flats on the upper reaches of the River Deben near Woodbridge (photo from Coatwise, published by Fernhurst Books).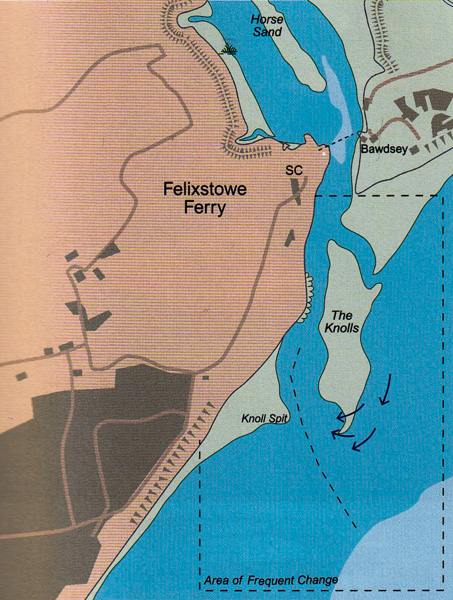 The River Deben entrance on the east coast of England; except for a narrow channel, the bar dries at low water. Longshore drift supplies the sediment that blocks the estuary (photo from Coatwise, published by Fernhurst Books).
Yachting Monthly is widely read through the UK and beyond so I look for geographical diversity. In the last few months my chosen extracts have come from a Cornish beach, a Scottish Island, yachts leaving Crete, coming up the Channel, heading for the Faeroes, a merchant seaman surviving the WW2 Arctic Convoys – and that's not to mention the accounts of blue water Caribbean explorations, Southern Ocean terrors and vast Pacific crossings undertaken by intrepid maritime adventurers. Nevertheless a significant number of the authors whose books I enjoy are Suffolk based – I'm thinking of Paul Heiney's Farewell Mr Puffin (sailing north to Iceland), Peter Willis's Good Little Ship (his biography of Arthur Ransome's Nancy Blackett), Des Pawson's new edition of the late Stuart Granger's Creative Ropecraft. And my heart leaped when I came across John Passmore's Old Man Sailing.
You might call it The Great Deben Escape Book. Passmore's home is in Woodbridge; he was a Waldringfield Sailing Club member. Reading his latest blogpost suggests he's already home for home for Christmas https://www.oldmansailing.com/oars-and-outboards/
However, when the March 2020 lockdown was imminent, Passmore was on his yacht, Samsara, moored in Lowestoft inner Harbour. It was not a place in which to get trapped for three months. He moved, swiftly to self-isolation in the Walton Backwaters and then set off for the Azores – via Shetland. He couldn't risk the English Channel because his dream of freedom depended on him remaining offshore and alone in International Waters. As a former journalist he's an excellent writer. He tells his adventures and also reflects on them. For many readers, Old Man Sailing twangs an imaginative nerve with the dream of following the dream before it's finally too late. Here's my review https://www.yachtingmonthly.com/gear/old-man-sailing-book-review-82298
I chose an extract as well but as those are only published in the magazine you'll have to wait until a future issue to discover what happened when John was sitting down below in his cabin while writing his blog in the Celtic Sea. Or you could jump ahead and buy the book from Amazon.
The Amazon system does have its virtues. It gave John Passmore a publishing outlet when traditional promises were not made good. However, as a former independent bookseller and very small-scale publisher I worry about the extent to which that vast retailer has come to dominate our trade. So, when RDA member Jeremy Atkins, the publisher at Fernhurst books (specialist watersport titles) got in touch with the offer of an RDA member discount on two of the Deben-linked books that I had on my Yachting Monthly pile, felt like an appropriate way to bring specialist books together with a reasonably specialist audience. RDA members will have had details of the Fernhurst discounts in a #Bits and Bobs email from membership secretary Moray McPhail.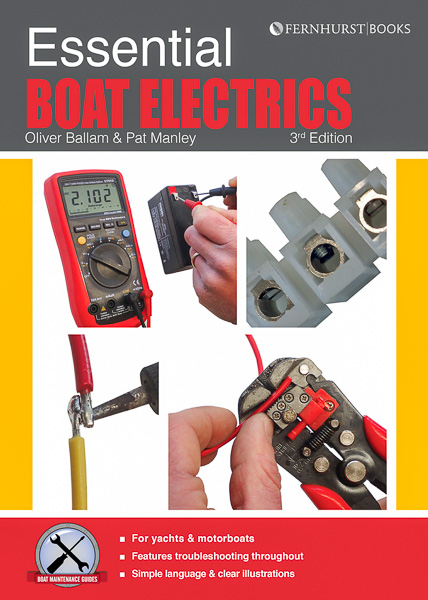 The initial two titles are quite different from each other. Essential Boat Electrics is the revised third edition of a thoroughly useful instruction book for yacht-owners. https://www.yachtingmonthly.com/gear/essential-boat-electronics-book-review-82516
The author, Oliver Ballam, is part of a family who have been on the Deben at least since I was a child (a significant historical period!) I have a feeling, however, that some of the other longstanding Deben sailors who have been writing in this Journal recently will be wanting to make a quantum leap forward in the area of boat electrics as they consider future sustainability. I'm told that Ballam himself is already planning ahead for a 4th edition.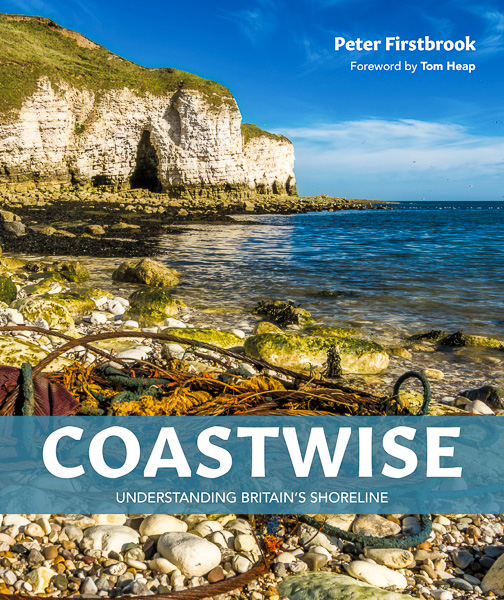 Coastwise, the second of the Fernhurst books, takes a considerably more extended time frame. Its connection with the Deben is a little more distant (I believe the connection is via the author', Peter Firstbrook's parents) and it offers an understanding of the entire British coastline as well as our own unique section. https://www.yachtingmonthly.com/gear/coastwise-understanding-britains-shoreline-book-review-82309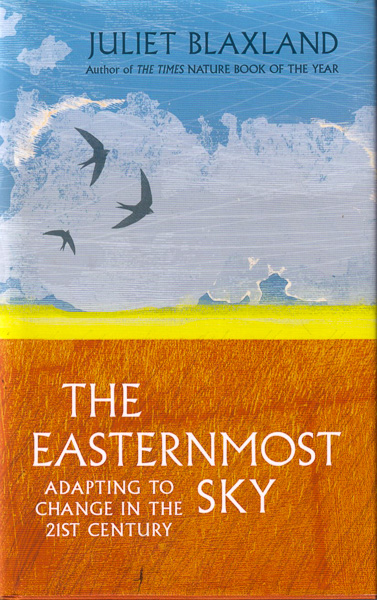 My current, non-Yachting Monthly read is The Easternmost Sky by Juliet Blaxland. It was recommended by Browser's Bookshop in Woodbridge as a follow-up to her local best-seller The Easternmost House. Suddenly the topic of coastal erosion is all too actual as her home at Easton Bavents comes to the end of its life, unexpectedly soon. In this second volume Blaxland thinks about what this might mean for all of us in the not-too-distant future. Her ideas are distinctly individual and won't be to everyone's taste. They come with the authenticity of lived experience.
Julia Jones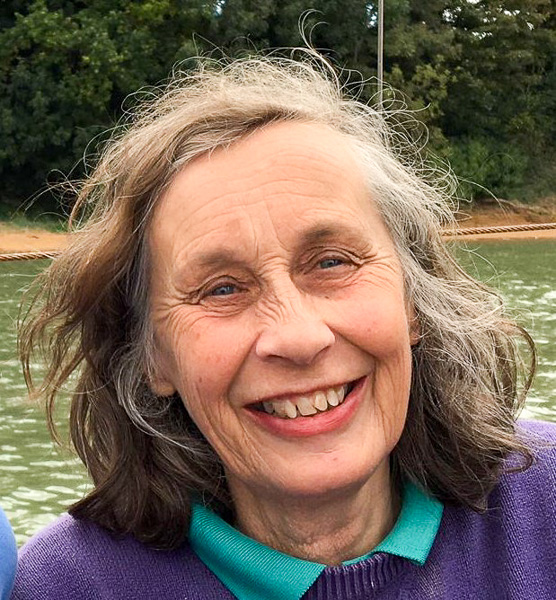 Julia Jones is a writer, editor and dementia campaigner as well as lifelong lover of the Deben. Her new book Uncommon Courage: the Yachtsmen Volunteers of World War Two will be published by Adlard Coles in March 2022. Website https://golden-duck.co.uk