By Peter Willis
A bit more about Sam Doman's pretty dinghy Longshore, which featured in an article by Robert Simper in the Autumn 2020 issue of The Deben. With her eye-catching blue clinker-style hull and cream single battened lug sail she's become a distinctive sight off Woodbridge. She's also been shortlisted in the 'Spirit of Tradition' section of the annual Classic Boat awards. (If you read this article before voting closes – 8th March, we hope you'll be inspired to vote for her – voting link at the end of this article).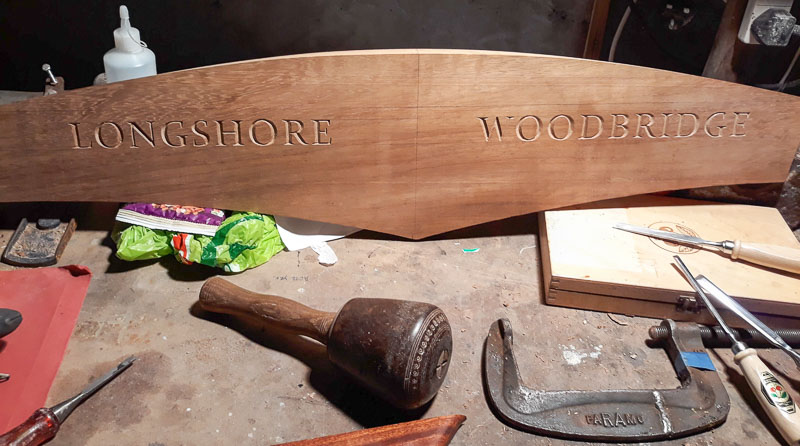 The 14ft hull is actually fibreglass, built from a mould taken, by Sam, off the boat belonging to Thames barge Atlas. Sam, who trained at IBTC in Lowestoft, thought the hull shape particularly appealing and ideal for producing an elegant, traditional style (but thoroughly modern) sailing dinghy.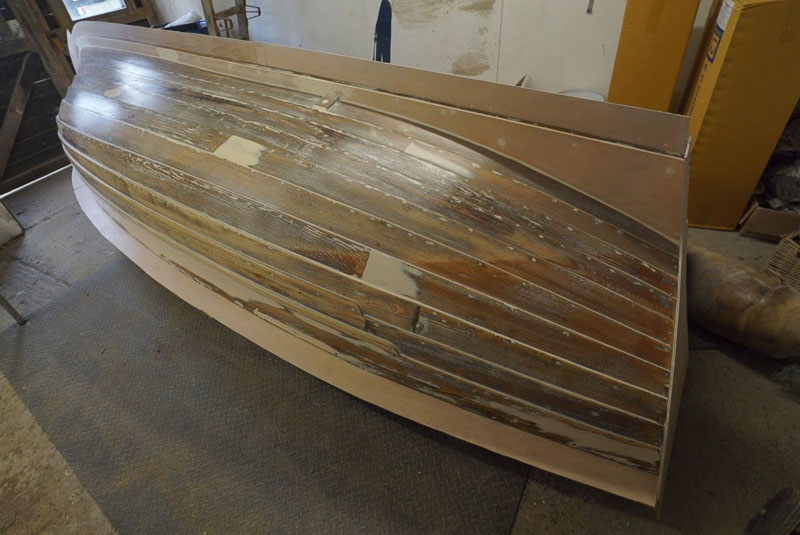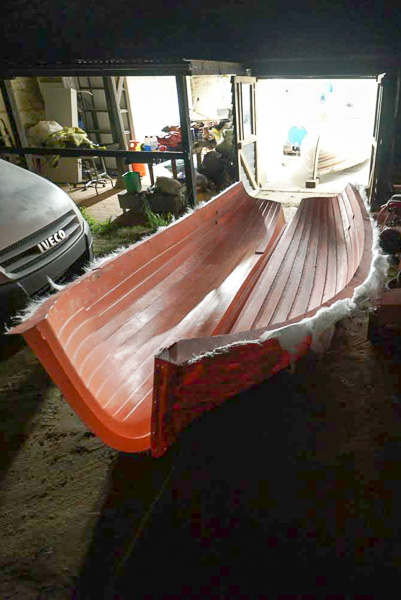 "I wanted her to really look like a clinker boat, even close up, so I paid particular attention to preparing and polishing the hull, before waxing so that the grain of the wood and nail heads would show up in the gelcoat," he explains, adding "It would have taken a lot less time and effort to just put a skim of filler over the rough bits and make a smooth finish!"
He believes the old boatbuilders would have jumped at the chance to use modern materials if they'd been available. It's a philosophy carried on throughout the design.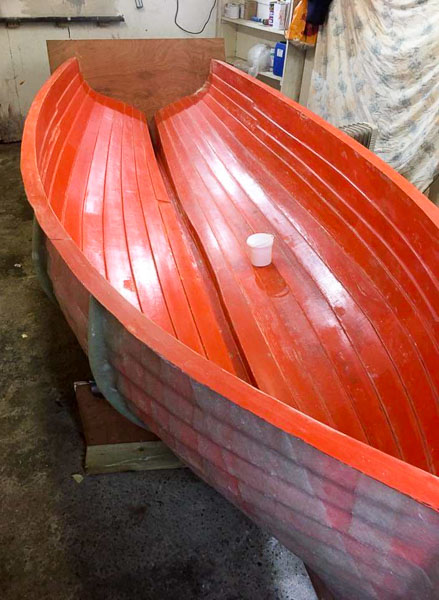 He wanted the rig to be as light as possible, so, as he explains, " The mast is as hollow as I dared to make it, then sheathed in a single layer of light glass cloth and epoxy." The boom and yard are tapered carbon fibre sections, made from recycled windsurfer masts: two top sections joined in the middle to make the flexible yard, and two bottom sections for the stiffer boom. "The result is a very light rig, which is easy to handle and means the boat more stable due to having less weight aloft. I designed the 120 sq ft sail in collaboration with Suffolk Sails, and we came up with a battened design, which gives great windward performance, and lots of power. We decided to go for a cream dacron, because although it's slightly more expensive, I think it would look wrong in white!"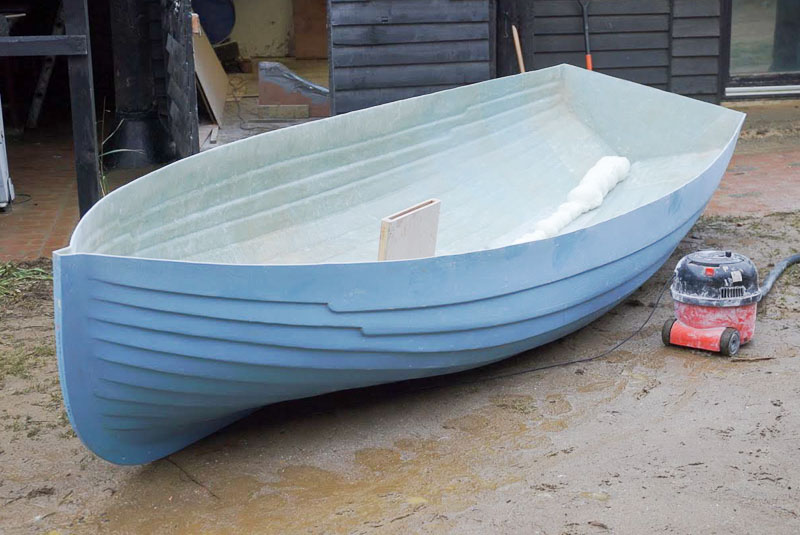 Her foils are based on Sam's experience sailing modern high-performance dinghies, with a high-lift profile, sheathed in carbon fibre to make them stiff. "This all adds up to a boat that sails much faster then she really should!" he adds. "We've actually had her going at a sustained 11kts on a broad reach in 30kts of wind. Her sections aren't flat enough aft to properly plane, but she certainly rides over her bow wave, and exceeds hull speed!"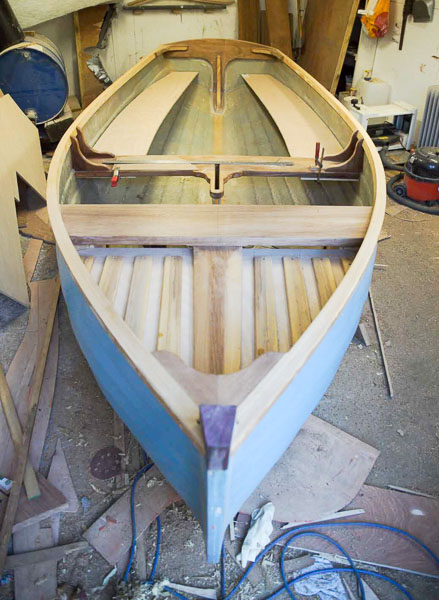 There is some wood, to emphasise the traditional heritage . The gunwales are larch, and the buoyancy tanks are epoxied marine ply. All the rest of the woodwork is in iroko, including the full-wtdth nameboard on her trasom.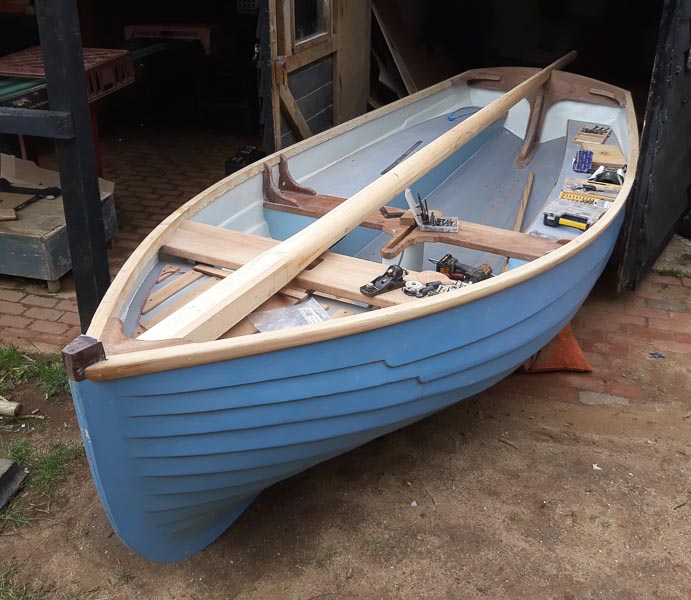 Although she might not satisfy the purists, she has the advantages of being much lighter weight (and hence easier to handle, afloat and ashore, including when towing) and requires much less upkeep than a wooden boat. She turns heads wherever they sail her, and a photograph taken last summer published in Classic Boat magazine caught the attention of the editor, who nominated her for his own Classic Boat Awards. She in the 'spirit of tradition' category, up against large luxury yachts, built for the super wealthy. But, says Sam. "Longshore is at the other end of the spectrum. She is designed to be affordable, accessible, and low maintenance. She was originally designed and built with my parents in mind, who are horrified by the idea of maintaining a wooden boat, but love sailing."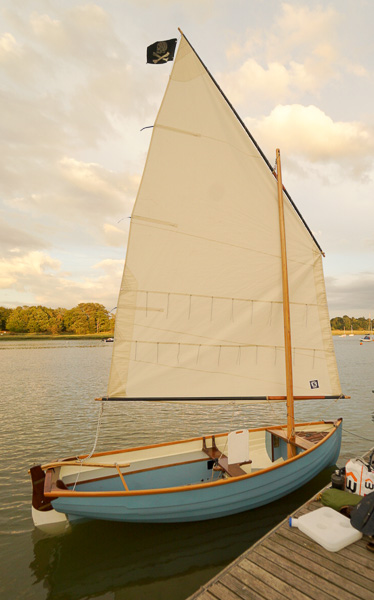 If you want to vote for Longshore, you have until 9am on 8 March – go to awards.classicboat.co.uk/vote-now/ ('Spririt of Tradition' Section)
To contact Sam, email [email protected]
Peter Willis
Peter Willis is President of the Nancy Blackett Trust and a former deputy editor of Classic Boat. magazine.