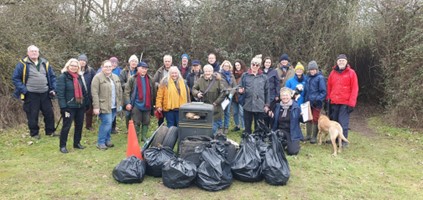 What a happy bunch of liitter pickers! We had a tremendous turn out on the 29 January at the Melton Riverside Litter Pick and thank you so much to all of you who came out. We were over 30 in number and had a great couple of hours of clearing the riverside environs.

Please join us for the half term session on 14th February, meeting at Felixstowe Ferry Sailing Club at 10.30.
If you can't make this session, there is another one on the 25th February meeting at 11am outside the Maybush Pub in Waldringfield.

Bring warm clothes, gloves and a pencil! All other equipment- pickers, forms, clip boards, latex gloves, will be provided with instructions being given on the day. There is a volunteer form below and although you can fill it in on the day, it may save time doing it in advance.
If you could email [email protected] to let us know you may be coming, that would be helpful

Happy picking!
Moray MacPhail
RDA Membership Secretary