by Claudia Myatt
It's 3,600 nautical miles from Easter Island to Falkland, and on this day last year I was a long way from the Deben, six days into a voyage that would take 21 days or more. Dutch sailing ship Tecla set sail from Easter Island on 6th December 2019 bound for Cape Horn, our next landfall the southern tip of South America. Our 13 day passage from Galapagos to Easter Island had been in tropical waters alive with flying fish and in calm weather we had a 'swim stop', jumping over the side to experience the thrill of swimming in clear sapphire water over 4km deep. Now, at 30 degrees south, we could feel the tropics slipping away. The nights were chilly and we started to unpack some of the warm clothes we would need in the colder waters of the Southern Ocean.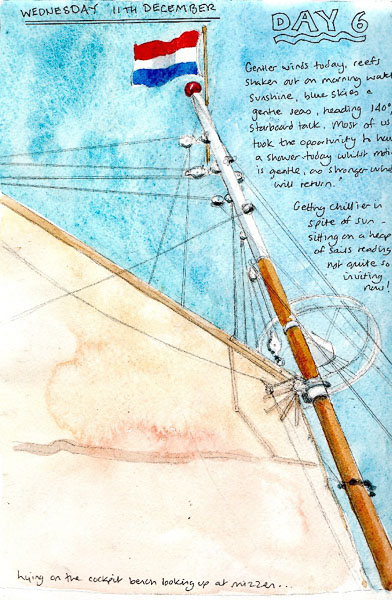 11th December 2019… six days out from Easter Island
Every day I took out my sketchbook and watercolours and filled a page or two with drawings and notes. I had no camera with me, choosing instead to record my experiences with words and sketches in the way that mariners have done for centuries. Taking snaps of every new sight with phone or camera can too easily become a habit. Photographs give us memories, we say. So they do, up to a point, but I wanted to find out whether the intensity of drawing from life over a long period does more to connect us to our experiences.
I was away for more than two months in all, flying home from the Falklands in January 2020. I soon realised how fortunate I was to have completed my adventures before the pandemic took hold and threw everyone's travel plans out of the window. As winter turned into spring and then summer, the River Deben became my world. At high tide I was kayaking, sailing, swimming, enjoying the peace of the creeks and deepening my appreciation of our bird life. At low tide there was time to write and think, to turn my sketchbooks into a book. Published by Golden Duck, 'Sketchbook Sailor' is out this week, just in time for Christmas, if you'd like to find out more about how I sketched my way from the tropics to the wild waters of Cape Horn.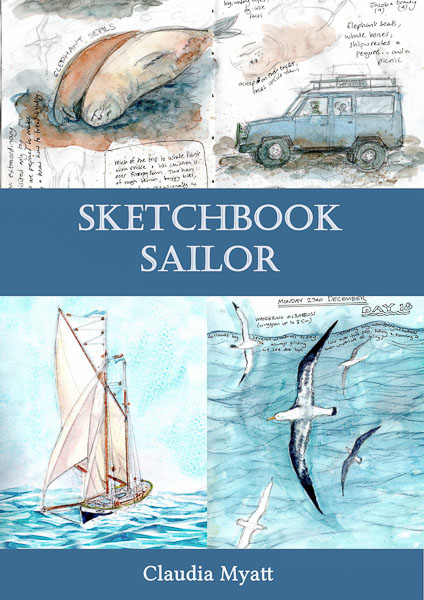 Sketching is not just something that artists do – it's for everyone. The pleasure of spending time in one place, trying to draw what you see, is available to all, whether or not you think you are any good at it. It makes you slow down, pay attention, notice shapes and colours. Sketching is about authenticity not perfection; it's a private pleasure, not open to judgement. In a world where every skill is turned into a TV competition it's easy to feel that unless you can do something well, you shouldn't do it all. But we're human, made to use our hands, to paint, make music, dance, engage wholeheartedly with life in our own way. Becoming 'good at it' is something that happens when you keep on doing it – it's a natural result of practice plus curiosity.
Broadcaster Andrew Marr says 'Drawing can make us see the familiar as we have never seen it before. It can make us think about seeing as well as simply seeing' (A short book about drawing, Andrew Marr, Quadrille Publishing) It's much easier to sketch on the calm waters of the River Deben than on a sailing ship off Cape Horn, but I still need to think about how to carry paints and sketchbook on my kayak, and how to capture the basic shapes and colours of a scene whilst drifting gently in my dinghy on the tide.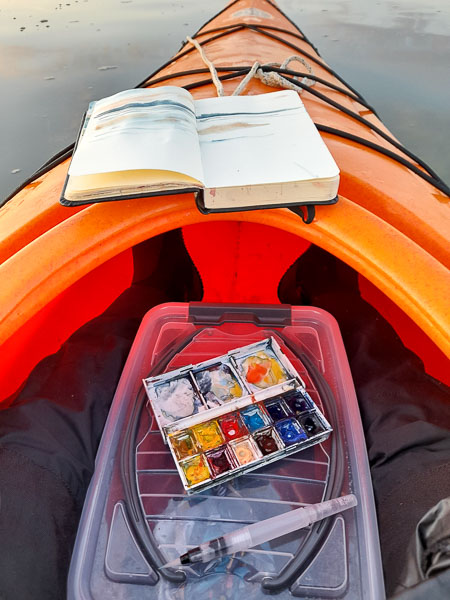 Watercolours are easily carried in a kayak, using the box lid as a table.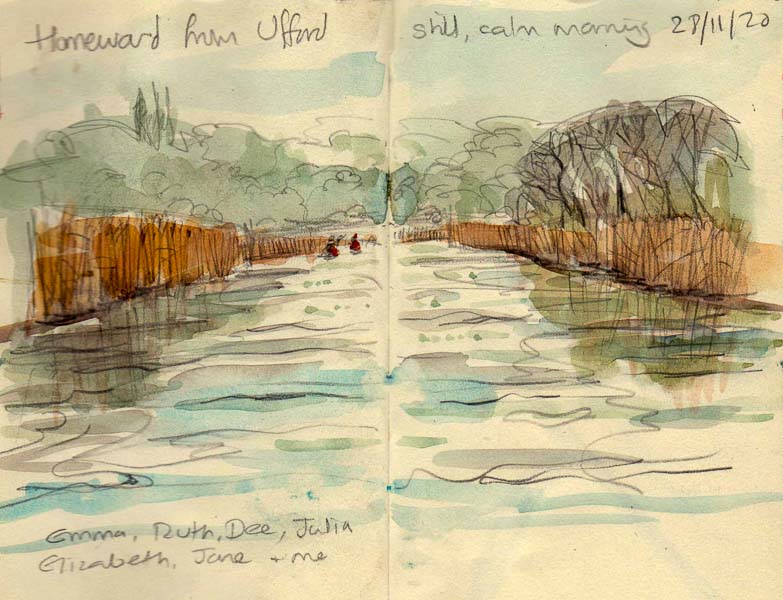 Plenty of water all around to dip my brush into!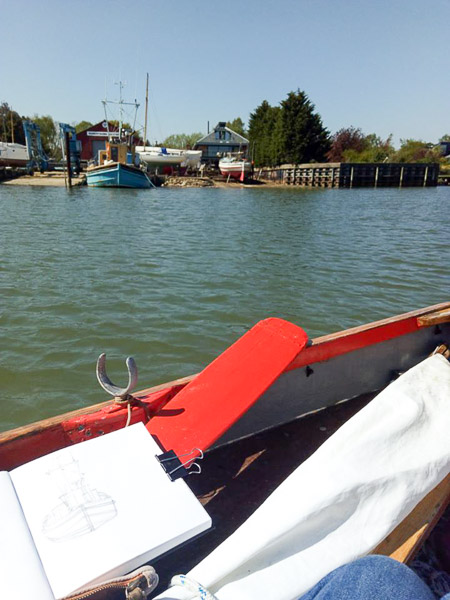 There's more room to sketch in a dinghy, and it helps to drop an anchor or tie up to a buoy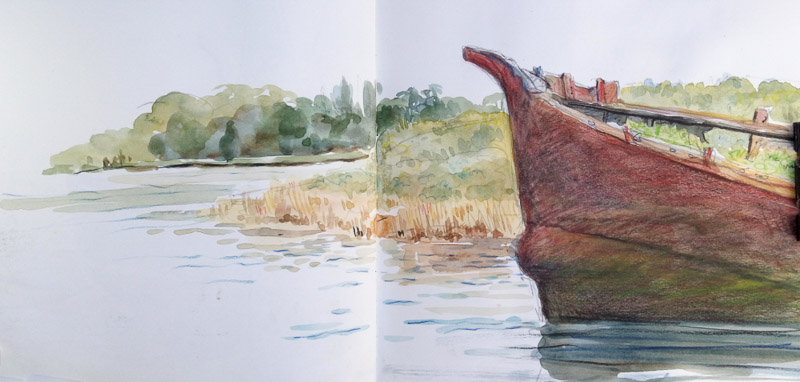 Sketching from 'Poppy' – the wreck opposite Robertson's boatyard
I asked other river sketchers how, and why, they paint the river. Alan Turner likes to combine sketching with swimming – all year round.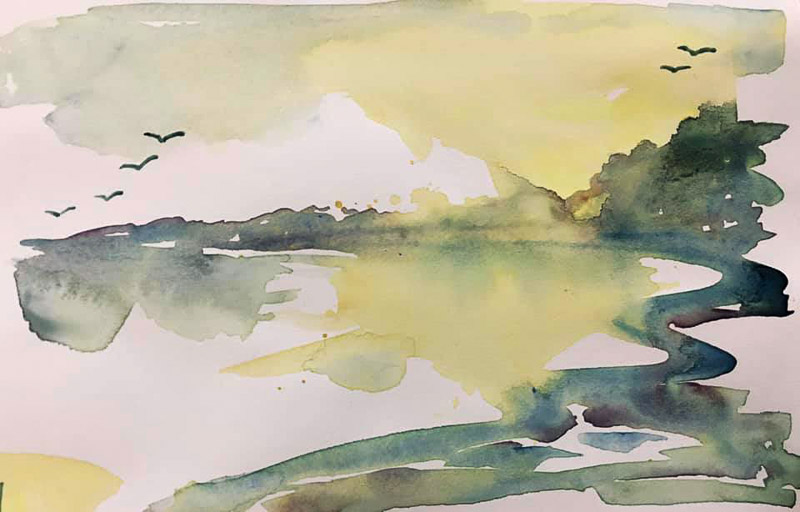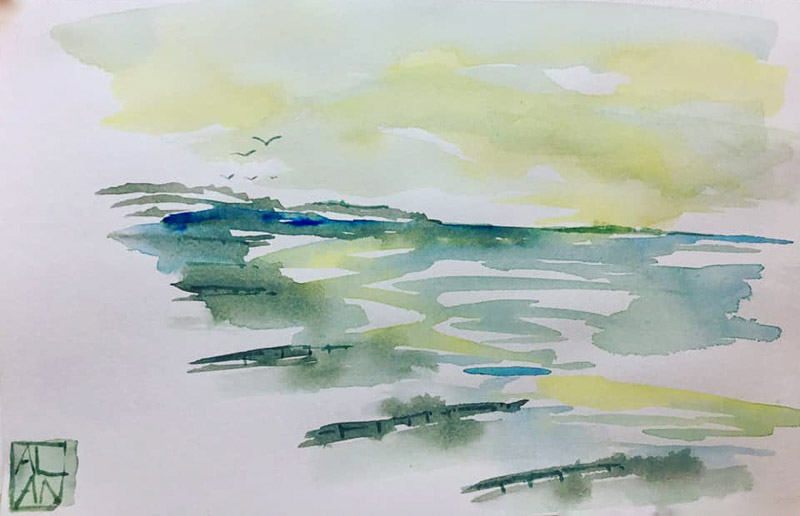 Alan Turner's fast and atmospheric sketches
'Emerging from the water, I dry off & start a few quick pen sketches, usually very fast, about a minute each. I am buzzing from the joy of swimming and the sketches feel very lively. I try to capture the beautiful flow and curves of the river and the colours of the Suffolk skies.
'If I have more time I set up my watercolours and do a quick colour wash before I go in for my swim, so that when I emerge, the wash is dry on the paper. I can then add the details and make sense of the dramatic, often messy, colour wash. I love the way the colours bleed into each other. It helps me to notice the way the colours change with the weather and seasons; I find that a real inspiration.'
Find out more about Alan's work on instagram (alan.turner_artist_in_ipswich) or email on [email protected]
Artist and tutor Mary-Anne Bartlett has the river outside her office door on Ferry Quay (www.artsafari.co.uk) and finds it a constant source of inspiration:
'The river connects. It's the river I grew up on, work on and play on. For me the Deben's changing tides and seasons are packed with memories, as well as every day activities and future plans. Simply looking out on it gives space for thoughts. The soundscape from the wildlife is so important to me too, hearing the waders call is part of my sense of belonging here in Woodbridge.'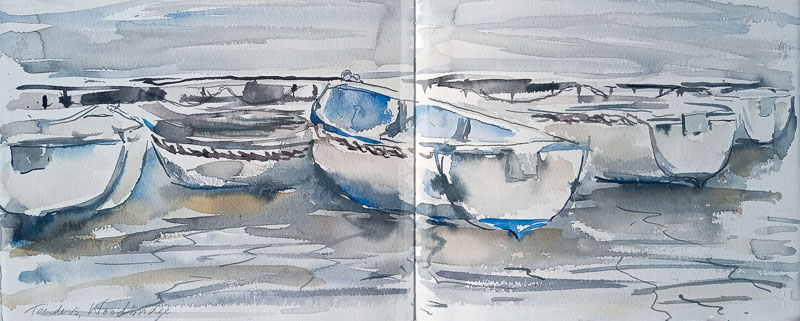 Dinghies – sketch by Mary-Anne Bartlett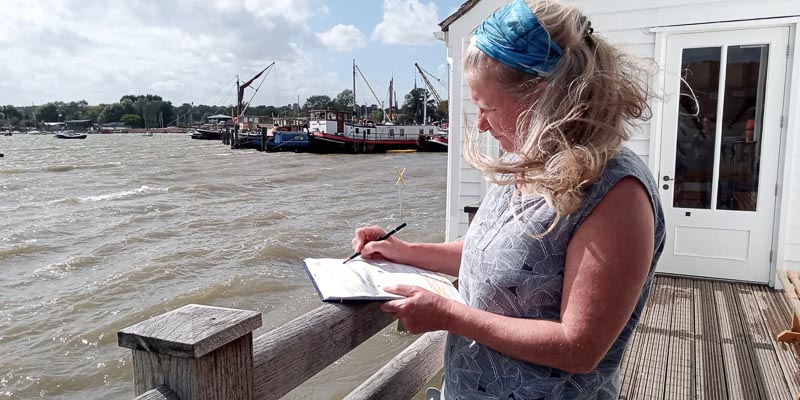 Stormy day at the tide mill

Sometimes Mary-Anne ignores nearly everything in a landscape except colour – until a heron walks through..
You don't have to be on – or in – the water to appreciate and sketch the river. Most people would choose to stay firmly on shore to study the changing light over the saltings or a fleet of dinghies with white sails bright against the trees. If you like the idea of sketching but are not sure where to begin, here are a few outdoor sketching tips to get you started.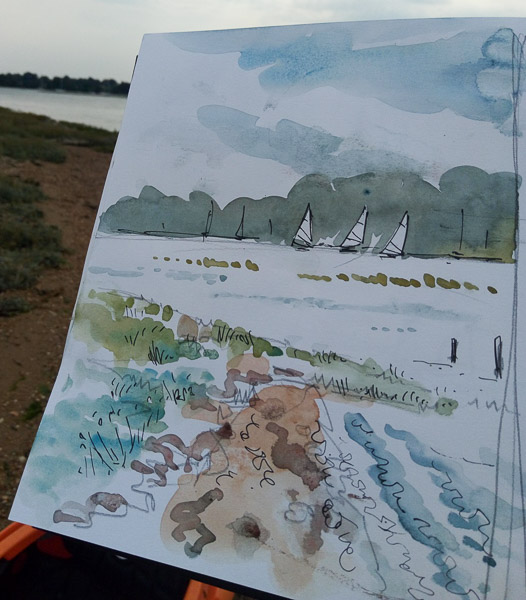 Waldringfield from Stonner Point
1. Travel light
The more gear you carry, the less likely you are to use it. If you are walking any distance at all, being loaded down with gear limits your options. I use a small rucksack to keep my hands free and keep all my pencils, pens and paintbox in a small zip up bag. I use a small plastic container with a lid for paint water if on shore, but when I'm on the river there's no need as the water is all around.
2. Prepare for weather
Bulldog clips stop your pages flapping about on windy days. I also carry a folding pad to sit on damp grass or rocks, and of course a waterproof jacket. A hat with a brim is useful to help stop glare.
3. Mix words and pictures
I use my sketchbook as a diary, noting down impressions in words as well as images. It's a good way of filling in the gaps. If you're worried about passers by peering at your sketches, start writing instead of drawing and they will back off—drawing is seen as public but writing is private.
4. Choose your colours to suit the landscape
I base my palette on primaries so that I can mix any colour I need. I top them up from tubes before I go rather than fiddling around getting the little half pans in and out. My colour choices for sketching the Deben are:
blues: cobalt, cerulean, indigo
reds: alizarin, cadmium red, burnt sienna
yellows: raw sienna, naples yellow, aureolin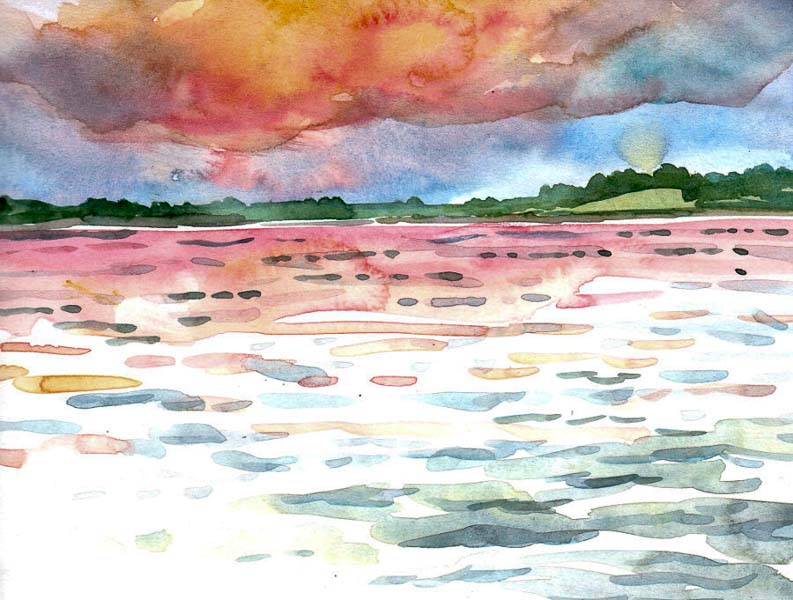 Evening sky -cobalt blue, alizarin crimson, aureolin and indigo
5. Use a firm support
I use a hardback sketchbook so the covers give a firm support to work on (I prefer stitch bound to spiral bound as I often go across two pages). Another option is to have sheets of paper clipped to a small drawing board.
6. Start anywhere – don't wait!
Don't wait until you are in front of a pretty scene to start sketching – drawing can make the ordinary extraordinary. Sketchbooks are your personal view on the world.
7. Draw on the move
If the object you're sketching is moving, as birds and boats tend to do, don't worry about making a mess, just grab a few lines. All movements tend to repeat so as long as the subject is in sight, wait, then draw again when the pose is repeated. Draw on top of drawings, just keep looking at the object more than at the paper, keep the pencil moving and you'll capture something of what you are seeing.
8. Finish off later
If it's difficult to get paints out on location, just get some pencil lines down and add colour as soon as you get back to somewhere with a table. Your colour memory will improve dramatically the more you do it (a quick photo with your phone can be useful, but you'll be surprised at how much you can remember without it). I also add notes later, sketch any bits and pieces I've picked up during the day (leaves, pebbles, driftwood, feathers) and fill out the page. There is a sense that completing the page is helping to complete the day.
I hope that helps and I look forward to seeing you with sketchbook afloat or ashore. If you want to know more, get in touch. Mary-Anne and I hope to be running another 'Suffolk Sketchfest' weekend in 2021 – we'll keep you posted!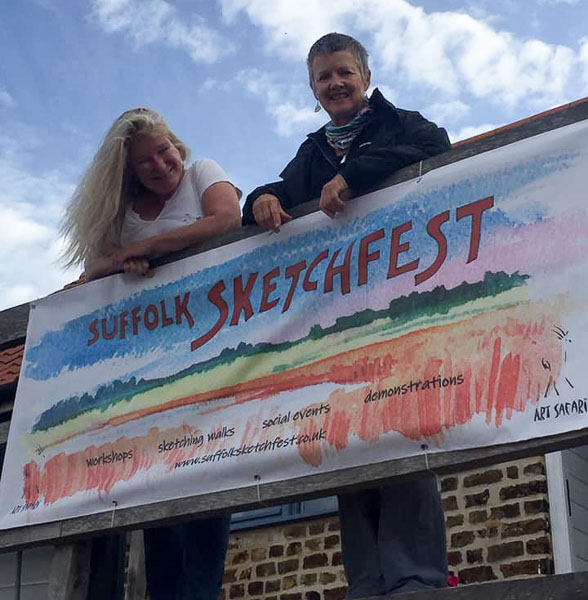 Claudia Myatt
Claudia lives on an elderly tug boat in Woodbridge and has a studio in Martlesham. She has written and illustrated the 'Go Sailing' series of books for the RYA, and contributes artwork to several yachting magazines. In 'normal' years she also runs art classes and workshops, most of them with Mary-Anne Bartlett's Art Safari in Woodbridge. In March 2021 she will be taking her sketchbooks to Antarctica as Artist in Residence for Friends of the Scott Polar Research Institute.
Art books by Claudia Myatt from Golden Duck:
Keeping a Sketchbook Diary
One Line at a Time – Why drawing is good for you and how to do it
Sketchbook Sailor – published this week
www.claudiamyatt.co.uk
www.golden-duck.co.uk
www.artsafari.co.uk