From his family and from the Waldringfield History Group. Presented by Gareth Thomas (former chairman WHG)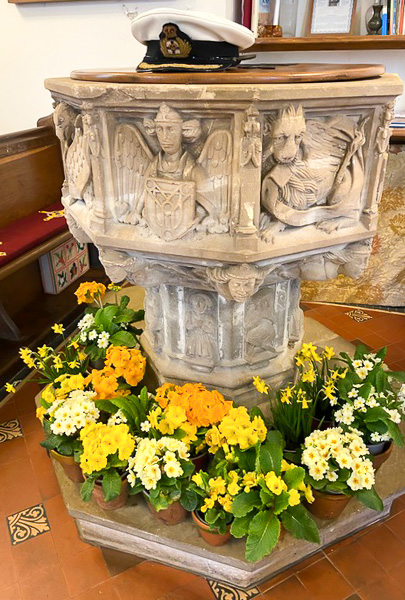 Captain Joseph Christopher Clark, who retired from the Merchant Navy in 1992, passed away peacefully at his home, Woodside, in Waldringfield on Sunday, February 20th. 2022, following a long and debilitating neurological illness. Throughout that illness he had been cared for, unstintingly, at home, by his wife, Kit, his family and a magnificent team of carers.
Joe was the founding Chairman of the Waldringfield History Group and, as his immediate successor, I have been given the honour of providing for the RDA Journal a tribute to this kind, unassuming, dry-witted gentleman, this stalwart of Waldringfield.
On the morning of March 18th 2022 Joe's wife, Kit, and mourning family members were led in private worship at Seven Hills Crematorium by Canon Roy Tricker, a long-standing family friend.
That same afternoon family and friends, Joe's carers and the Waldringfield community in general gathered at All Saints Church, Waldringfield for a Thanksgiving service to celebrate Joe's life. It is this service which, with the permission of the family, I will use, in the main, as the tribute to Joe because nothing can surpass the content and the atmosphere in which it was presented.
The sun shone in all its perfect glory as the congregation, inside and outside the Church, sang familiar hymns and listened to loving eulogies from Joe and Kit's daughters and grand-daughters, as well as some of Joe's favourite pieces, read by grandson, Joseph and by Joe's two sons-in-law. The service was led by Rev Canon Ian Wilson and by Canon Roy Tricker who, in his inimitable style, ensured that the service would be a true celebration of Joe's life.
The flowers, arranged by Kit with her 'girls' and friends, were beautiful, and the expert playing by Richard Atkins of Joe and Kit's favourite, Shostakovich's "Gadfly", on the church organ produced notes which Kit insists she has never heard emanate from that source before. The composition was, after all, written for the piano.
Throughout the service Joe's naval cap with its Royal Mail insignia lay atop the font, reminding all of Joe, his rise to the top of his chosen career, his strong but gentle character, his dry but kind wit and that ever-present glint in his eye.
This is what his family had to say – first Joe and Kit's daughters, Rebecca and Lucy.
Rebecca….
Lucy and I, Joe's daughters, want to share a few of our memories of Dad and what he meant to us. He, alongside Mum, has been our guiding light. Most of the time we listened to his words of wisdom, but sometimes we did rebel!
It has been emotional writing this eulogy and it will be equally difficult to deliver it to you. If we falter whilst reading it [husbands] Dominic and Paul are on hand to step in. Lucy is going to start, and I am going to add some additional memories at the end.
Lucy….
Dad's first love was the sea and travel.
He joined the merchant Navy at age 17 to see the world. He had a spirit of adventure and a fascination for the great explorers, especially Shackleton and his historic survival in Antarctica.
He might not have had Shackleton's story of epic endurance and exploration, but the high seas provided plenty of drama and adventure for him, some even worthy of finding a place in a Hollywood film; in 1969, he was standing watch as first mate on a transatlantic crossing when he spotted the deserted boat of Donald Crowhurst. Dad's ship was stopped mid-ocean and Dad was sent off in a lifeboat to investigate. He was first aboard the tragic S.Y.Teignmouth Electron. The sad and bizarre story that then became apparent below decks has since been made into a film with Colin Firth playing Donald Crowhurst (I'm not sure who played Dad!).
He took his ship into the Persian Gulf during the first Gulf War, something that gave Mum more sleepless nights than Dad, I think. He navigated a typhoon in the Pacific, and a failure of his engines which put him aground in Geelong, Australia. These and countless other dramas were all taken with a calm and unflappable resolve, but amongst the dramas were also places of beauty that he loved visiting; he often spoke fondly of South America, especially Chile and Argentina and the city of Buenos Aires. 
On retirement and after 40 years at sea, Antarctica was the only continent he hadn't travelled to, an omission he later rectified with a trip to the frozen continent to retrace Shackleton's infamous journey.
Back to 1963, standing on Caversham bridge, looking very dashing apparently, dressed in top hat and tails for his sister's wedding, he met Kit, a fellow guest wearing a pink suit that her mother had told her she "wouldn't find a husband in." (Mothers don't always know best!) The rest as they say is history. A year later they got engaged on a gondola in Venice and honeymooned in Paris. They lived in London as newlyweds, then, heavily pregnant with Rebecca, Mum found her dream house in Waldringfield.
Mum's dream house looked 'anything but' to Dad; rising damp, falling damp, buckets collecting the rainwater and WW2 ammunition still stored in the cupboards. Not a lover of DIY and also not patient enough to be good at it, he none the less rolled up his sleeves and set to work. There is a black and white photo of him in the family album looking despairingly as he's digging out a large bank of rubble and dirt from around the house.
His first love might have been the sea and travel, but his true and enduring love was his family. Mum, Rebecca and me, and later his two sons-in-law and four grandchildren Joseph, Max, Daisy and Rachel. He had requested that Mum produce daughters for him rather than sons, and for once she did as she was told. Two daughters within a year.
He may have missed being present for a few birthdays or Christmas's because he was away at sea, but he never missed being our unwavering cheerleader. He was undoubtedly deluded, but we were never in doubt that he thought we were amazing.
Dad was fortunate enough to retire at 57 which meant that Mum and Dad were able to spend many years travelling together, trips to N.Z., Machu Picchu and the Nile to name but a few. And enjoying their beloved Waldringfield together. Dad's love of history, fostered many years earlier by an inspirational history teacher at school, saw him looking into the Waller family history and starting up the Waldringfield History Group with Stan Baston and Bob Crawley.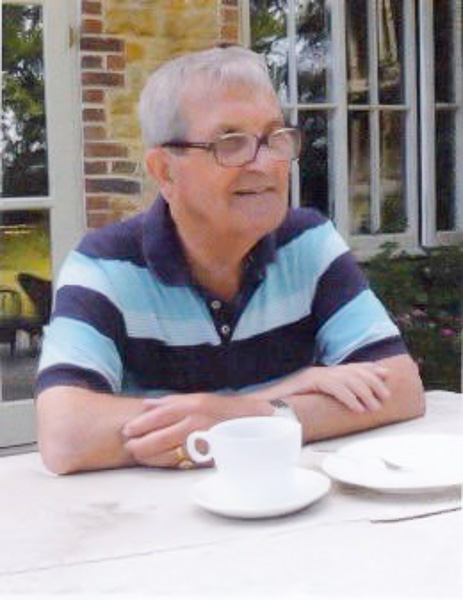 Joe Clark Founder, First Chairman and President of the Waldringfield history Group

He took up golf with enthusiasm on retirement, but there was a mild frustration that his game didn't quite match up to the great Sevi Ballesteros. Andrew, my lovely cousin in San Francisco, who enjoyed playing golf with Dad on a number of occasions at Waldringfield certainly remembers some grumbling and cussing from Dad as all too many shots inexplicably veered off into the rough.
Dad's diagnosis 5 years ago reduced his physical abilities, and his stubbornness not to give into those failings led to some pretty hairy moments for Mum. Miraculously, he never sustained anything worse than a few cuts and bruises. Mum would patch him up and tell him off for not listening to her. A spirit of adventure and derring-do until the end.
Rebecca….
The support that everyone here has shown to us as a family through cards, letters, emails, and hugs has been a huge comfort and will continue to be so over the coming weeks and months.
From your kind words it is clear that Dad is fondly remembered by you all as a steadfast, humorous and generous man with a twinkle in his eye.
My enduring memory of Dad will be his steadfastness.
He has always been there to celebrate our successes, but equally ready to help; be it with a paint brush, shovel or hoover.
Mum and Dad gave Dom and me huge support when Rachel was born as I needed surgery when Rachel was 4 months old. We could not have managed during that time without them and their ongoing support whilst Joseph and Rachel were growing up as Dom and I juggled work and home life. This extended to transatlantic support whilst we were living in Miami.
Lucy and I have been humbled by Mum's strength over the past few years in caring for Dad. She has certainly fulfilled the vows that she took, here, in this church on 17 July 1964 on her wedding day.
Dad, you have given Lucy and I the greatest gift of all – you believed in us.
You will not be with us around the dining room table at Woodside to celebrate our milestones in the future, but you will not be forgotten.
Then Grand-daughters Daisy Hannam and Rachel McKay, with a personal tribute…
Coming to visit Waldringfield has always been one of our happiest memories. Having Granny running around filling us full of cake while Grandpa taught us crabbing or paddled with us in the Deben. Many tasty dinners at Waldringfield around the dining room table. Grandpa never drank any water because he said he's 'seen what it does to ships'. We loved hearing stories of Grandpa and his travels around the world, following in the footsteps of his hero Ernest Shackleton around Antarctica.
I was visiting Waldringfield on the weekend when the film in which Colin Firth played Donald Crowhurst was released. Granny, Grandpa and I went to Woodbridge to watch the film and see Grandpa's big Hollywood moment. Although they didn't actually show the part where Grandpa was first officer and first person on Donald Crowhurst's ship after it had been abandoned, I did overhear someone saying to Grandpa "I heard YOU are in the film". I think Grandpa liked the idea of that because although he didn't confirm this rumour, he definitely didn't deny it either!
When we lived in Miami Granny and Grandpa used to come for Christmas. Grandpa would dress up as Santa and arrive at the door with a sack of presents. Joseph and I would be in complete awe until Joseph got a bit older and asked Santa where his sleigh was. Grandpa said, "it's on the roof but you can't come and see" and then Joseph also started to recognise Grandpa's face under the costume.
After Joseph and Rachel moved back from America we would often have Boxing Day together and we would play this game where everyone had to write down the name of a famous person and everyone had to guess who was who. Grandpa was always the first one out because he always chose to be his beloved Shackleton, and continued to be shocked when we guessed it so quickly every time. He seemed not to care he was out and carried on listening to the rest of us finish the game.
Every time Joseph and I were watching TV Grandpa would say, "what's that on the twoddle metre?". Ironic as he watched so much twoddle; 'Pointless', 'Homes under the Hammer' and 'Bargain Hunters' to name a few.
Grandpa always felt like the calm in a storm, the storm often being my Granny Kit. He was our number one supporter, always making the trip to come to dance shows, music performances and whatever else the four of us managed to get up to. There wasn't a second where I questioned how proud he was of all of us, and we couldn't have been luckier to have him as Grandpa.
[GT writes: Although Joe did not appear with Colin Firth in the film about Donald Crowhurst, his name is immortalised in print in a book kindly brought to my attention by John Ogden. Entitled A Voyage for Madmen and written by Peter Nichols, it tells the gripping story of the Sunday Times' Golden Globe 'round the world' race and its nine single-handed competitors including Donald Crowhurst, Chay Blyth and Robin Knox-Johnston. Chapter 31 records that 'it was 07.50 on 10 July when the Royal Mail vessel Picardy's officer on watch spotted the yacht' in the mid-Atlantic. It was a trimaran named Teignmouth Electron. There was 'no activity aboard the yacht. Now Captain Box was concerned; the yacht's crew might be ill or incapacitated. He ordered the engines stopped.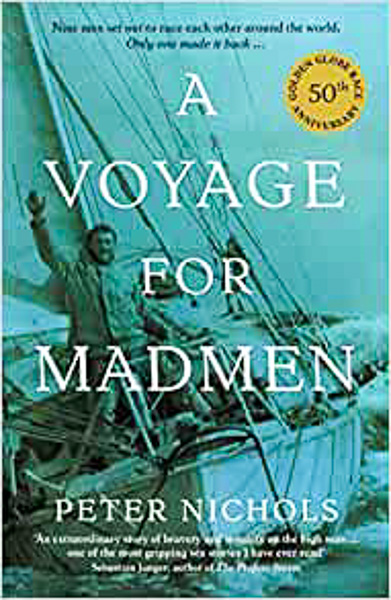 Chief Officer Joseph Clark and three crewmen were lowered overside in the ship's boat. They motored over the calm water to the yacht, and Clark climbed aboard. He stepped below into the cabin. He found a squalid scene'.
Donald Crowhurst was, of course, missing from his yacht.]
And so back to the celebration of Joe's eventful life.
Son-in-law, Paul Hannam read 'Walk Within You' from 'Smoke Jumper' by Nicholas Evans, a poem which Kit first discovered in 'The Two of Us' by Sheila Hancock.
If I be the first of us to die, Let grief not blacken long your sky.
Be bold yet modest in your grieving. There is a change but not a leaving.
For just as death is part of life, The dead live on forever in the living. And all the gathered riches of our journey, The moments shared, the mysteries explored, The steady layering of intimacy stored,
The things that made us laugh or weep or sing, The joy of sunlit snow or first unfurling of the spring,
The wordless language of look and touch, The knowing, Each giving and each taking, These are not flowers that fade, Nor trees that fall and crumble, Nor are they stone,
For even stone cannot the wind and rain withstand And mighty mountain peaks in time reduce to sand.
What we were, we are. What we had, we have. A conjoined past imperishably present.
So when you walk the (woods) Deben where once we walked together And scan in vain the dappled bank beside you for my shadow,
Or pause where we always did upon the hill to gaze across the land, And spotting something, reach by habit for my hand,
And finding none, feel sorrow start to steal upon you,
Be still. Clear your eyes. Breathe.
Listen for my footfall in your heart. I am not gone but merely walk within you.
Grandson Joseph McKay read 'The Unknown Shore' by Elizabeth Clark Hardy, a poem which evokes many emotions, not least of which is the very feel of the beloved Deben and the moorings at Waldringfield just prior to sunset
Sometime at eve when the tide is low,
I shall slip my moorings and sail away,
With no response to a friendly hail,
In the silent hush of the twilight pale,
When the night stoops down to embrace the day
And the voices call in the water's flow.
Sometime at eve when the tide is low,
I shall slip my moorings and sail away.
Through purple shadows that darkly trail
O'er the ebbing tide of the unknown sea,
And a ripple of waters to tell the tale
Of a lonely voyager, sailing away
To mystic isles, where at anchor lay
The craft of those who had sailed before
O'er the unknown sea to the unknown shore.
A few who have watched me sail away
Will miss my craft from the busy bay;
Some friendly barques were anchored near,
Some loving souls that my heart held dear
In silent sorrow will drop a tear;
But I shall have peacefully furled my sail
In mooring sheltered from the storm and gale,
And greeted friends who had sailed before
O'er the unknown sea to the unknown shore.
Son-in-law, Dominic McKay completed the trilogy of poems with Christina Olsen's 'Last Love Poem for Ernest Shackleton' who, as you have learnt, was held in very high regard by Joe.
Sir Ernest Shackleton (1874–1922) was a polar explorer who led three British Expeditions to the Antarctic.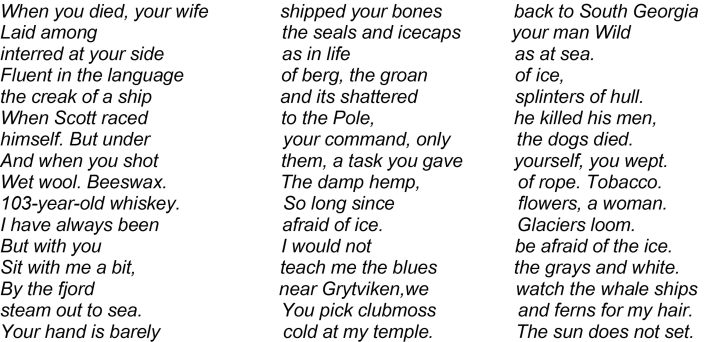 Kit then stood and, with a determined inner strength, thanked everyone for all their support – what courage to stand and address the congregation in that way in the very Church where she and Joe were married over 57 years before.
Kit's thank you:
Just to say thank you – to my family who are amazing especially Rebecca and Lucy.
To Joe's carers. They all looked after him so well. They made it possible for Joe to stay at home, which was wonderful for him and me.
To you all for your lovely familiar faces, and all the warmth and support you have given us.
To Ian and Roy for helping us with this thanksgiving service for Joe and their support and understanding.
To RIchard who has make this a musically memorable service for Joe.
To the church wardens Margaret and James who have organised everything for us in the church that we were married in 57 years ago.
Joe has been missed physically, through ill-health, for several years from gatherings such as Master Mariners, FFIGS, Winter Talks and the Waldringfield History Group [WHG] but he has always been there in spirit and such is his presence that he will continue to be so.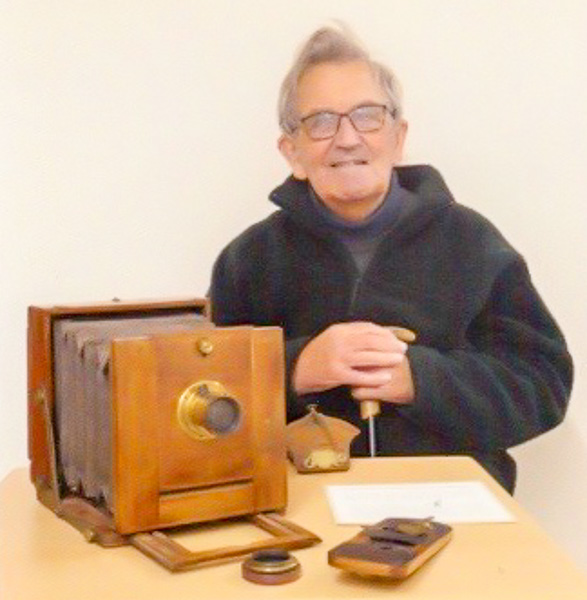 Joe Clark with Thomas Naughton Waller's camera
The cover of the Order of Service includes a photograph of Joe, taken by Bob Crawley, during a visit by the WHG to Woodbridge Museum. Joe is sitting proudly behind the camera which led to the creation of the WHG – the camera used by Thomas Naunton Waller, Kit's great uncle, to create the glass slides which led to a presentation by Joe and Stan Baston entitled 'A Walk around Waldringfield 100 years ago'. The full story is in the book 'Waldringfield – A Suffolk Village beside the River Deben' dedicated to Joe as Founding Chairman and then President of the Group.
The dedication page in that book includes another favourite photograph of Joe, one which catches the wry grin which so often accompanied the glint in the eye. I can almost hear him speaking the last line of one of my favourite recollections of Joe. For some considerable time the text of the chapter on the glass slides referred to them being discovered 'in Joe and Kit's attic'. One day, completely out of the blue, he pronounced 'That's strange – we haven't got an attic.' Wry grin, glint in the eye – quiet humour.
God Bless You, Joe – and thanks – for being You.
Gareth Thomas
Gareth Thomas is a retired Obstetrician & Gynaecologist, and was the Chair of Waldringfield History Group for ten years until 2020. He thus oversaw the publication of the WHG village history which was dedicated to Joe Clark.