By Peter Willis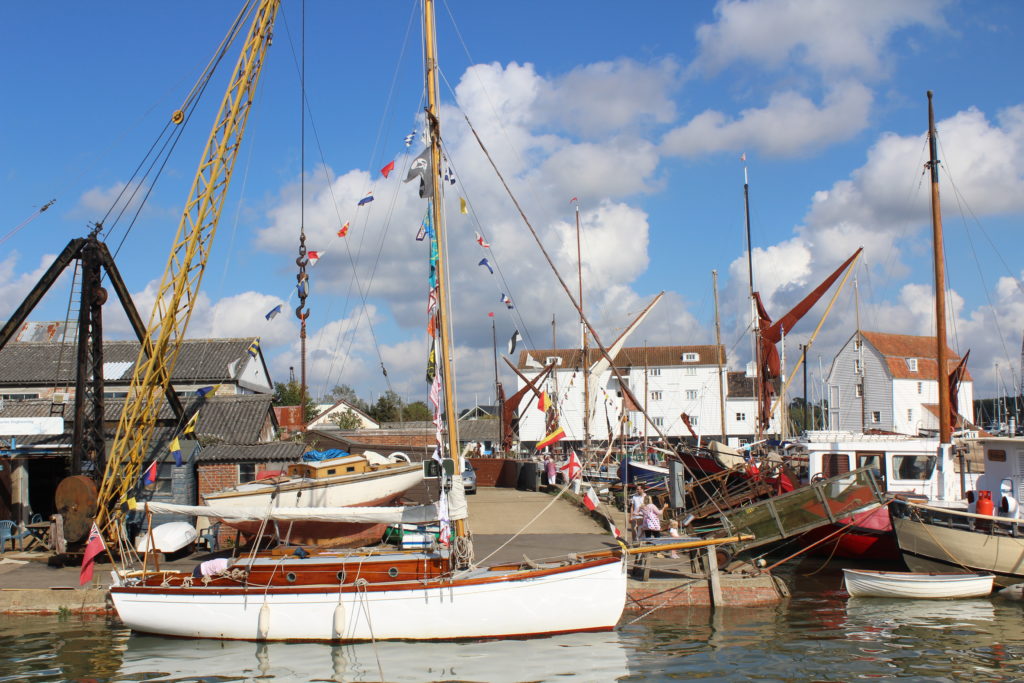 Nancy Blackett at Woodbridge.
If his log books are to be believed, Arthur Ransome only brought Nancy Blackett into the Deben twice during his four years' ownership of her.
He kept her on the neighbouring River Orwell, having bought (and renamed) her in 1935 when he and his wife Evgenia moved to the East Coast, from the Lake District, to enjoy the area's great potential for scenic inshore and offshore sailing. They rented a house, Broke Farm, in Levington, on the Orwell side of the peninsula between the two rivers, and it was to Pin Mill that he brought the south-coast-built 28ft cutter. When he fancied a sail, though, it was usually to the south, and the convenient and attractive Walton Backwaters that he inevitably turned.
Hie did visit the Deben Yacht Club (probably by car) in November 1937 to deliver – according to Yachting Monthly – "an instructive account of his yachting experiences in the Eastern Baltic". And he had sailing friends in the Woodbridge area. He dedicated We Didn't Mean to Go to Sea to 'Mrs Henry Clay', and it's widely thought that her son Jim was the original of Jim Brading, skipper of the Goblin in that book. The dedication is thought to have been inspired by the way Mrs Clay (Gladys) coped with their four children aboard their 24ft yawl Firefly. Possibly the sight of four children aboard 'so small a boat' also helped generate the plot of We Didn't Mean to Go to Sea. Firefly, an Albert Strange design, is still in the Clay family; Pete Clay, their grandson, lives in Woodbridge and is a very active trustee of the Sutton Hoo Ship's Company, building the replica Sutton Hoo burial ship in the Longshed.
The other Deben family mentioned by Ransome were Colonel and Mrs Haig of Waldringfield, and owners of Catalina. He sailed Nancy round to visit them in August 1937, but was concerned by 'horrid rumbling' which he associated with the propeller shaft. The log for August 15 records: "Went o.b. and hung on to propeller and found after nut on stern tube loose on shaft, flying around free… (August 16) Put Nancy on hard against quay. Nunn (Ernie Nunn, yard owner) cleaned thread, put nut on, fixed lock nut which had not been used." We have some record of this visit in the form of two photos given us by Alex Haig, their son, showing Nancy there at low tide with Ransome attending to the rudder. One of the photos hangs, framed, aboard Nancy.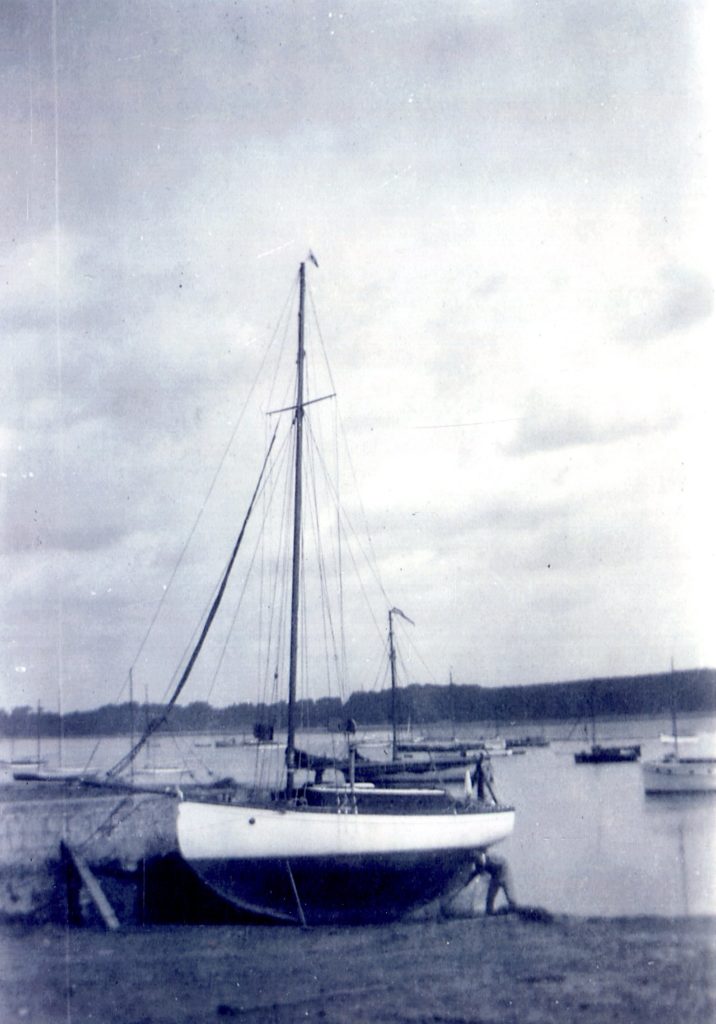 Nancy Blackett at Waldringfield.
The other crossing of the Deben Bar occurred a year later, in June 1938, following a cruise up the coast to Orford and Lowestoft, mooring again at Waldringfield to visit the Haigs.
At the end of 1938, Ransome sold Nancy, to make way for his new-built Selina King. The next three owners tended to keep her in the Backwaters; the fourth moved her to Scarborough in 1960, She was sold again in 1965 and remained there for 23 years, the last few in a state of steady decline, before Mike Rines, who lived in Broke Hall Park, bought her and brought her back to the Orwell to be restored. Mike relaunched Nancy in 1990 but quickly resold her to cover the escalating costs, to Colin Winter of Saxmundham, who moved her to Southwold, and Harbour Marine Services, until 1996 when he put her up for sale again. It was then that the seeds of the Nancy Blackett Trust were sown in the form of an appeal for funds to buy and preserve her. This was successful and the Trust took Nancy over in 1997. Initially she remained at Southwold, but for convenience in the autumn of 2001 her maintenance base was shifted to Woodbridge and a long and happy relationship with Robertsons boatyard began. The Woodbridge Cruising Club became the Trust's home club, and the twice-yearly crossing of the Deben Bar – out in the spring, back in the autumn – became part of the Trust's annual ritual.
Nancy's modern relationship with the Deben, however, extends beyond her winter layups. She has been a regular participant in the numerous Maritime Woodbridge events, both in person, open to visitors usually at Bass Dock, once in pride of place in front of the Tidemill Granary, and in spirit through talks and the NBT's extensive stand in the old Whisstock's shed, prior to the redevelopment.
This year though her relationship with the Deben has been less happy. When she was relaunched at the beginning of the season, it crept between her planking and into her bilges, eventually dragging her down to lie on the river bed. Her return to work was delayed by about four months, but since being relaunched she has been busy – most recently welcoming visitors young and old in London's St Katharine Docks Classic Boat Festival.
NBT support for Young Sailors and Schools
As a charity, the Nancy Blackett Trust is committed to educating young people in the works of Arthur Ransome and encouraging their self-development through sailing. It's an integral part of our main mission: to preserve and put to good use Arthur Ransome's boat Nancy Blackett which inspired, and appears in, his book We Didn't Mean to Go to Sea.
However it's a problem for us that Nancy Blackett is such a small boat. Sending small groups of boys and girls out to sea with instructions to find Holland might be educational and would hopefully result in self-development, but would definitely run up against health and safety regulations.
Instead we operate by offering schools that want them copies of Arthur Ransome's books, and inviting them to send groups of pupils, typically Years 5-6, to visit and explore Nancy (safely tied-up ashore) with accompanying programmes of activity around charts, signalling and other sea-related activities. We're also happy to visit schools, and to arrange 'cultural capital' programmes.
We also have a Young Sailors' Fund which makes grants to encourage self-development through sailing-related activites. Awards have helped gaining sail-training qualifications, restoring a historic barge yacht and subsidising trips with the Cirdan Trust on their boat Duet.
Applications are considered on their merits and have a bias towards traditional sailing and local areas.
Schools are invited to contact Sue Coales, NBT Education, at [email protected].
For details of the Young Sailors' Fund, please see nancyblackett.org/grants.
Peter Willis

Peter Willis is President of the Nancy Blackett Trust and a former Deputy Editor of Classic Boat magazine.