By Anne Page
My heart was in my mouth — as just upstream from Waldringfield, the skipper gave me the helm of Monymusk, his plus 30 foot sailing yacht. I had only met him that morning. He then went below for violin practice.
Dinghy sailing had taught me to aim through the moorings, not the invitingly empty north side of the bank. We flew down with wind and tide behind us. Exhilarating, yes. Repeated, no thanks!
I was just about skilled as a skipper of Mirrors and our beloved Wayfarer. And that's where I returned and remained — until now, decades later, I'm too creaky to get afloat at all.
But as our grand-daughters grow up today with no desire to sail, I think fondly of when their parents were young and we spent every long school summer holidays throughout the 1980s, staying at Shingle Street, always on and around the water. The Alde, the Ore, Hollesley Bay, and above all the Deben were our playgrounds.
We were always there with old friends, and frequently still are. But the children also made new friends on the beach at Ramsholt, and we made new friends with their parents and their boats — see Monymusk, above, aboard which several teenagers one year worked as crew to Scotland; and the old wooden catamaran Rebekah — moored for years by the Ramsholt dock or just downstream in the reeds. They learned about time and tide and mud.
We all learned new skills — Flora, ten, shocked onlookers with some really bad language, as her sailboard shot out of control across the main channel to crash on the dock. Lewis, 16, gained admirers by stepping fully clothed onto his sailboard at Shingle Street, alighting at Woodbridge, not much later, dry as a bone.
Two bars on the Deben were crucial in our lives — at the river mouth, and still, today and for ever, at Ramsholt.
Would we get safely into the river from adventures in the open sea? Where have The Knolls shifted this year? And, vital, would we make it up river before closing time? It used to be 2 pm lockdown for the whole afternoon, so no crisps and orange juice, leave alone sandwich and pint, if calculations went amiss.
Such a fate was mostly avoided, by good fortune, or by picnic. The Deben's moods and tides allowed for many a leisurely sail upriver, and a swim and small feast at Prettyman's Point or the Rocks. Or we made a lunchtime camp on the beach at Waldringfield, meeting Cap'n Tim and crew from Mosquito. Pirates on the several Mirrors would fall to fighting.
We'd make the passage up to Woodbridge for a real restaurant lunch, or down to Felixstowe Ferry for fish and chips. No lovely Boathouse Cafe at Bawdsey in those days. Just a long hike, on that side, up to the late lamented Swan at Alderton.
We used to keep the Mirror, and later our Wayfarer on the beach at Shingle Street. But after too long spent cleaving stones out of the centreboard slots, the boats spent the holidays at Ramsholt, the Mirrors piled up with the tenders. The Wayfarer was hopefully on moorings, but sometimes anchored, or not, in the mud. Too often, Harbourmaster George would have to help us retrieve her from an overnight escape.
In the nineties, we bought, holidayed and lived full-time at Beach House, Shingle Street, for nearly 30 years. Now having happily resumed old age in London, but pandemic locked-down for much of the return, we long for the next visits to Woodbridge, Waldringfield, Felixstowe Ferry, Bawdsey and Ramsholt. Perhaps youngest grand-daughter, 8, will get the sailing bug….
Anne's daughter, Flora (now 49) adds:
Alex and I loved mud-larking on the Ramsholt low tide, until we were completely covered, staining our swimming costumes beyond help. We also loved sliding down the sandy sides of the forested higher ground around Ramsholt, now properly verboten due to erosion, probably caused by us. Capsize practice was always fun too, except for the time when Kate and I were in a Mirror which turned turtle and the tip of the mast got stuck in the mud so we couldn't right it. We were rescued by a yacht, Mosquito or Monymusk or possibly even strangers. Come to think of it, I'm not sure that capsize was a drill…
Anyway, there's nothing like a brisk wind and full sun on the Deben!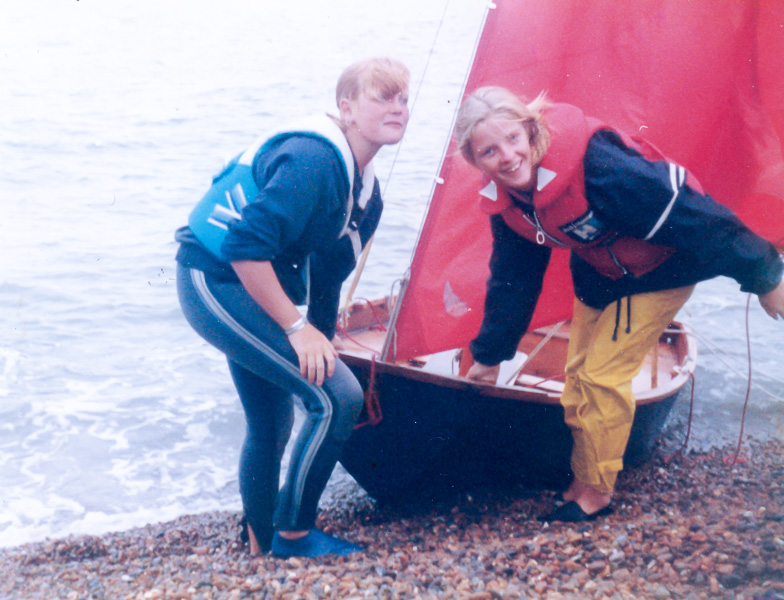 Flora and Kate Sailing Companions
Lewis, Anne's son (now 51) adds:
Fourteen hundred years ago, Rædwald's great ship came up from Bawdsey to Woodbridge, to be buried by the river with the king and all his other treasures at Sutton Hoo. It's the richest tomb ever found in all of northern Europe: the National Trust calls it 'England's Valley of the Kings'.
The Deben may not be England's Nile, perhaps, but long before Rædwald's time and ever since, the river has carried sailors up and down and taught them the ancient lessons of tide and wind and mud. The Deben taught me back in the 1980s. Later on I earned my living handling small ships and boats in tricky waters, and I always remembered what I learned on the sandy, muddy river back in the day.
I still get out on the Deben in a friend's Wayfarer now and then, and rain or shine, high tide or mud, it's always a good day.
Anne Page
Anne Page is the Honorary Consul for South Africa, East of England. In the 1980s she was an elected member of Islington Council (1973-83), working in Parliament for the Parliamentary Labour Party (1983-86) and managing community education for the London Docklands Development Corporation (1986-1990). Deben family holidays were a blessed relief..