by Leigh Belcham
It all started with a barbecue on the beach at Ramsholt.
The year was 1996 and Waldringfield Sailing Club was celebrating its 75th anniversary. My wife Jill and I were living in Coventry at the time, but friends had invited us to join them for the weekend of fun and nostalgia. After racing on the Saturday afternoon, we had a gentle sail downriver on their yacht, and watched the sun set over Hemley church while enjoying our sausages and a glass of wine.
The following year I came across a photo I'd taken that evening. Memories came flooding back, not just of our barbecue but of the years I'd spent on the river as a teenager, mainly at Waldringfield. Grabbing some of my son's pastels, I set to work trying to recreate the scene. I hadn't drawn or painted anything since my schooldays, so was pleasantly surprised at the result. A year later, when we were back in the area, a walk along the river wall at Felixstowe Ferry inspired me to have another go.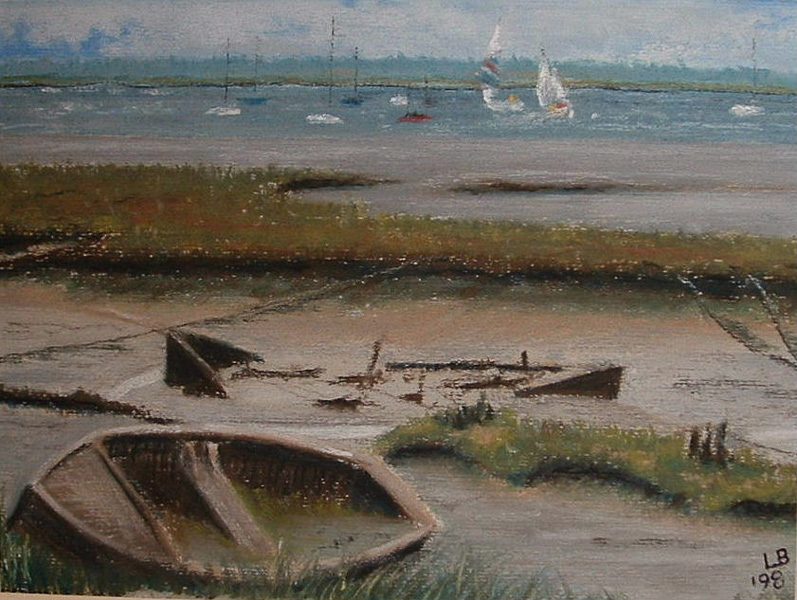 Up the creek at Felixstowe Ferry
As far as I remember, those two small paintings were all that I produced until, with retirement beckoning, we moved back to Suffolk in 2002. Settling only 10 minutes from the Deben in Old Felixstowe, and with a vintage Wayfarer, Cahootz, and eventually a small yacht, Tamarisk, countless paintable possibilities presented themselves. Three of the earliest were this autumnal view of Ramsholt from Kirton Creek, one of the river close to Shottisham Creek at low tide in March, and another of the nearby saltings at the same time of year. I love the peace and quiet of the river out of the busy sailing season.
Initially it was the landscapes and waterscapes that had my attention. Painting boats, moored or otherwise, is much more demanding of artists, especially when we're mixing with their owners and helmsmen or, worse still, designers and builders! The cut of the mainsail, the position of the crew, the way she floats, every last shackle – the slightest mistake will be spotted from the far side of the room!
But my love of the Deben developed primarily from years spent on the river rather than beside it, so boats inevitably began to feature strongly. I trust that Waldringfield folk will recognise this as one of their club's 14-foot Dragonfly dinghies even if they can't be sure whether the helmsman and crew are John Palmer and myself in – and winning! – the 2013 WSC Round the Island race.
When geography and age became limiting factors, much has had to be painted from memory. And I have often taken inspiration from Alexis Smith's superb action photos on the Waldringfield Sailing Club's website, https://waldringfieldsc.com/sailing-photos – with her kind permission, of course!
Working exclusively in pastels – sometimes referred to as chalk or soft pastels – seems to be quite unusual these days. They're certainly not every artist's cup of tea, and probably wouldn't have been my first choice of medium had I not had some immediately to hand back in 1997. But I enjoyed using them and have never felt the urge to experiment with anything else. They are particularly satisfying when used on pastel card with a slightly roughened surface which holds the powdered pastel pigment much better than pastel paper.
One thing I have discovered with pastels is how easy and enjoyable it can be to merge or meld several different colours to produce some amazing skies. The first of these two paintings is the view down Kirton Creek at high water; the second is the setting sun seen from our mooring at Felixstowe Ferry.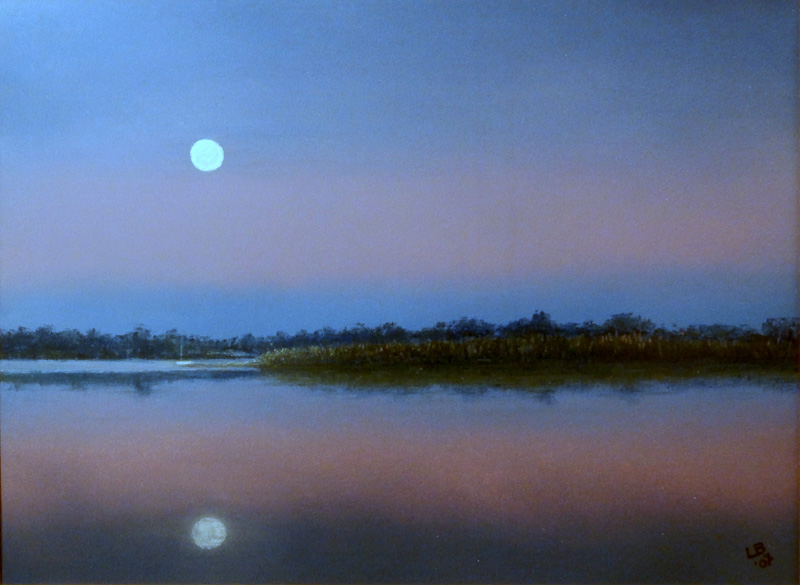 Harvest moon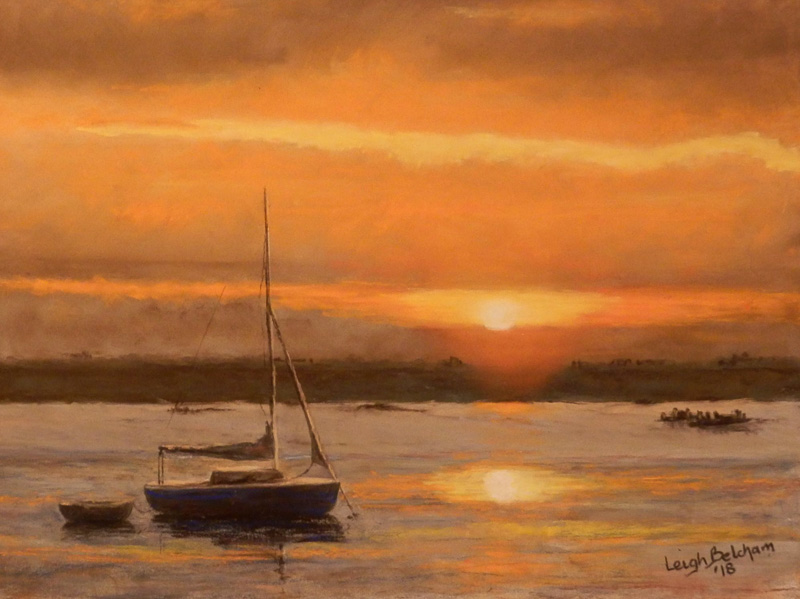 Slack tide
To me they both illustrate admirably what the psalmist tells us in Psalm 19: "The heavens declare the glory of God; the skies proclaim the work of his hands." The sky seems to be the only part of God's creation that we haven't messed up, and is a really important part of most landscapes and waterscapes, determining so much of what happens elsewhere. As renowned Suffolk landscape artist, John Constable, said about 200 years ago, "The sky is the source of light in Nature and it governs everything." He would have loved painting on the Deben, but sadly Brightwell appears to be the closest he came. His small commissioned painting, Brightwell Church and Village, now hangs in the Tate Gallery. See it at https://www.tate.org.uk/art/artworks/constable-brightwell-church-and-village-t03121. It illustrates his point perfectly.
However, the medium is not an artist's only consideration. The eminently quotable John Constable also declared that "Painting is with me but another word for feeling," Deben artists will understand exactly what he meant. We have all learned the hard way that a painting may in every respect be technically correct as regards perspective, composition, light, colour, etc – not to mention every last shackle – but without the subject having evoked some degree of emotion in the artist, it is unlikely to provoke much in others. I have to take great care these days to ensure that some of the freedom, spontaneity and emotion evident in those earlier, less technically-correct paintings is not lacking. Certainly, plenty of emotion was involved in this attempt to capture our return to our mooring at Felixstowe Ferry in Tamarisk, especially with a strengthening wind and some ominous cloud.
In two more recent paintings, I've indulged in a little nostalgia. Seeing the Cadet Squadron racing at Waldringfield these days takes me back over 60 years to when we saw the Squadron formed. What a wonderful introduction these small but exciting dinghies provide for youngsters before they progress to larger, more demanding craft. Sail numbers can always be added as requested, of course.
Trying to capture the atmosphere in the Waldringfield dinghy park just prior to a race was not easy, especially imagining what was going through the minds of helmsmen and crews. Neither boats nor people are the most straightforward of subjects to portray, but it was fun trying.
For John Constable, painting was "but another word for feeling." As I look back on the past 20 years or so, I can only agree with him. This final painting illustrates it so well. It shows the view from Tamarisk as we emerged, bleary-eyed, from our cabin at daybreak after a night on our mooring at the Ferry. I sadly couldn't capture the smell of bacon frying a few minutes later, but it was not hard to imagine.
All the paintings reproduced here, plus many others, can be seen on my website, www.pastelman.com.
Postscript
Perhaps I should add a few paragraphs about the practicalities of pastel painting for aspiring pastel artists. Sometimes I wonder whether many folk shy away from using pastels because of the imagined mess that they involve. It's true that the amount of handwashing required would keep our prime minister happy! But that has to be set against the time that can be spent washing brushes when using other media. And because brushes or palette knives are not needed with pastels, there is a very satisfying sense of control and directness in their application.
Some may imagine that fine detail would be difficult to reproduce using what appear to be rather cumbersome lumps of coloured pigment. But using a light touch, or even breaking a pastel stick to produce a sharp edge or point, is usually quite enough in most situations. Of course, pastel pencils can also be used for really delicate stuff.
Corrections are easy with pastel. With the roughened surface of pastel card, it's often enough just to over-paint the mistake. Or a fixative spray, which I deal with below, can be used to stabilise the pigment before it's corrected. In stubborn cases, pigment can first be removed with a fine brush or adhesive tape. Any mixing of colours is done as the pastel is applied to the surface, so none is wasted when palettes and dishes have to be cleaned.
But it's not all plain-sailing. For starters, plein air painting is totally impractical unless dry weather is guaranteed. One spot of rain takes ages to dry out and can ruin your work. And pastel dust is extremely fine, so care has to be taken that it doesn't find its way into the lungs. Some pigments can be toxic, although guaranteed toxic-free pastels these days are readily available. Recently I have adopted a belt-and-braces approach, using a high-spec air purifier close to the easel, and often wear a medical-standard mask. Vacuum cleaners are a no-no.
Once a painting is complete, or even at times during the painting process, I like to fix the pastel to the surface using a good quality, environmentally-friendly fixative spray. I haven't always done so, but a fixed painting is much less vulnerable to accidental knocks or scuffing, especially during the framing process. Many picture-framers will refuse to frame unfixed pastels, but as I frame my own, that's not a problem. Provided the painting is set back slightly from the mount so that any loose powder falls behind it, framing should not be difficult. One word of caution though: use glass rather than acrylic sheet. The latter holds static electricity and attracts pastel powder from the painting as well as other dust. I only use acrylic sheets if the painting is to be delivered by courier, in which case I treat both sides of the sheet with anti-static spray.
Why not have a go? We all had to start somewhere!
Leigh Belcham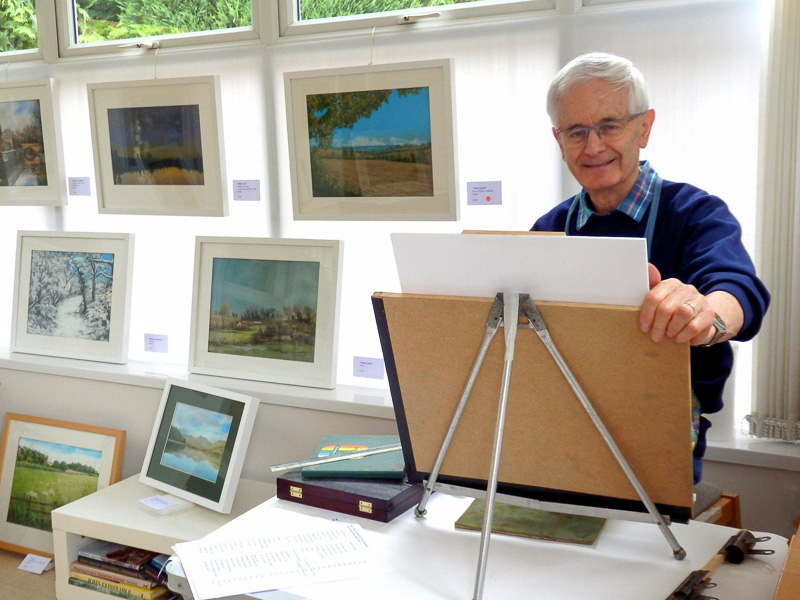 Leigh's family had a hut in what was known as the "Arab Quarter" at Waldringfield throughout the 1950s. During that time he learned to sail in his father's Dragonfly and later his own Firefly, and also sailed YW Cadets with Ipswich School. A career in youth work took him away from the Deben until, with Jill, he was able to move back in 2002. From then until 2016 they lived in Felixstowe. Leigh became Secretary of the newly-formed Felixstowe Ferry Forum in 2003 and later joined the RDA committee, serving as Chairman from 2010 to 2013. In 2016 they returned to the Midlands to be nearer to family. They now live in Warwick.