by Josh Masters
Introduction from Julia Jones (RDA Journal Editor):
I am one of many river users who is currently wondering what I can do to reduce my carbon emissions. The RYA (Royal Yachting Association) has recently published their aspiration to make the UK's recreational boating sector zero carbon by 2050 with a 50% reduction in carbon emissions from boat engines by 2030. https://www.rya.org.uk/about-us/policies/environment-and-sustainability.
It's perhaps easier to see what can be done with new-build boats than with yachts like mine, built as a motor-sailor in 1946. While I can safely undertake to use my sails as frequently as possible (that's the joy of being a water-born hybrid) it will remain impossible to push one's way out of the narrow Deben entrance against a spring flood if the wind is adverse.
There isn't yet an obvious answer for the owners of older boats and it may be tempting for older owners (like myself) to think that we might not be around in 2050 anyway. It's therefore tremendously encouraging to hear from Josh Masters, whose family own one of the oldest yachts on the river, that he is putting his relatively youthful energy into developing the technology to help people adapt their existing systems to go electric. His company is called Lightning Craft.
I invited Josh to write about his company and its aims, not as a commercial endorsement, but as an inspiration and as encouragement to us all to try to find some home-grown solutions to the global problem – or, at least to feel some positivity when we consider what changes we can make as individuals.
The RDA will be present at the forthcoming Climate Sunday event in Woodbridge (September 19th 2021 2-5pm Kingston Fields) and will always be glad to hear from its members on this topic. My email is [email protected]
– – –
About the Company
Our goal is to provide electric propulsion as a suitable alternative to engines currently on the water and, with our products, help and support, make converting available to anyone who wishes to make the change and go electric.
The Kit Concept
Our ready-to-install kit was developed while producing our first prototype 'Switch'. The idea of a complete kit ready to install came about when we wanted a simple bolt in solution for swapping diesel to electric and couldn't find something that worked. During that process, we solved the many compatibility issues by developing our own throttle and finding perfectly matched charger and battery solutions. We have even found and integrated a battery monitor that provides the information needed for accurate run times, so you can sail with confidence, always knowing how much time you have left on the water.
What our kit provides is a complete system available for self-install in your vessel. The thinking behind each component has been done, carefully tested and checked so you can rely on the products and their end result.
Our kit is available installed by our engineers or for self-fitting. Please contact for more info.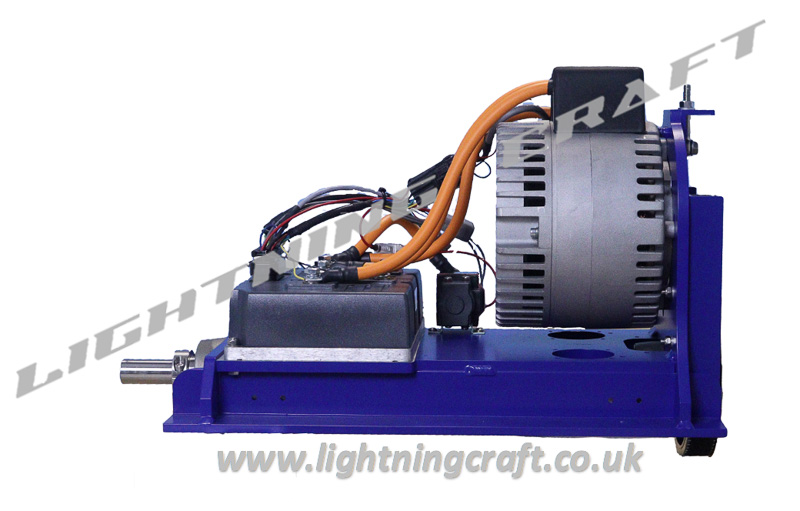 The System
Our drive units have an operating voltage of 48v. This is regarded as low voltage, compared to other electric drive units on the market at 300-400v. Safety is a key factor in choosing low voltage systems, especially in the marine world where water is all around. Our units have a DC three-phase motor that is configured by a motor controller that can be programmed specifically to your vessel, depending on lengths, rigs, propellers, displacements and usages.
Fit New to Old
Compared to others, what makes our drive kit unique is that it integrates seamlessly with your boat's existing hardware, meaning the alterations needed for a conversion is minimal: you are simply changing your diesel engine for an electric motor and adding batteries instead of fuel. Our kits are able to make use of existing mounts and mounting positions, shaft couplings and throttle controls. All this helps to keep the cost of conversion down.
The Prototype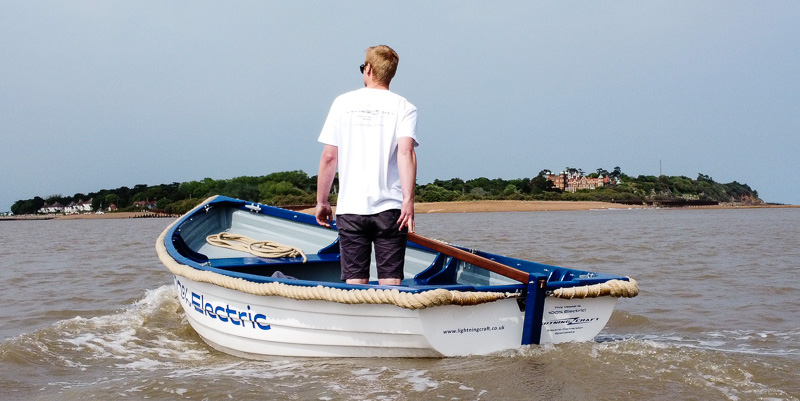 The first prototype for the company was a 15ft GRP clinker launch, which was acquired as a hull and then fitted out to suit the electric motor and battery pack. This little day boat was a success the moment it hit the water! Working as expected right from the crane dock it proves nicely the reliability of the system, which is thanks to its simplicity and well engineered design.
With a top speed of 6.5kts, it comfortably cruises at 4.5kts and has a range of 18 nautical miles. We have recently taken it from the Woodbridge Boatyard to Felixstowe Ferry and back! Both with and against the tide for a fair test.
The boat is kept on the pontoons at Woodbridge Boatyard, with '100% Electric' on the topsides – she's hard to miss!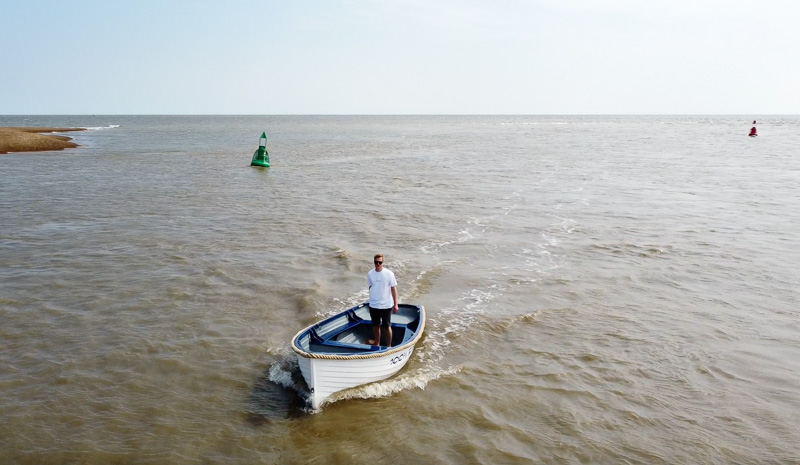 Why Electric over Diesel?
There are lots of pros and cons when considering anything boat related, many hours can be spent deliberating here and there, trawling through forums and quizzing friends and folk.
The simplicity in design of our electric drive units deserves an explanation of its advantages and disadvantages in comparison to diesel inboards:
Electric Motor Power is Not Limiting
Power
There is more available power from typical electric motors than diesel engines. For example, a motor the size of a small breakfast bowl can put out more power than a 4 cylinder diesel, so there's all the power we need to match the existing diesels in our boats.
Range
This is an interesting topic… Considering the potential energy in 1 litre of fuel to that of a battery the same size (think a 1 litre juice carton), you might think there's no comparison: fuel wins? Yes and No.
At present, a typical sailing yacht will be pushed a lot further by a tank full of diesel than a battery of similar size. However, sailing yachts sail: many often don't engine underway the whole way, running continuously until the tank is used up. Engines in sailing boats aren't like those in motor boats: they are usually auxiliary and by nature not used as much as the sails. If you were to add up the total engine on time of a day out on the water you might be surprised how little this actually is. It's nice to have the engine for leaving and entering the berth, dropping and picking up the mooring and if you need a little help along here or there, but it's often turned off as soon as possible. If you were to work out how much fuel the engine used for that day out and compare this amount and the distance travelled with the range of a battery pack that could do the same, it will probably be smaller than that of most installed if converting to electric. Battery power and electric drives have entered the room.
Where does this leave the simple answer you might ask? Well it's about realising what your energy consumptions are going to be and then changing your mindset to allow yourself to trust that you have sufficient power to do everything you need to on the water. Imagine taking a backpack, sleeping bag and tent on a trip to the corner shop – you would never use them. Because home is 5 minutes away and you leave your house knowing that you can comfortably make it back without the need to make camp and spent a night in between.
Now think of all that diesel in your tank that you never use.
Topping Up
Of course the longer range sailors who are out for weeks at a time might still think they need the ability to motor continuously for many hours, but they can still make electric power work for them. If you know your energy requirements, we can build in larger battery packs and the ability to charge up underway and at anchor.
One brilliant advantage of electric propulsion is the means to 'refuel' on the water. This is done through solar panels, wind generation, hydro generation or even through a petrol/diesel generator. When you start to think of the time not motoring as potential 'energy harvesting' time, that adds up to lots of miles/hours of electric power. This ability of power generation is possibly my favourite feature. The self-dependency of sailing is made more so with electric drive systems. When you run out of diesel you have to get to a refuelling source, otherwise your engine will not run (you can't exactly refine crude oil on a swinging mooring). With electric however, when you run out of charge, you can simply wait and the sun/wind/water will do it for you! Or you wouldn't run out because you are always charging and maintaining electrical loads. You could sail for years without needing to receive external power. And the best till last, energy you can generate yourself costs nothing!
Maintenance
With hundreds, even thousands fewer moving parts, electric drive units have little maintenance required. This makes them inherently more reliable, and without the need for a costly annual engine servicing – money saved.
– – –
For more information on the electric drive products, how you could convert your boat or just interested in the launch and future conversion projects, please get in touch:
Email: [email protected]
Instagram: @lightningcraftmarine
Tel: 01394 783020
Josh Masters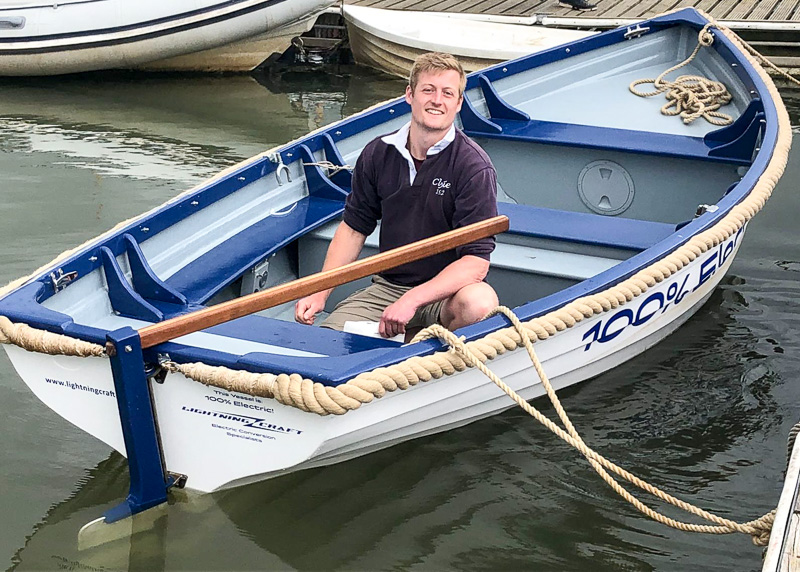 Founder of Lightning Craft, grew up on the East Coast of England in a sailing family. Boats and everything on the water came naturally to him.