By Julia Jones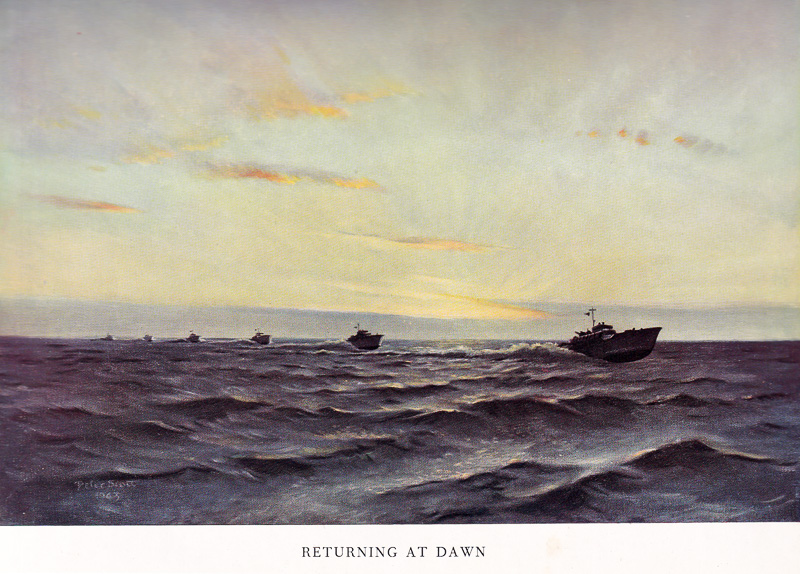 Gunboats at dawn, painted by Peter Scott.
I've recently completed a study of some of the yachtsmen who volunteered to serve 'in an emergency' in the years before the second World War. From December 1936 the Admiralty issued an invitation to 'Gentlemen interested in yachting or similar pursuits' to put their names forward for 'executive' service. These men formed the RNVSR, the Royal Naval Volunteer Supplementary Reserve. In the process of research, I have been fortunate to have met some of the descendants of these men. I've been glad of their help and have also found that they share my feelings of respect and heartfelt gratitude for the way in which their fathers, uncles, grandfathers chose to put their normal lives, pleasures, careers on hold, committing themselves to serve wherever they were sent. Sometimes the jobs they were assigned to do were tedious, more often they were terrifying.
My father, George Jones, was one of these men – that was what sent me on my research journey. RDA member James Skellorn's grandfather Kenneth Jacob also joined the RNVSR. He was an engineer and a Gravesend-based sailor who often sailed to the Deben with his family on summer holidays. Apart from an abortive mission to France as part of the rescue attempt for the 51st Highlanders at St Valery-en-Caux, the early part of Jacob's war was spent guarding torpedo tubes at Thames Haven. It took him two years to persuade the Admiralty that his technical skills would be better used at sea. Then he was away to the Mediterranean and immediately on his return was sent to assist with the construction of the Mulberry Harbours on D-day.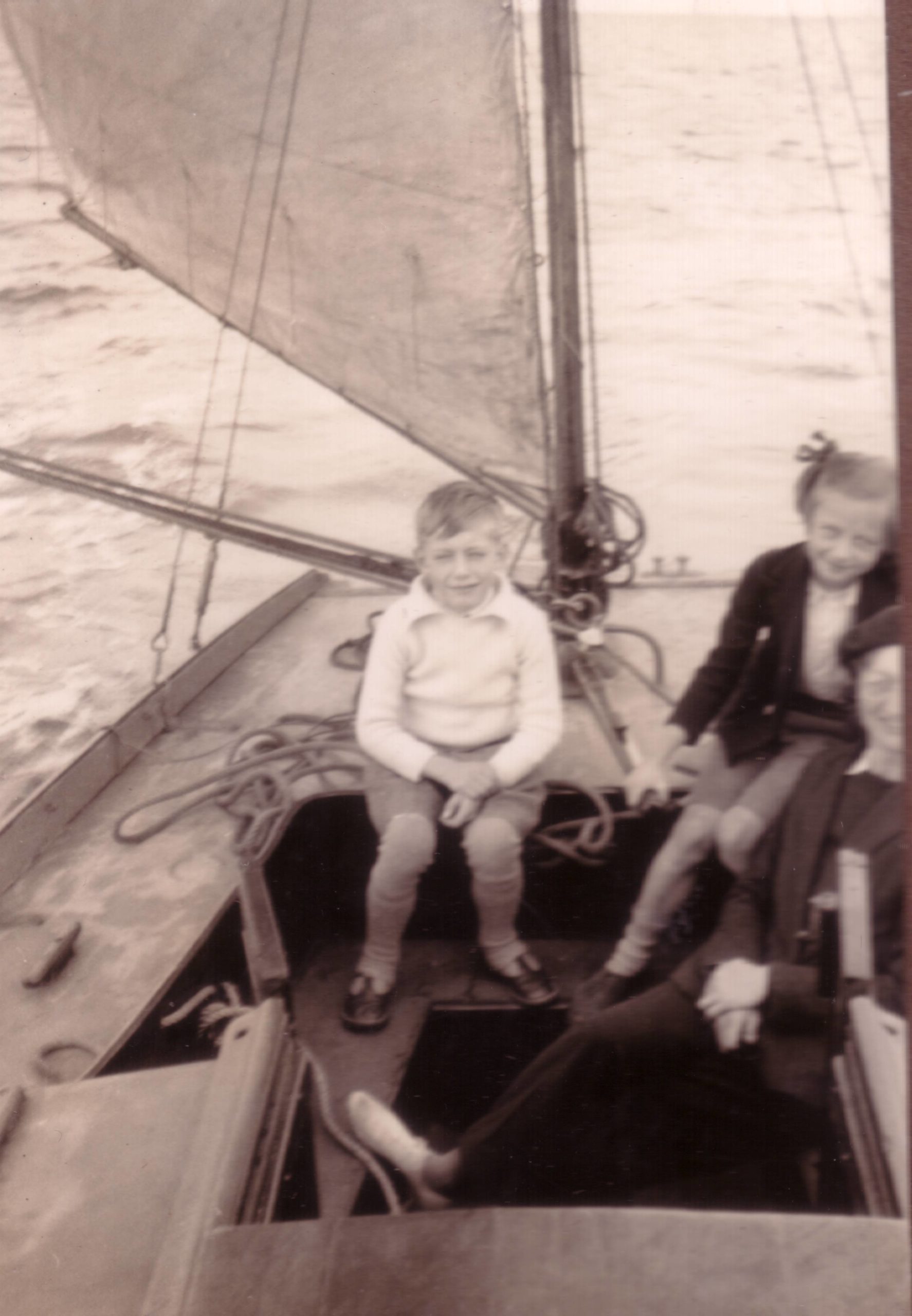 Kenneth Jacob's children enjoying a Deben summer cruise in July 1939.
James introduced me to his former partner Michael Gotelee whose Ipswich-born father Allan had also volunteered for the RNVSR. His father, another Ipswich solicitor, had fought in the WW1 trenches. Allan went to school in Ipswich, then to Bishop's Stortford College and finally to Oxford before returning to Suffolk and joining his father in his legal practice in 1932. Allan was tall, good-looking, a bit flamboyant even. He joined with friends to purchase an old Leigh bawley for cruising but was also ready to crew for members of the Royal Ocean Racing Club. Allan was certain there was another war coming and was accepted into the RNVSR in March 1937, just a few months after the scheme was announced. There was no formal training offered but Allan's yachtsman's skills, understanding of navigation and competitive instinct would prove exactly what was needed.
He spent the first year of the war in charge of a big, requisitioned yacht, Sulara, on harbour defence duty, then was one of the first amateur sailors accepted into Coastal Forces. Somehow, between the wars, the Admiralty had forgotten the need for small fast attack boats – 'mosquitos with stings' as Childers had called them. There were six brought back from the Mediterranean to Britain in 1939, compared with the 600 that had been part of the fighting force in 1918. Germany meanwhile had developed its own schnell-boote. Once the Netherlands, Belgium and France were occupied, these well-armed, diesel-engined, metal-hulled 'E-boats' could cross the southern North Sea or the English Channel in a few hours to lay mines or ambush coastal convoys. Hurriedly Britain responded with wooden, petrol-engined motor launches, gun- and torpedo boats – quick and cheap to assemble, horribly vulnerable to fight with. They were natural territory for former yachtsmen, particularly those who were quick-thinking, competitive, aggressive.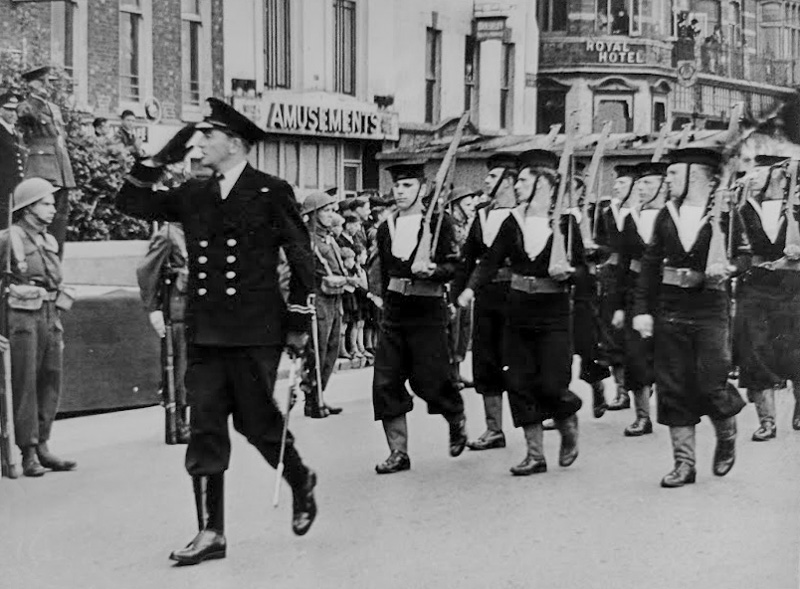 Allan Gotelee parading his men in Weymouth.
Allan Gotelee was sent north to HMS St Christopher's for training, then became only the second RNVR officer to be given command when he and fellow solicitor Robert Hichens were posted to HMS Beehive at Felixstowe. Both he and Hichens were regarded as 'elderly' since they were already in their early 30s. And, as amateurs, they were initially viewed with some suspicion by the regular RN officers. Robert Hichens' book We Fought Them in Gunboats details some of the problems they faced at HMS Beehive with inadequate equipment and outdated attitudes. Sometimes it felt as if the war was with their own side rather than the enemy. Soon however the regular RN officers were needed elsewhere and Coastal Forces became almost exclusively RNVR-led. Innumerable small, fierce, battles were fought by brave individualists in their 'Spitfires of the Sea'.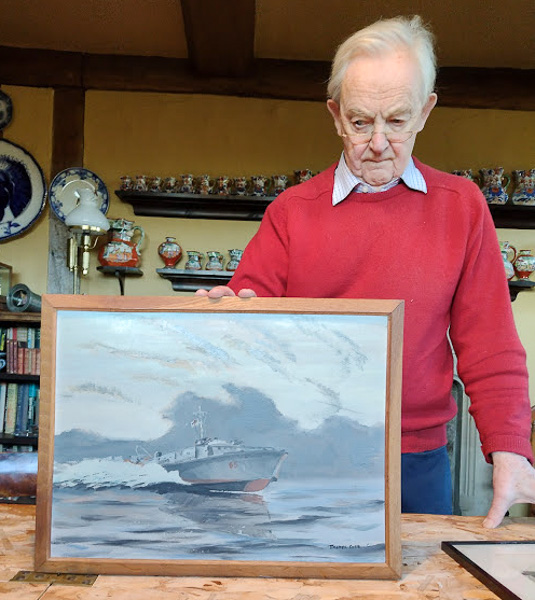 Michael Gotelee holding a painting of MGB 365, his father's first command in Coastal Forces. This painting was a very early work by David Cobb, who subsequently became an extremely well known marine artist and who also served in Coastal Forces.
Artist, ornithologist, dinghy-racer Peter Scott was one of their number a little later. In the last year of the war he began collecting first hand accounts from his fellow volunteers, which he published in 1945 as The Battle of the Narrow Seas. This is Allan Gotelee describing an action fought from HMS Beehive in June 1941.
'On midsummer night, 1941, we fought an action with five E-boats in the neighbourhood of Brown Ridge which lasted fifty five minutes and ended with us pursuing the E-boats practically to within sight of Ijmuden. To the lasting credit of the Rolls Royce engines, the action was fought at full throttle for the whole time, and in the middle of it my motor mechanic crawled up to me in the dustbin and said, "For god's sake sir.." I asked why, being extremely incensed at the time, and he said "You have been running your engines on full throttle for so long that the dynamos are on fire. Give me two minutes and I will pull the leads out." This he did without turning a hair and the party continued. By the time we had finished one of my Browning guns was white hot.'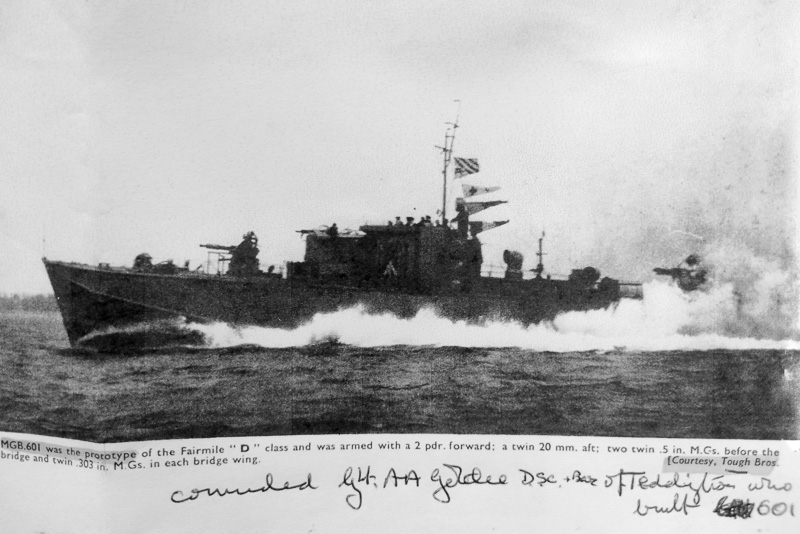 MGB 601, commanded by Allan Gotelee.
These first motor gun boats were no match for the E-boats and they still lacked good quality weapons. Allan Gotelee successfully insisted that he should be given command of the larger faster D-boats that were now being built. His son Michael, then aged about three years old, remembers going with his parents to Tough's Yard on the Upper Thames to see the new boat taking shape – and the excitement of being given brown sugar sandwiches as a treat. By July 1942 Gotelee had MGB 601 and was in action in the Straits of Dover. Communications were poor and he was one of three small vessels attacking a vastly superior force. The flotilla leader was killed and Gotelee badly wounded. Only the metal cigarette case that he was carrying in his pocket saved him from losing his leg.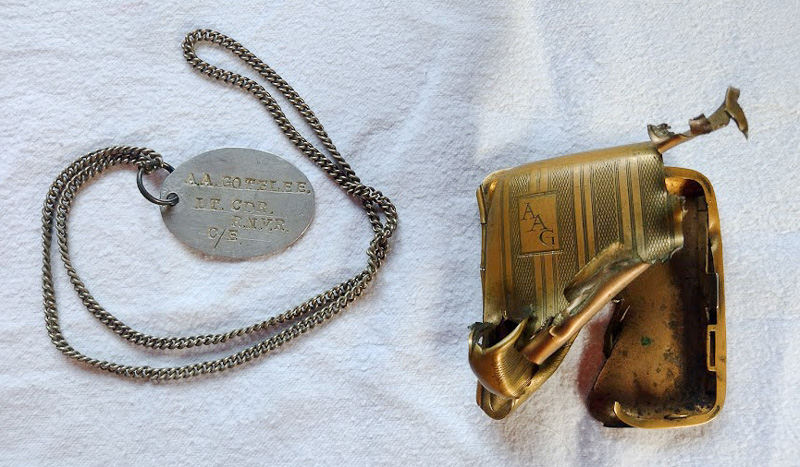 Allan Gotelee's identification tag and cigarette case.
These MGB were still wooden and powered by aviation fuelled engines. As Gotelee was lying wounded in Haslar Hospital, Portsmouth, he heard his nearly-new boat explode. There were unexploded shells in the petrol tanks from their recent conflict. These were safe enough when the tanks were still full, but in Gotelee's absence someone had decided to drain them, with fatal results – as the air made the mixture combustible. Allan Gotelee continued to have a distinguished career, serving with Coastal Forces until the middle of 1943 when he was posted to command a destroyer. By the end of the war he had twice been awarded the DSC (Distinguished Service Cross). He continued for a few months longer training others at the naval signals school, until his demob notice came when he returned to his practice as an Ipswich solicitor.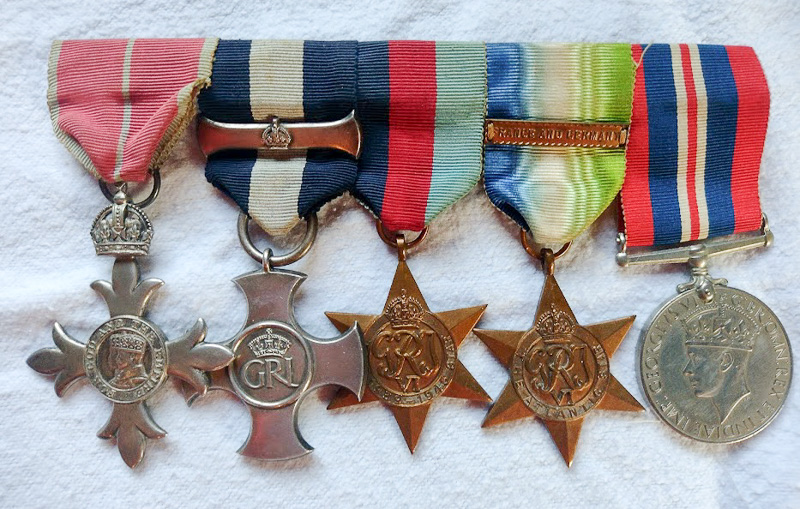 Allan's medals.
Michael Gotelee remembers that his father was even more in demand as a navigator on the East Anglian Offshore Racing circuit as his intimate experience of the Southern North Sea and Channel gave him additional insights into short cuts which could safely be taken though the shoals at certain states of the tide. He was involved with sea cadet training – for which he was awarded the MBE in 1959 – but otherwise – like so many other ex-servicemen, said little about his wartime experience. He kept in touch with comrades however. Later, when any of them died, there was often a small private ceremony when the survivors went out over the Deben bar in Charlie Brinkley's ferry boat and Allan Gotelee, as the senior officer, took responsibility for committing their ashes to the sea.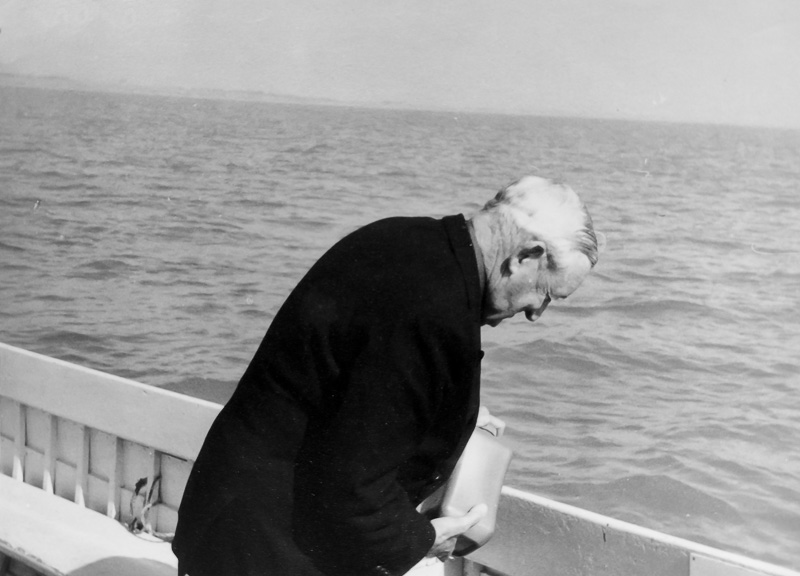 Allan Gotelee scattering a comrade's ashes.
Allan Gotelee died in 1981, in the same Ipswich Hospital where he'd been born. In 2009 his son Michael organised a memorial to be positioned on the site of the former HMS Beehive, near what is now the Landguard Viewing Platform. Rev John Pretyman Waller from Waldringfield officiated but how many people now know that it's there?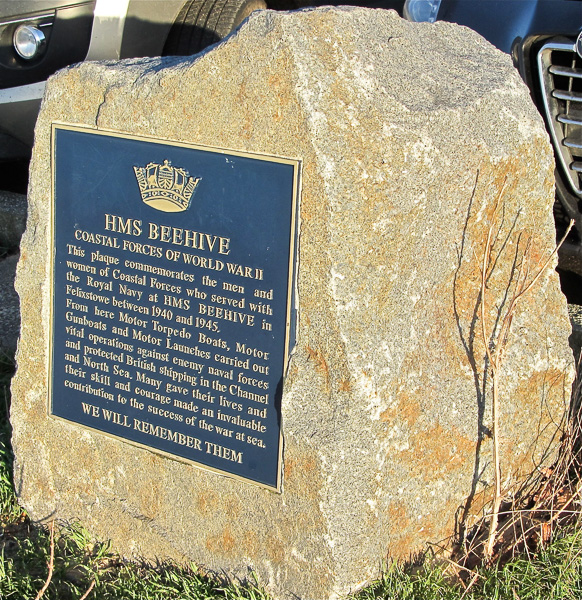 The HMS Beehive memorial stone.
On finishing my study of some of these WW2 Yachtsman volunteers I realised that I was just beginning. Already people have written in to share their memories and express their admiration and gratitude to particular members of that wartime generation. There are so many others that we might choose to commemorate from our river and its surrounding area. It doesn't have to be for bravery in war. It'll never be enough – but should that deter us from making a start?
Julia Jones is the editor of the magazine The Deben. Her most recent book, Uncommon Courage: The Yachtsmen Volunteers of World War Two, was published by Adlard Coles on March 17th 2022.