By Russell Read

This article is prompted by the enthusiastic piece from Matt Lis in The Deben Magazine for Autumn 2021 which suggests that there is a strong case for larger boats than Josh Masters' launch to go electric. Well, the 1907 26'6" Albert Strange-designed canoe-yawl Mist is one very classic yacht which, originally intended to be engineless, has already done this.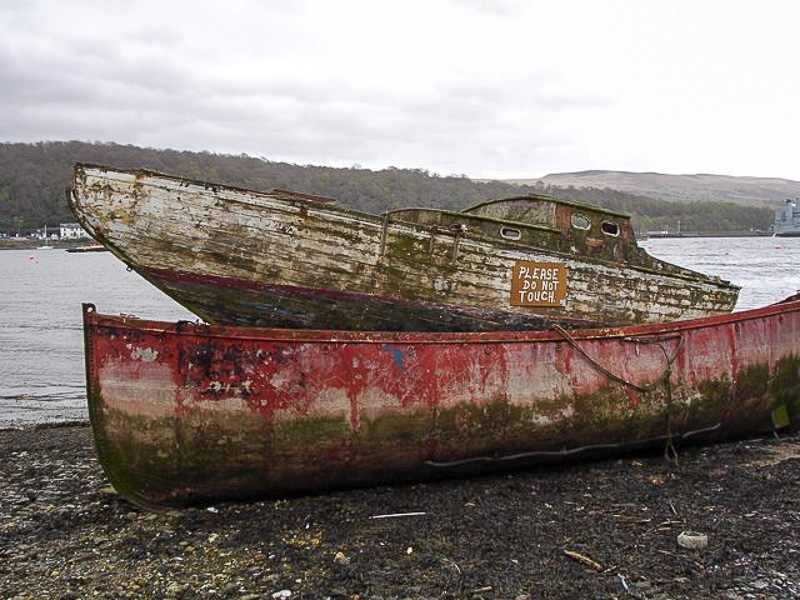 First a little about Mist herself. She has a back story which makes her very special. After an already full life, she sank at her moorings in the Gare Loch in 1994, spending several months 60ft down in this Scottish loch; was eventually recovered, only to languish for several years dumped ignominiously in an abandoned steel lighter on the beach. Then, despite being in a terrible state, she was recognised in 2005 by a man walking his dog as possibly special; and was finally rescued with considerable resoucefulness by a few stalwart members of the Albert Strange Association with the help of a knowledgeable local boatbuilder.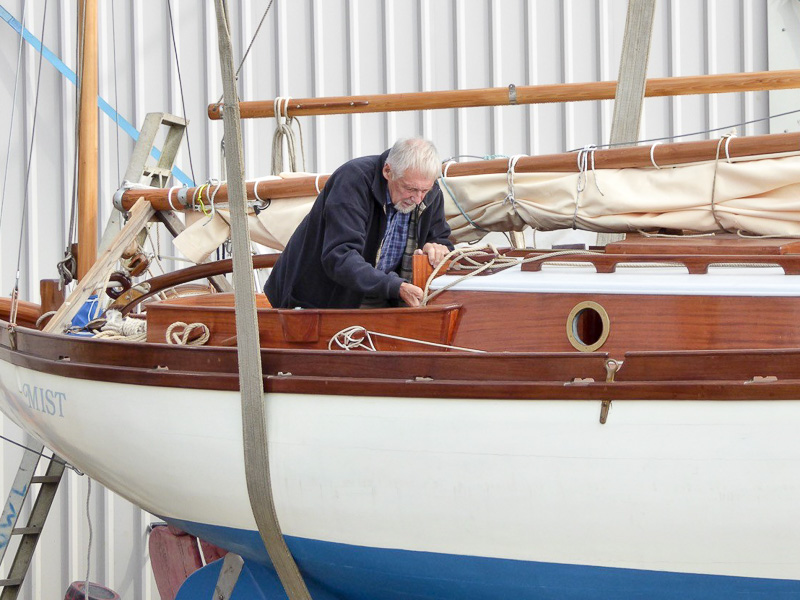 JK (John Krejsa) getting Mist ready for launch – Melton/Granary Boatyard
The perfect candidate who then came forward to take her on was the late John Krejsa of Woodbridge, known to all locally as 'JK'. As a professional boatbuilder he was about to retire and was looking for a Project, and it was clear that his task with Mist would be a total rebuild with only the keel eventually found to be salvageable. We transported her to Woodbridge. This was in 2006; nine years later she was a virtually new and beautiful boat again, restored to the exact lines of Strange's drawings.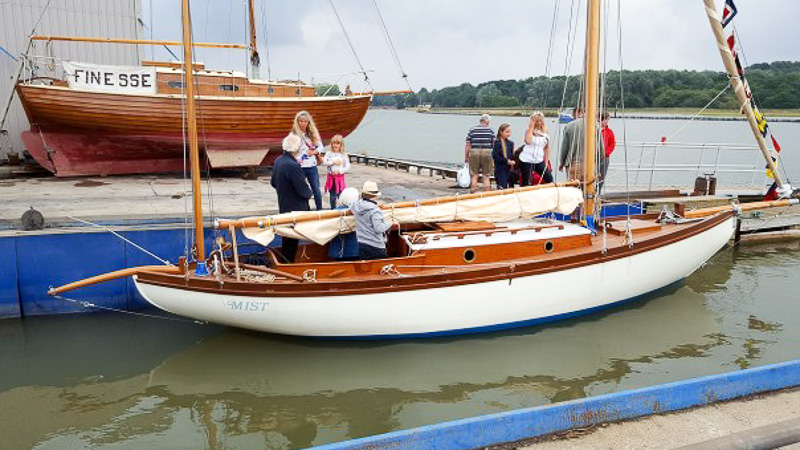 Launching after restoration Sept. 2016; my family inspecting her
Sadly, just possibly exacerbated by this herculean task, JK became ill; it worsened, and he eventually died in late 2018 without ever having sailed the boat. The nearest he came to that was seeing her from the river bank in Waldringfield, still engineless, sailed by Chris and Fran, offspring of Mike Burn the former owner of Albert's well-known and slightly smaller 1905 Sheila (now in France). This was during the highly-successful 2018 Albert Strange Summer Meet on the Deben, with a total of seven AS boats participating.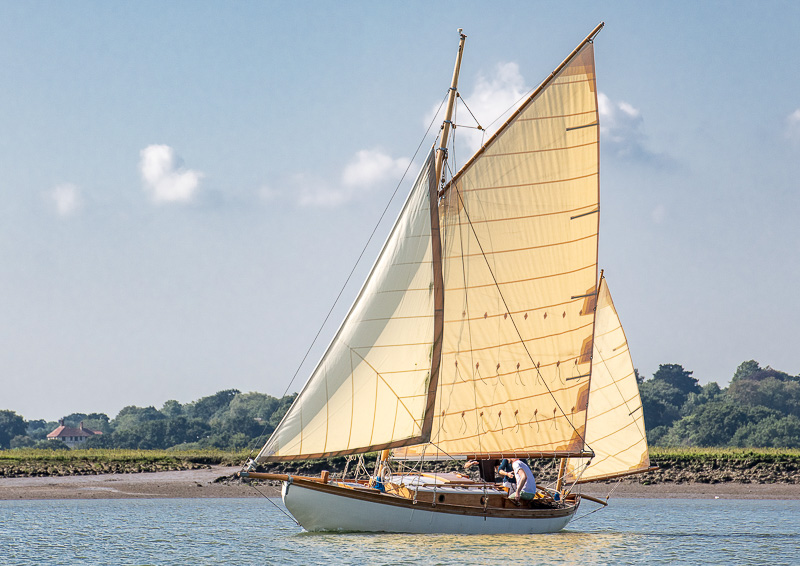 During the ASA Meet 2018 (photo Gill Moon)
All the components of an electric drive system were onboard at that time but not connected up. After I first expressed tentative interest in buying Mist in late 2019 it took three months for various mis-supplied parts to be replaced and the system to be declared up and running by the well-respected Art Butler. I clinched the deal, but it will now be clear that this timing could not have been worse! She was afloat for only two months of summer 2020, but in 2021 has luckily had a full season afloat. So the system and the boat have finally had a reasonably good test.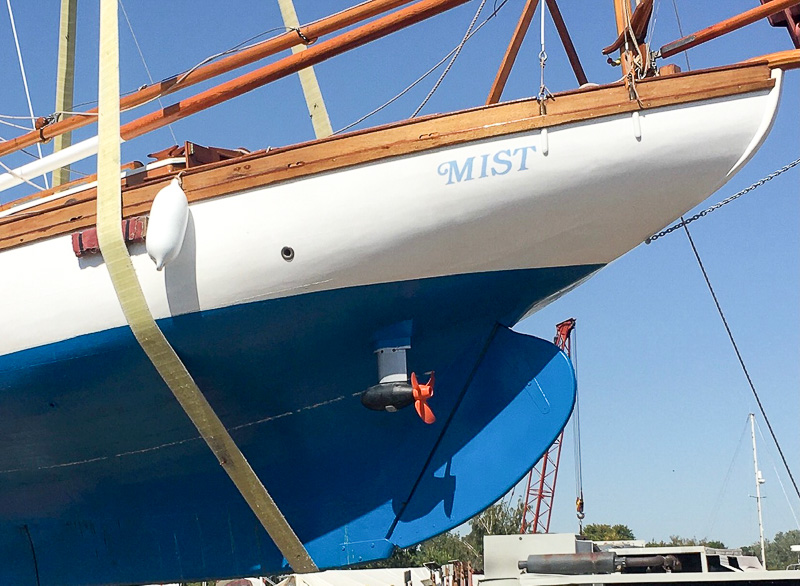 Re-launching August 2020 at Larkman's showing the pod drive
Some details. Fitted on the port quarter is a Torqeedo Cruise 4.0 FP pod drive, powered by a 48 volt lithium battery. As fitted, the rather complex Torqeedo control system provides only for recharging from a 240 volt supply. I quickly dismissed the idea of adding solar panels or a wind generator as totally inappropriate for a very small and classic boat, and eventually – in some desperation – found a second-hand Honda generator with a max output of just under 1kW. This initially appeared not to be up to the job, even though the power drawn during mains charging is only around 600 watts; two electronic input/output systems appeared to be refusing to talk to each other. Eventually, and I have no idea why, they decided to relent, and the Honda duly delivered a satisfactory charge: rather noisily, and over quite a few hours, and of course petrol-fuelled! But for a boat living on a mooring, and only when the need arises going into a marina, it is the only alternative to shore power for now.
But what about hydrogeneration I hear you thinking. The reality – and we tried it – is that it will only occur with a boat speed in excess of 4 knots; and even before reaching that speed there was a really unpleasant whining noise. For 2021 I fitted a folding propellor which will reduce drag, and is quieter, but would still seldom allow greater than 4 knots under sail for the extended period needed to deliver a meaningful battery top-up.
So what are the pros and cons generally, and specifically of this Torqeedo system? It is of course impressively quiet; not quite silent, but it emits just a gentle hum. I could easily imagine winning races without anyone knowing that a certain amount of extra push had been deployed! And when under way power can be instantly available. Further, although this unit is stated to be comparable only to a conventional 9HP diesel, there is more available torque at the lower end. Leaving the Deben this summer we were impressed with how well Mist coped with the flood tide through the Felixstowe Ferry entrance. Add to these the lack of noxious diesel fumes; the absence of worry about the cooling water outlet; the much-reduced annual maintenance cost. And not least the benefit to the environment (except perhaps for the lithium itself). What more could you wish for?
Well, the major downside is undoubtedly what I have seen described as 'range anxiety' suffered by electric car owners; but these days there are more and more charging points on land. There is no equivalent provision in the North Sea! There may with Mist be one means of recharging on board, but it doesn't appear to work for me when motoring along, so that worry persists. A lot depends on the attempted cruising speed; battery drain increases exponentially with speed, so it pays to be content with a modest rate of progress when motoring. There is of course a multi-function display, using a built-in GPS, which shows at any given moment the potential range and duration with the available battery power; but conditions can change adversely. Typically for these days there is a smartphone app, which can connect to this very small and inaccessible data display via a Torqtrac bluetooth link (an optional and expensive extra), which then repeats the data – and more – on the phone screen.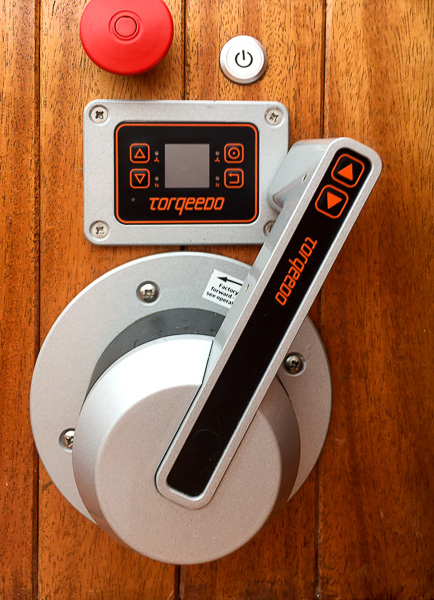 Torqeedo throttle control, display, kill switch and on/off
Otherwise; not much. There is of course the jarring note of the shiny modern throttle and display units in the cockpit; and a propshaft on the centreline would be more efficient and reliable when reversing (maybe). Finally of course they are initially quite a lot more expensive than a diesel, and the most expensive component, the lithium battery, slowly deteriorates with age. But will we not all be thinking seriously about electric as 'net zero' looms?
PS One thought which motivates my writing of this article is that there may well be someone out there with more knowledge who has helpful ideas to offer, or knows I have got something wrong. Please: add to the conversation by emailing [email protected].
Russell Read
Russell is a retired Oxford College Bursar. He has been sailing since he was 14. Upon retirement in 2001, and already a member of the Albert Strange Association, he took on the major restoration of the 1922 AS yawl Charm. Acquiring Mist in 2019 after his wife died seemed a useful distraction and a new challenge.