By Alice Thorogood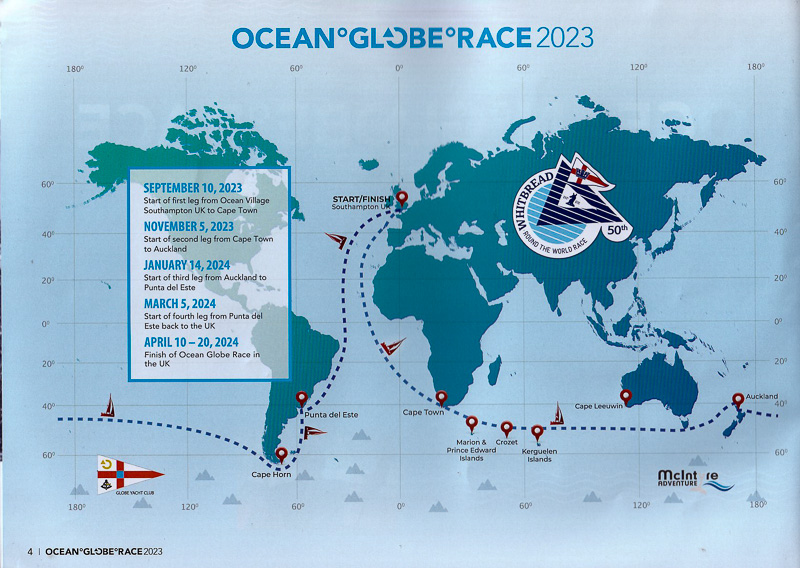 It's been a BIG summer of sailing. Every year since my three children started in Cadets there has been a BIG summer of sailing. This year we've been to Newport in Belgium for the World Championship, a long weekend back home for the Waldringfield Cadet 'Week' then a quick wash of everyone's kit before we headed off to beautiful Abersoch for the National Championship.
Sometimes I find myself asking if all this packing/unpacking and travel is worth it…
Then I see some of the wonderful things our Cadet Alumni are up to, and I know that the work we all put into Cadets – as parents or volunteers as well as sailors — is more than worth it. We are helping to develop resilient, capable young people who will go on to achieve different successes in the future.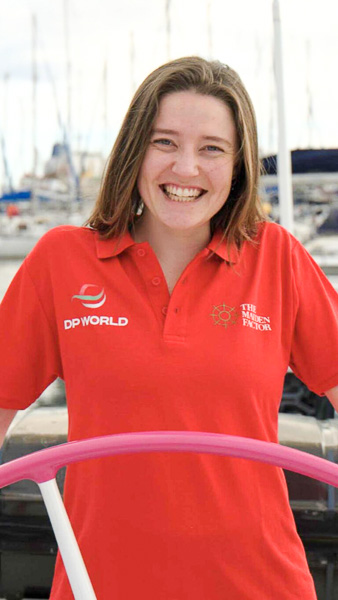 It was a real honour to take a break from the crazy whirlwind of The Nationals and talk to an inspirational ex-Cadet sailor who embodies more that we might have dreamed of. Willow Bland is about to take part in the Ocean Globe Race as part of the crew of Tracy Edwards' boat Maiden. You'll have heard of Maiden. She's the boat that took Tracy Edwards and the first all-female crew – EVER — round the world in the 1989-90 Whitbread race. Yachting journalists were unbelievably rude about their chances then. Plenty of people thought it was all a gimmick and the women wouldn't even make it across the Bay of Biscay.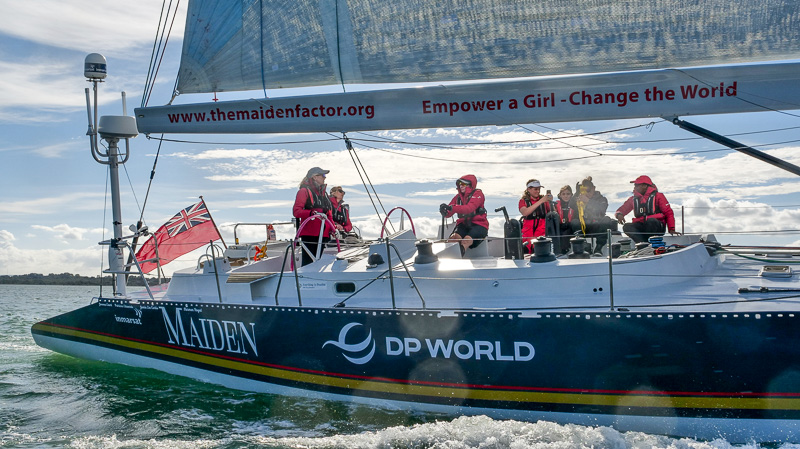 But they did and then they won the second and third legs in their class, coming second overall. When they got back to Southampton Water, eight months later, hundreds of boats came out to greet them and hundreds of thousands of people cheered them home. If you've never watched the Netflix film, please do — it brought tears to my eyes.
But that was before Willow Bland and most members of today's crew of young women were even born. Maiden had a chequered career after the race – sold, used, abandoned, rescued, restored – repurposed. Today she spearheads a campaign for girls' education across the globe. 'Educate a girl – and you'll change the world' is her message. But she's still a racer at heart and is about to take her last trip around the world, competing in the 50th anniversary edition of the first Whitbread Round the World Race in 1973. Today it's called the Ocean Globe Race and will leave Southampton on September 19th 2023.
She's the only UK entry and, in true Maiden style, the crew is not only all female, but is also the most diverse group of sailors the race has ever seen. Willow will join a team of sailors from India, South Africa, Afghanistan, USA, Puerto Rico, Italy, Antigua – as well as Great Britain. If they succeed and return safely to Southampton next April, they will be the most diverse crew to ever race around the world. Tracy Edwards's vision is that young women from all the world continents will be able to look at one or other member of the Maiden team 'and see herself there'.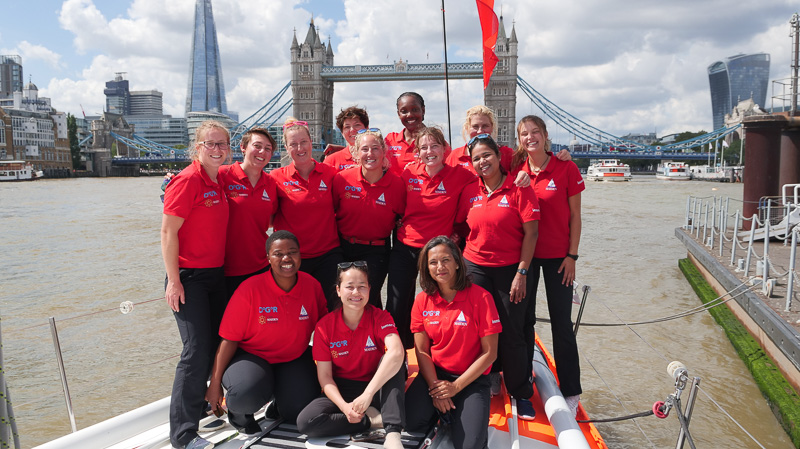 And that means that my Suffolk children and their Cadet sailing friends can look qt Willow Bland on board Maiden – and wonder what they might achieve one day.
But for Willow and her shipmates, the challenge is just beginning. Make no mistake, these sailors have been selected based on their skill and personal qualities. They are not tokens. Just as she was in 1989/90, Maiden is in the race to win. She's not an inclusivity symbol — inclusivity is part of her strength.
I'm grateful to Willow for taking time away from stripping down, lubricating and reassembling Maiden's winches to tell me a little more about herself and her career as a sailor to date. I started by asking which of the skills she learnt whilst sailing her Cadet at Waldringfield, have transferred across to other racing boats?
'All of my skills,' came the answer. 'My Cadet grounding has given me so much in terms of technical set up, that teamed with the high level, competitive racing. The way you set up your boat can win or lose a race. It's the same on Maiden.'
Willow says the teamwork you learn from Cadets, and the training from Cadet gurus, like Mike McNamara, has been second to none. 'I learnt so much about balancing the boat, I've never had a coach like him.'
As I listen to Willow reminisce, I do begin to develop the sneaky suspicion that her journey from crewing her Cadet as a 6 year old and 'singing songs right at the back of the fleet on a Saturday' to being selected to join Maiden in the OGR 2023, must also have something to do with how hard this impressive sailor has worked at her career.
From the singing 6-year old at the back of the fleet, Willow decisively came to the front. She finished her time with the Cadets in 2014, scoring the highest points in that year's circuit, with her sister Cara, in their boat The Great Escape, Willow, like many of our graduate Cadets, then moved onto 420's where she became Female National Champion. Describing herself as 'ultra-competitive' by this time, she got properly stuck into Team Racing at Exeter University. But it was sailing on board Nick Angel's 40 J121 Rock Lobster, competing in offshore series and the Fastnet Race, that really moved her on and gave her a passion for yacht sailing. I sat, somewhat dry-mouthed, listening as she casually described finding a fault with boat while out to sea, a fault which sent them limping into port taking on water.
It got me thinking about the shear level of resilience the sailors in the OGR will have to muster. There are 4 legs in total; Southampton to Cape Town; Cape Town to Auckland via Australia's Cape Leeuwin; then from Auckland round Cape Horn and north again to Punta Del Este in Uruguay, before the final leg which should bring them back to Southampton in April 2024.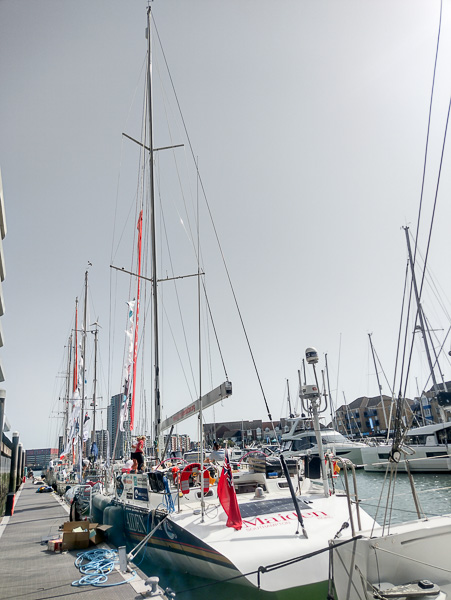 Eight months away! I asked Willow how her parents were feeling. 'My mother keeps telling me that I don't have to do it. But they're very supportive really.'
As a Cadet mother I know that mix of emotion. You send your child out to race – into the North Sea maybe – in foul weather conditions, possibly on a day you wouldn't even have sent then to school. But you do it – and they do it – because it's what they've told you that it's what they really want to do and you understand that these are the challenges that make them grow.
The additional complication for Willow and her contemporaries on board Maiden is that they're being told to 'Sail like it's 1973'. The OGR is retro sailing — if they didn't have it 50 years ago, you can't have it now. No GPS, no AIS, no sat phones, no internet-based weather routing, no mobile phones – no Spotify! Willow's friends have made her a cassette that they hope will keep her happy in those tired, off-watch periods.
I am so blown away by this endeavour that I don't know where to start. Willow is about to embark on an adventure that few of us can imagine. Conditions on Maiden are spartan, but team-spirit and mutual support are strong. Each boat in the race has its own ethos and own story but for me Maiden has the capacity to inspire – and I am so so proud that Willow, a young woman from our own River Deben, is a dedicated, vibrant part of this. Next time I grumble about the wetsuits in the washing machine, the kit littered across the kitchen floor and the prospect of another early morning spent packing up and setting out as a family to our next Cadet event, I'll think of Maiden and her crew, wherever in the world they are. And I hope that many other people around Suffolk and the Deben – and the UK as a whole –feel the same massive pride as I do when I think of Willow and her shipmates, daring the challenges of the world's great oceans.
As shore-dwellers are not banned from using 21st century technology, you can follow the progress of the Ocean Globe race, from Sept 10th 2023 via the website https://oceangloberace.com and other platforms.
Alice Thorogood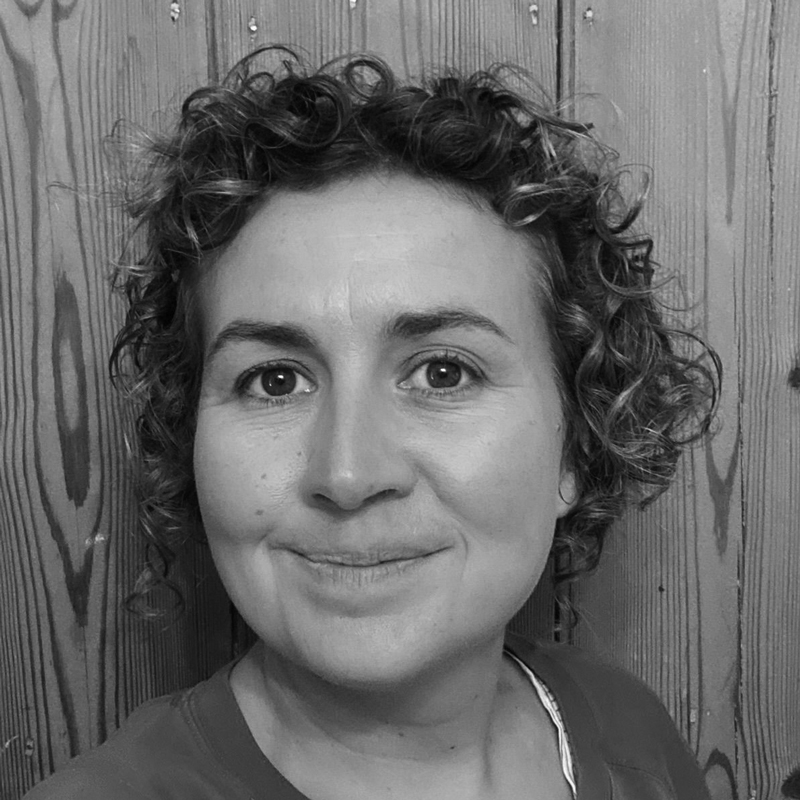 RDA member Alice Thorogood is the Safeguarding and Welfare officer for GBR Cadet Sailing (cadetclass.org.uk). She has three children currently in the Cadet squad at Waldringfield Sailing Club. Next summer Alice will be part of the volunteer team organising the 2024 Cadet World Championships in Plymouth.