by Julia Jones
I was sitting on a bench overlooking Suffolk Yacht Harbour at Levington and the River Orwell beyond. It was a lovely afternoon with a breeze just getting up and some classic sailing vessels on the river, contrasting with the more modern yachts moored near me and the towering cranes of Port of Felixstowe downriver. I was trying to explain to a friendly cameraman the ways in which I felt there had been such a profound shift in Britain's attitude to her maritime heritage during my lifetime. His name's Jon Swallow and he's volunteered to come and record some of the sessions at the forthcoming Suffolk and the Sea Day (Felixstowe Book Festival 'fringe' sessions at Trimley St Mary, June 25th). We had met to discuss developing the 5th session, entitled You Too Can Go To Sea, into a film which the organisations supporting Suffolk and the Sea day could send out to schools, youth organisations, clubs, support groups. It would aim to explain that sailing and sea faring is not an exclusive activity but can be enjoyed at many levels. We want to kindle an interest and excitement in sea-going opportunities, remind people that we are not only land dwellers.
You Too Can Go To Sea is a project being led by the Nancy Blackett Trust. Though Arthur Ransome's 'Good Little Ship' makes her summer home on the Orwell, she has a definite stake in the Deben too. Arthur Ransome brought her here in 1937, meeting friends in Waldringfield and using the services of the Nunn brothers' boatyard. Later in Nancy Blackett's life Woodbridge resident Mike Rines played a key part in her salvage and restoration – it's unlikely she would have survived if it weren't for him. Then, 25 years ago this month, she was acquired by the newly formed Nancy Blackett Trust, the brainchild of RDA member Peter Willis, then Deputy Editor of Classic Boat magazine and a member of the Arthur Ransome Society. Like a migrating bird, Nancy now winters on the Deben in the care of Robertson's Boatyard.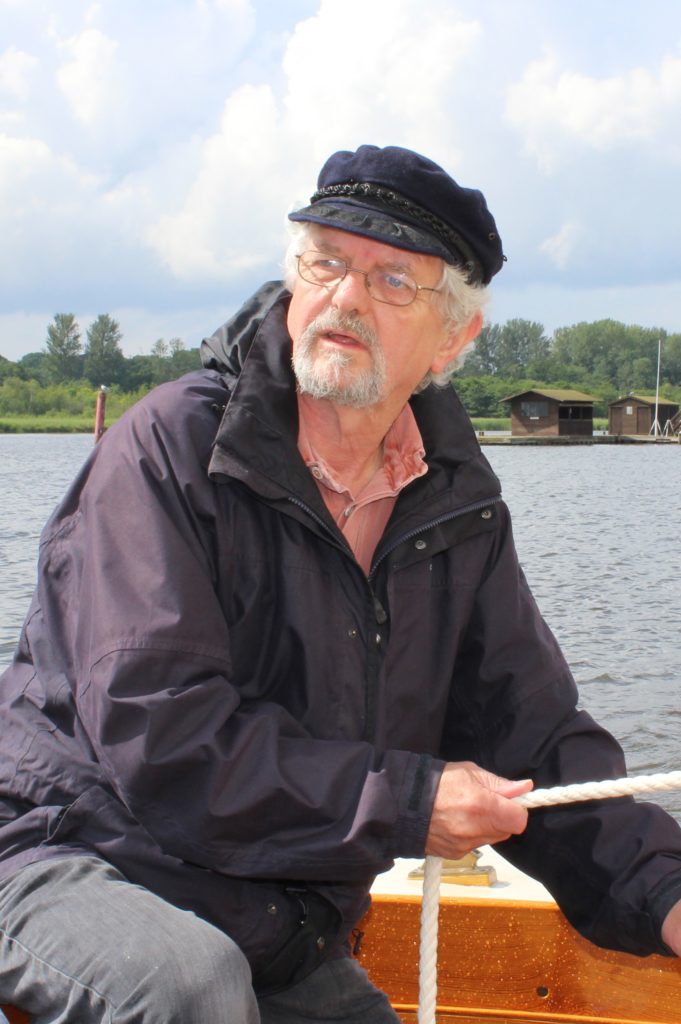 Peter Willis sailing Nancy Blackett.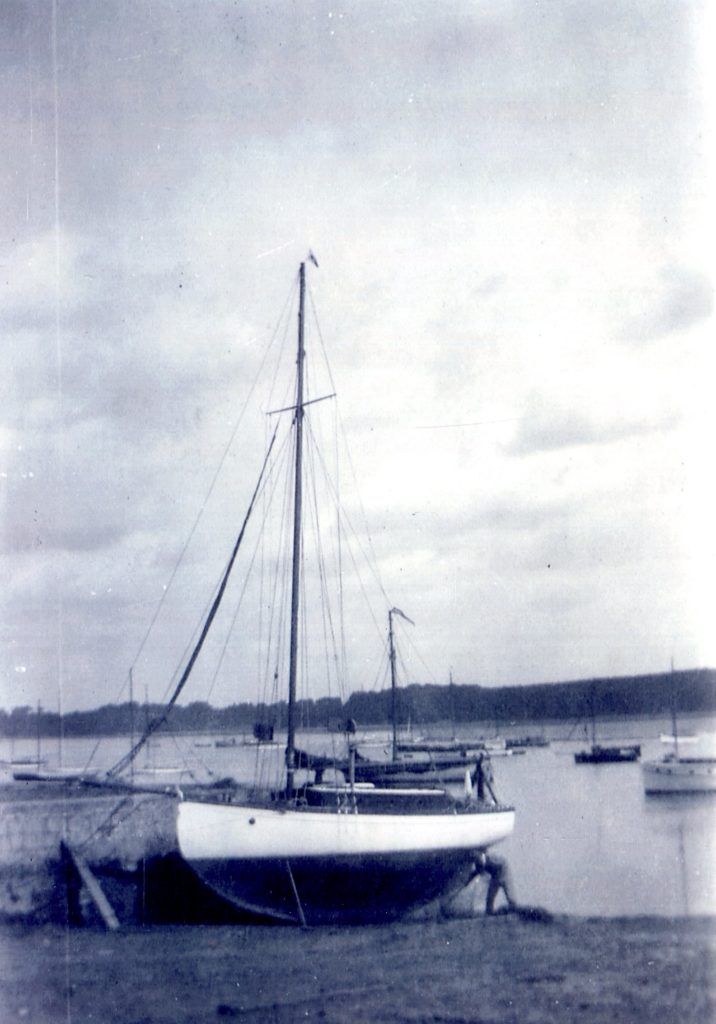 Arthur Ransome and Nancy Blackett in Waldringfield in 1937.
As I sat with Jon Swallow I tried to explain why I consider the 'Good Little Ship' to be such an extraordinary mediator between imagination and reality and why, even if her current difficulties prevent her attending in person on June 25th, she remains at the project's heart. Arthur Ransome was living at Broke House, Levington and owning Nancy when he wrote the book many people consider his masterpiece We Didn't Mean to Go to Sea. 'Goblin' as everyone knows IS Nancy and it's marvellous that readers, as well as sailors, can go on board and touch the very fabric of the vessel that has transported them across the sea in their imagination. She also offers her NBT members the opportunity to go sailing at a very low cost and she is ready to support young people's individual self-development projects where she can.
Richard Woodman, an Elder Brother of Trinity House and one of the main speakers at the Suffolk and the Sea event, will testify as to the transformative effect of Arthur Ransome's books on his early life. He was a North London 12-year-old, far from the sea, when he first read We Didn't Mean to Go to Sea and Secret Water. The Sea Scouts made it possible for him to take the next steps towards realising his dreams, as perhaps they and the Sea Cadets still do today. People like River Deben Association member Peter King put a large amount of time into supporting the Sea Cadets as others, like RDA's Sam and Emma Jennings do for the Sea Scouts. But is this enough to keep the sea and sailing available to our children – particularly those whose parents (like Woodman's) do not have the 'habit of the sea' themselves? Felixstowe Ferry Sailing Club's Jubilee weekend taster sail offer was blown out by the weather: at Waldringfield the Cadet Squad has been running a development programme which I hope we'll hear more about; Woodbridge Cruising Club offers crewing opportunities to members who don't own their own boats; the Deben Yacht Club offers encouragement to young sailors but sometimes feels discouraged by lack of take-up. Is there something in our national attitude to the sea that has changed?
One of the outcomes I would like to achieve from the forthcoming Suffolk and the Sea Day is that we encourage each other to continue to find ways for people to get afloat even when circumstances are against them. Julia Dansie wrote a lovely article in the recent Deben magazine describing the work of the Woolverstone project and what a difference the freedom of a sailing dinghy could bring to the lives of people who are handicapped by their bodies. At the Suffolk and the Sea Day I'm looking forward to hearing Simon Daws, accompanied by his guide dog, talk about continuing to go sailing even when severely visually impaired. This may be one of the most effective uses of modern adaptive technology.
Sometimes handicaps can be in the mind – Leonie Back of the Cirdan Siling Trust will be talking about the role of Duet, the UK's longest serving sail training vessel, taking people outside their normal lives, whether they have emotional or financial difficulty and offering them an alternative perspective. Duet is still owed by the Courtauld family – Elizabeth Courtauld, widow of the philanthropic Rev Christopher Courtauld, lives in the very same house where Ransome wrote We Didn't Mean to Go to Sea. They continue to support Duet's use by the Cirdan Trust to give others the chance to develop the same spirit of adventure which took August Courtauld to explore the Greenland icecap more than 90 years ago. Duet will be celebrating her 110th birthday in the Suffolk Yacht harbour during the book festival weekend. Between 11 – 2 on Sunday she'll be taking her own family sailing – including Augustine's great grandchildren. Outside that time she is open to visitors all day on both Saturday and Sunday. Please do come and visit her. You are welcome just to sit on board and be quiet, if that's what you need.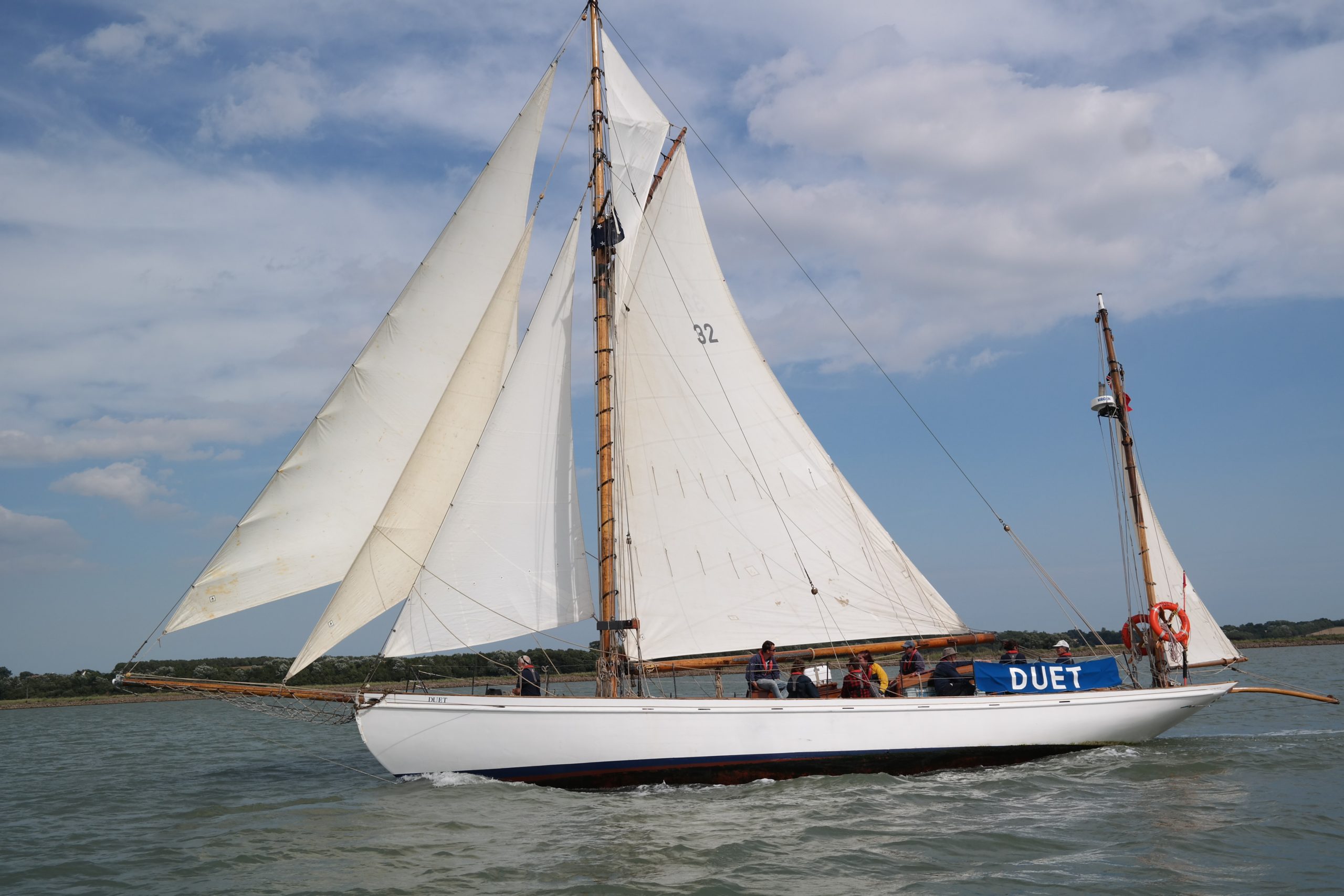 Duet, the UK's longest serving sail training vessel.
For RDA members who like to walk – Trimley Parish Council members have drawn up a foot path map that leads through the nature reserve from the marina to the arts festival, much of it beside the River Orwell and Loompit Lake.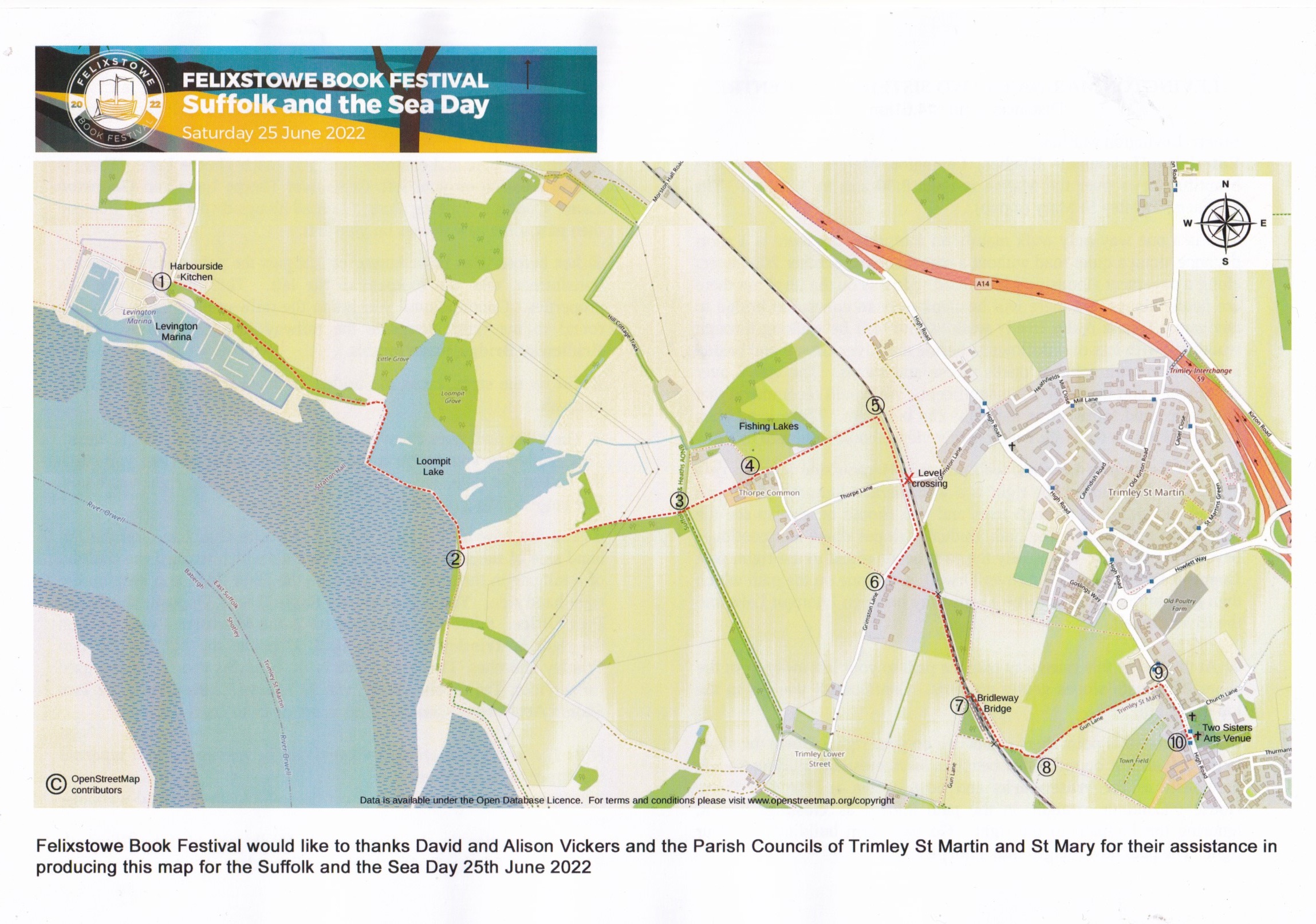 Map of the way between Suffolk Yacht Harbour and the festival.
The sea can be part of our mindset. Glenys Newton will come to tell stories of its healing power and the joy of swimming. In the previous Journal article RDA's Claudia Myatt suggested we could rethink our approach to the sea: "We treat the coast now as the place where our country ends. The coastline is a border and the sea is the damp no-man's land between us and somewhere else. But what if we change that thinking to the way the Anglo-Saxons would have seen it – that the sea connects rather than divides us." This thought will be taken up in her conversation with Jane Russell, author and editor of pilot books as well as a person who has sailed round the world. Jane had hoped to bring her own Tinfish II into the yacht harbour so that book festival attendees can come and see how a long distance cruising yacht is set up to travel out of sight of land for days or even weeks. If Tinfish can't be there she'll ask another cruising sailor to open their yacht for viewing. Their session will be chaired by RDA member Nick Cottam, author of Life on the Deben and Walks by the Deben.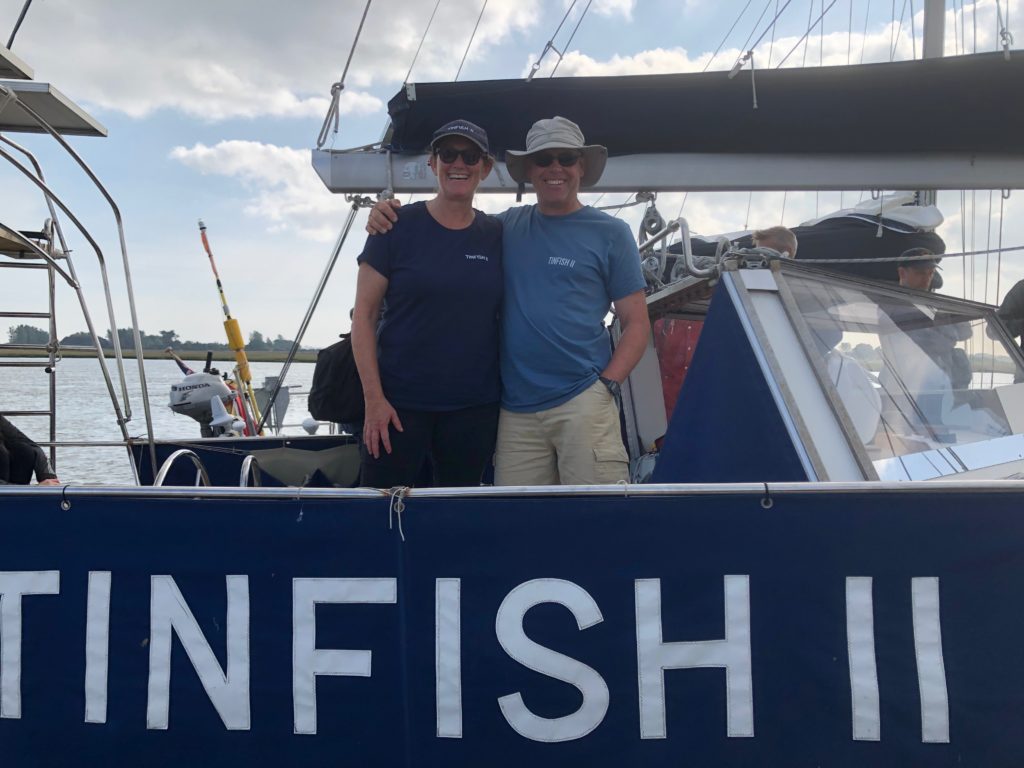 Jane and David Russell aboard Tinfish II.
Claudia's article contained an additional insight, explaining why the Suffolk rivers are rich in Anglo-Saxon and other early artefacts. "As every sailor knows (especially sailors without engines), rivers and estuaries make the difference between an approachable and a dangerous coast." The River Deben still offers sailors a place of safety – once you have negotiated the bar. RDA member Peter Wain, historian of the lost port of Goseford will be introducing a conversation between Juliet Blaxland, whose home further up the coast at Benacre was lost to the sea and RDA President Robert Simper, who has a lifetime of observing coastal change – both in the shifting shape of the shoreline and in the way we use the freedom and the challenge of the sea.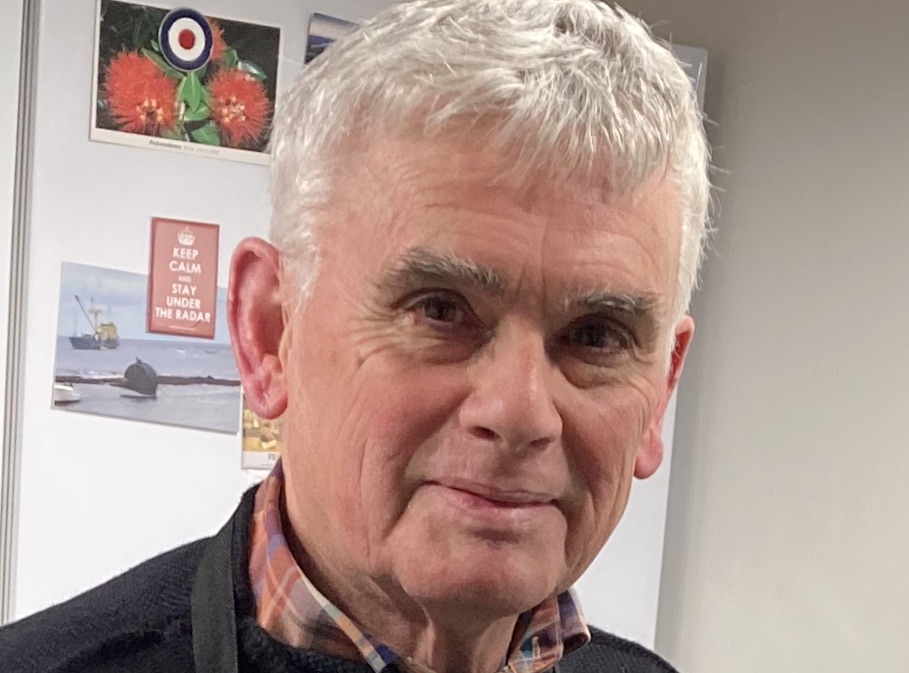 Local historian Peter Wain.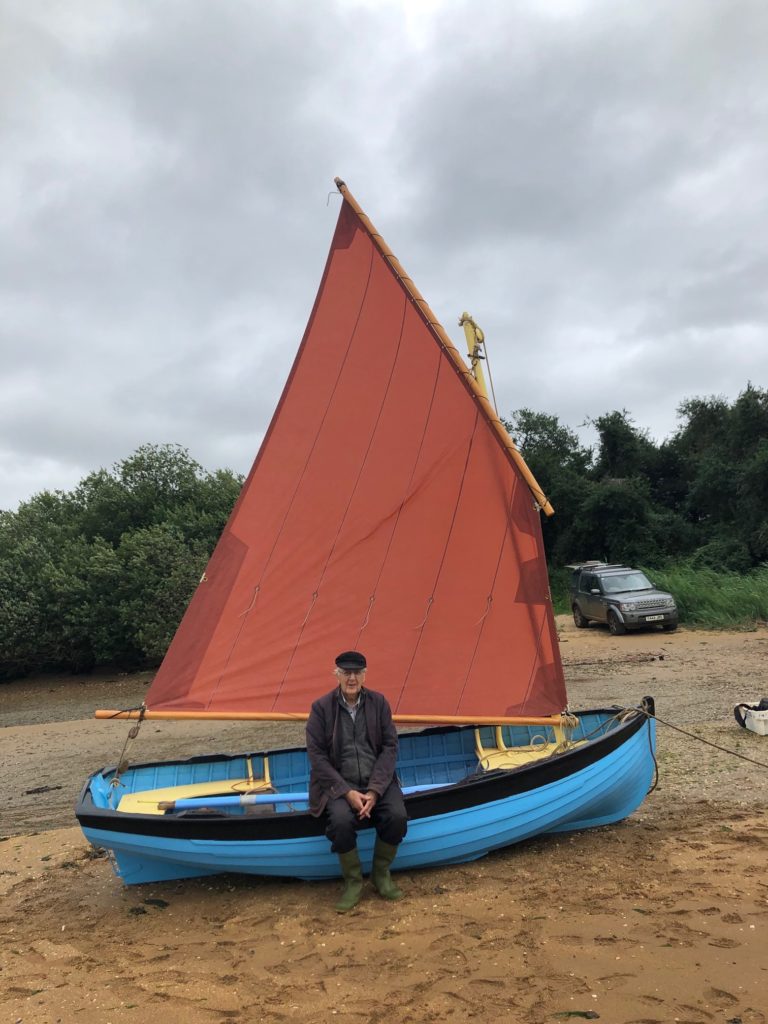 Robert Simper at the Rocks.
Our use of the sea in Suffolk has changed in some ways that are beyond our power to alter. When keen sea scout Richard Woodman failed most of his school certificate exams in the late 1950s he was able to apply for a merchant navy apprenticeship. The ship owners wanted different qualities from the academic examiners and, once he was accepted, it seemed there was a lifetime career ahead. Woodman set out, aged 16, as part of Britain's global trading fleet. 'As a teenager I'd been round the world before I was legally able to enter a pub.'
I looked down river to the Port of Felixstowe – 'That's what's changed,' I said to Jon Swallow. 'We still bring 90% of everything into our country by sea but it comes packed into thousands of containers on a small number of huge, highly automated ships. Those merchant navy careers have almost entirely gone and corresponding changes in the Royal Navy mean that careers there are also very limited.'
So what has taken their place? Perhaps it's symbolic that the area across the River Orwell that would have been HMS Ganges playing fields is now Shotley Marina. Our relationship with the sea has changed and become more personal, more leisure orientated. But it's still there, it still matters. There are perhaps MORE chances for individuals to experience the unique pleasures of the water and to look away from life on land, to look outwards. My contribution to the Suffolk and the Sea Day will be to talk about the way amateur sailors – the Yachtsmen Volunteers of the RNVSR – came forward to serve in the WW2 emergency. We trust that will never be needed again. It's an indication however of the way in which personal qualities of careful risk-taking, individual responsibility and thoughtful adventurousness can have unexpected value. Those are the qualities that sail-training organisations like the Cirdan Trust and the Arthur Ransome literary heritage try to develop in people.
It's a matter of attitude. Part of my reason for writing this article is to thank the RDA Committee for deciding to support the event by attending and bringing a stand. I will try to find ways that RDA members who attend can have a book discount. But meanwhile perhaps we can agree on a message that the sea and rivers that help make Suffolk such a beautiful place are there for us all, for our sport and adventure, for our livelihood and for our mental well-being. You Too Can Go To Sea.
Julia Jones
Julia Jones is the editor of the RDA publications. Her family yacht Peter Duck will be attending the Suffolk and the Sea Day and will welcome visitors in Suffolk Yacht Harbour.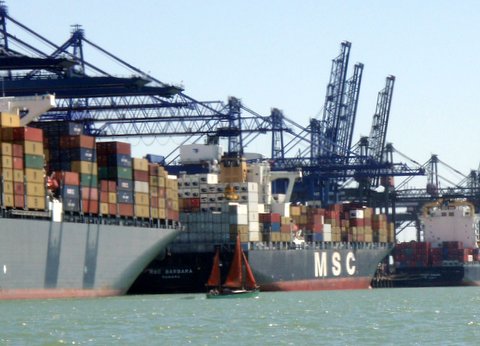 Peter Duck at Felixstowe.