by Frank Thorogood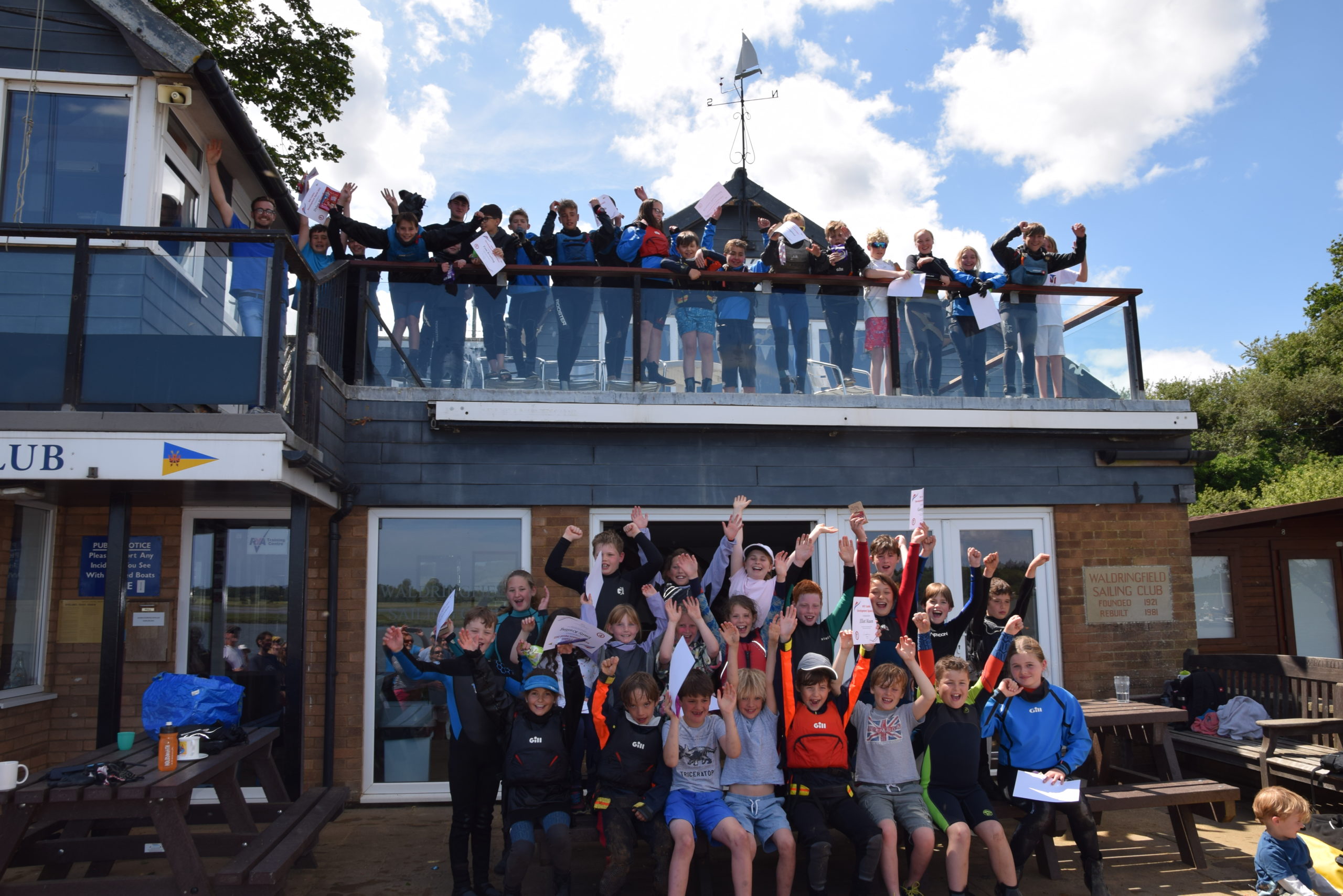 The Waldringfield Sailing Club Cadet Squadron has long been a source of pride for the river. As well as giving a lot of young people a great deal of fun over the 70+ years of its existence, it has also launched many into lifelong sailing careers and underpinned success for some at international level. Former Waldringfield Cadet sailor Daisy Collingridge is currently part of the British Olympic squad sailing a Laser Radial. Six of the ten boats who will be competing in the Cadet World Championships in Australia this winter will be from Waldringfield.
Cadet sailing is age-dependent. Its essential feature is two young people sailing together: a 'helm', typically aged 12-17, and a 'crew' who may be as young as 7. It's obviously important to keep the youngest children coming in but also to support the transition period between crew and helm. Here, RDA and WSC member Frank Thorogood describes the Cadet Development Squad programme, which was conceived as a response to the impact of the pandemic on this process, and which has also succeeded in reaching out to a group of new sailors and bringing them in to the Cadet 'family'.
The pandemic only saw relatively short periods of the cadet sailors at WSC being completely kept off the water. With a mix of single handing, sibling sailing and "Better than Nothing" racing we kept going whenever the rules allowed and had some great competitions along the way. The 2021 Nationals in Brixham got by with minimal covid impact and will be long remembered by everyone there, especially for the two days of big wave sailing when easterlies piled into Tor Bay.
Its major impact was a lack of new members into the squadron. With long-term planning impossible and all social interaction imbued with nervousness, we found it difficult to organise opportunities to put new pairings in the little boats.
To repair this deficiency, and to put a long-term feeder system in place for the squadron, 2022 saw the first Cadet Development Squad.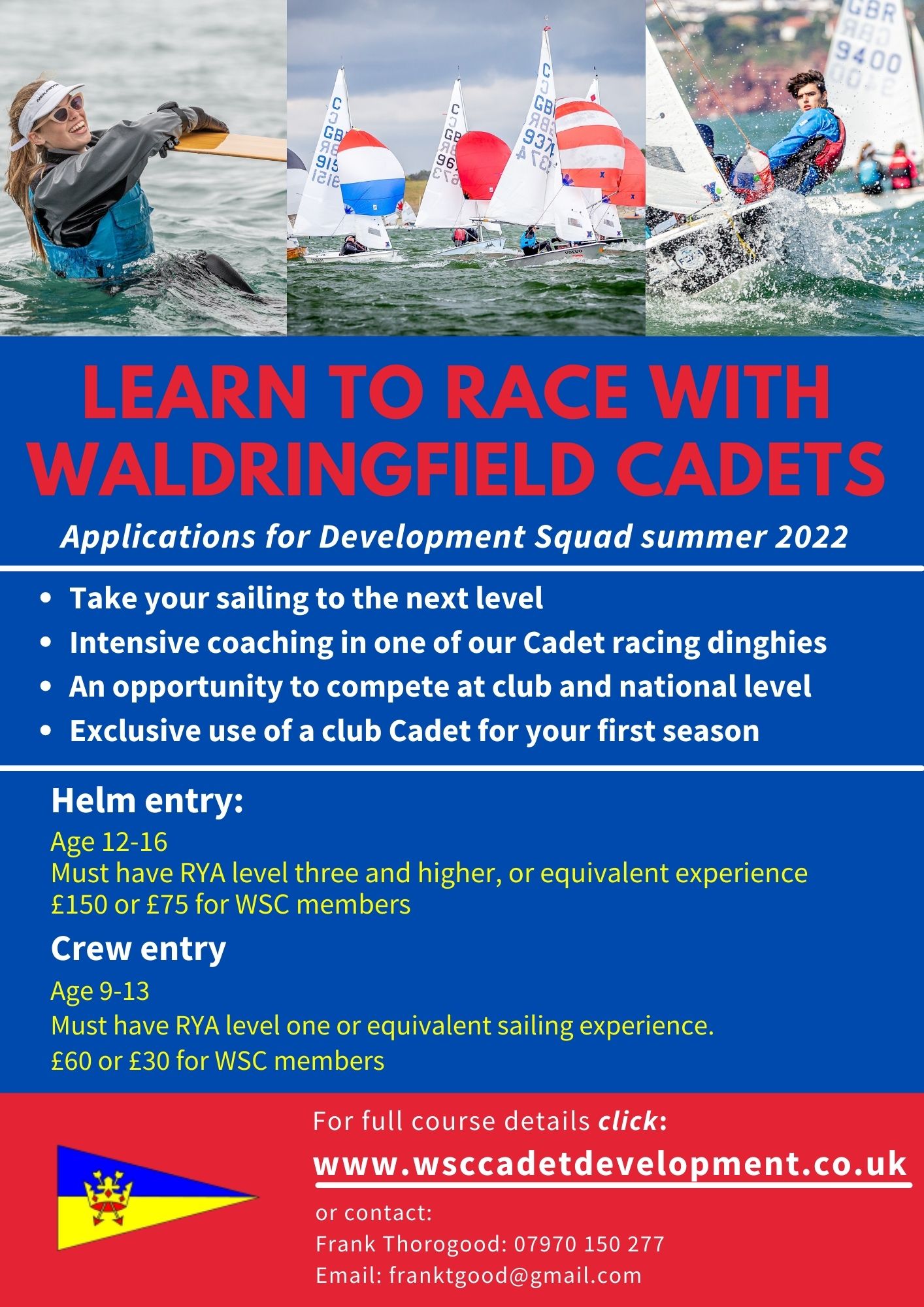 The idea was to pair up new helms and crews, to improve those who already had some experience and introduce newcomers into the joys of cadet sailing.
Recruitment began around Christmas 2021, and the squad took shape pretty quickly. The first to sign up were those coming to the end of their crewing careers in cadets and looking to take responsibility as helms. As it happened this was a big constituency for the year, with 10 helms signing up who already had decent knowledge of cadets and in most cases already had their own boats.
There was also a sizable bulge of WSC member's children ready to start their sailing careers. Before long we were looking at a squad of 12 boats, and as word spread in the local area we picked up non-members as both helm and crew, and we finally declared entry closed at 21 fully manned boats!
This stretched the squadron's resource of training boats. First job was to update the current fleet, and we are indebted to WSC member Simon O'Hara who spent many hours cleaning, polishing, repairing and strengthening boats that had been carrying battle scars for a few years. Add to that some hasty purchases, some kind lends and a donation of a second hand cadet as a bequest from the family of Roger Johnstone, and we were up to strength with 11 squadron owned boats.
A shore based session in April went well with a hoist / gybe / drop competition and welcome from former Olympic coach Corky Rhodes, who designed the programme. The first training session proper was still a nervous time, not helped by a flat calm descending just at launch time.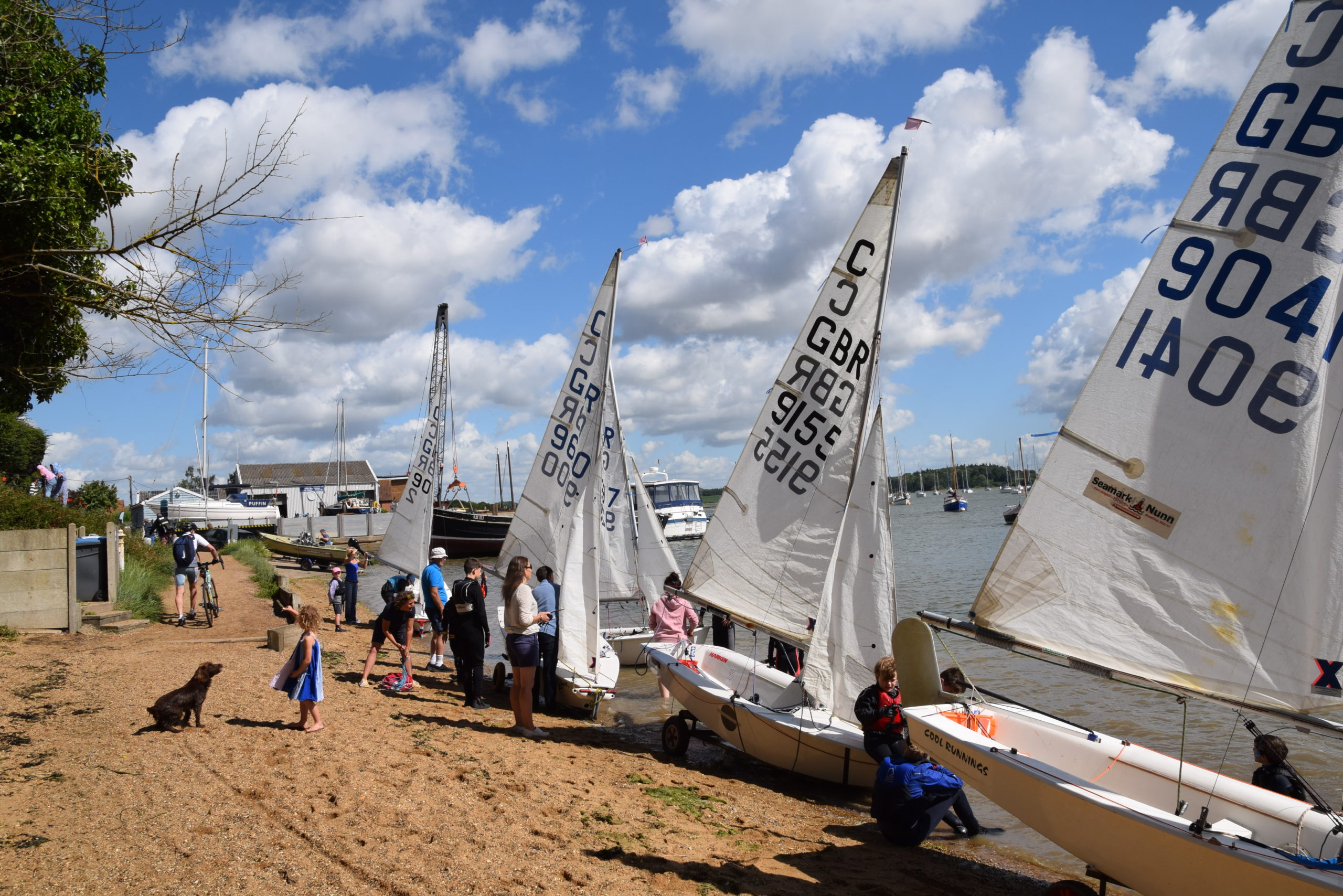 We pushed out anyway, and for a while it looked as though someone had exploded a cadet bomb in the middle of the moorings. All the finely worked out and described exercises we had in mind seemed pie in the sky as we towed, ushered and encouraged the boats to their sailing areas. Some decent puffs finally saw the boats moving and the experienced guys settling into their work, while the beginners got to grips with hiking, gybing and setting the spinnaker.
Despite the conditions everyone came off the water with a smile on their face. Some of the hardier souls then joined the club racing which took place in a gallingly perfect sea breeze.
That day set the tone for most of the training sessions: chaotic moments, such as a cadet losing its self-bailer and starting to sink, alternating looks of terror and elation crossing the sailor's faces, and underpinning it all solid progress from everyone on the programme.
So it progressed across 8 weeks in May and June. One weekend saw a contingent head to Grafham Water for the regional RYA event, with development squad sailors winning the regatta fleet and one pairing performing brilliantly against the experienced cadet sailors in the main fleet.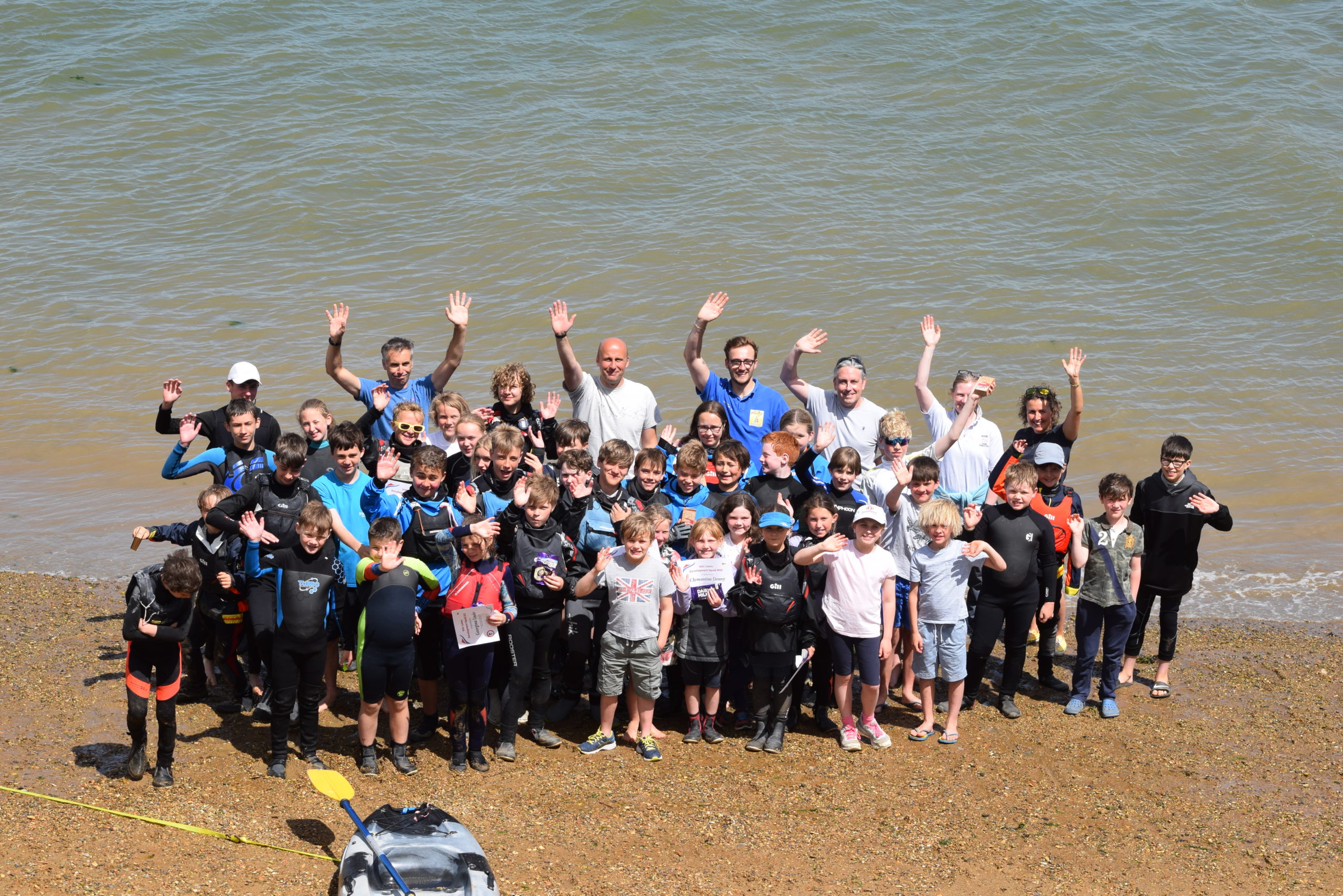 As well as lead coach Alex Page, himself an ex-cadet, and plenty of parent coaches, we relied heavily on current senior cadet helms to interrupt their GCSE revision and pass on their knowledge. Their expertise and kindness made all the difference to some of the squad members.
The final weekend of 25th and 26th of June included Saturday morning training and a Sunday regatta to finish the programme.
Hourly refreshes of the "Windy" app had failed to bring the wind down any lower than 13kn gusting 26kn. All 21 boats launched into this on Sunday morning, but the wind quickly built and unfortunately the silver fleet had to return to base for safety reasons. Their first race had in fact started, and the leading four boats, all sailing nicely in the strong wind, were given a finish on the water.
The gold fleet, whose helms has all seen these conditions and worse during their crewing careers, carried on regardless and finished four races in absolute glamour conditions. Sunny, warm and blowing hard while they zipped round the course, and if there were a few capsizes along the way that just added to the drama.
For everyone in the fleet to launch and recover in those conditions after such a short period of training should make them all immensely proud. The sense of accomplishment in all the sailors and parents was clear during the prize giving, barbecue and socialising that finished the course for 2022.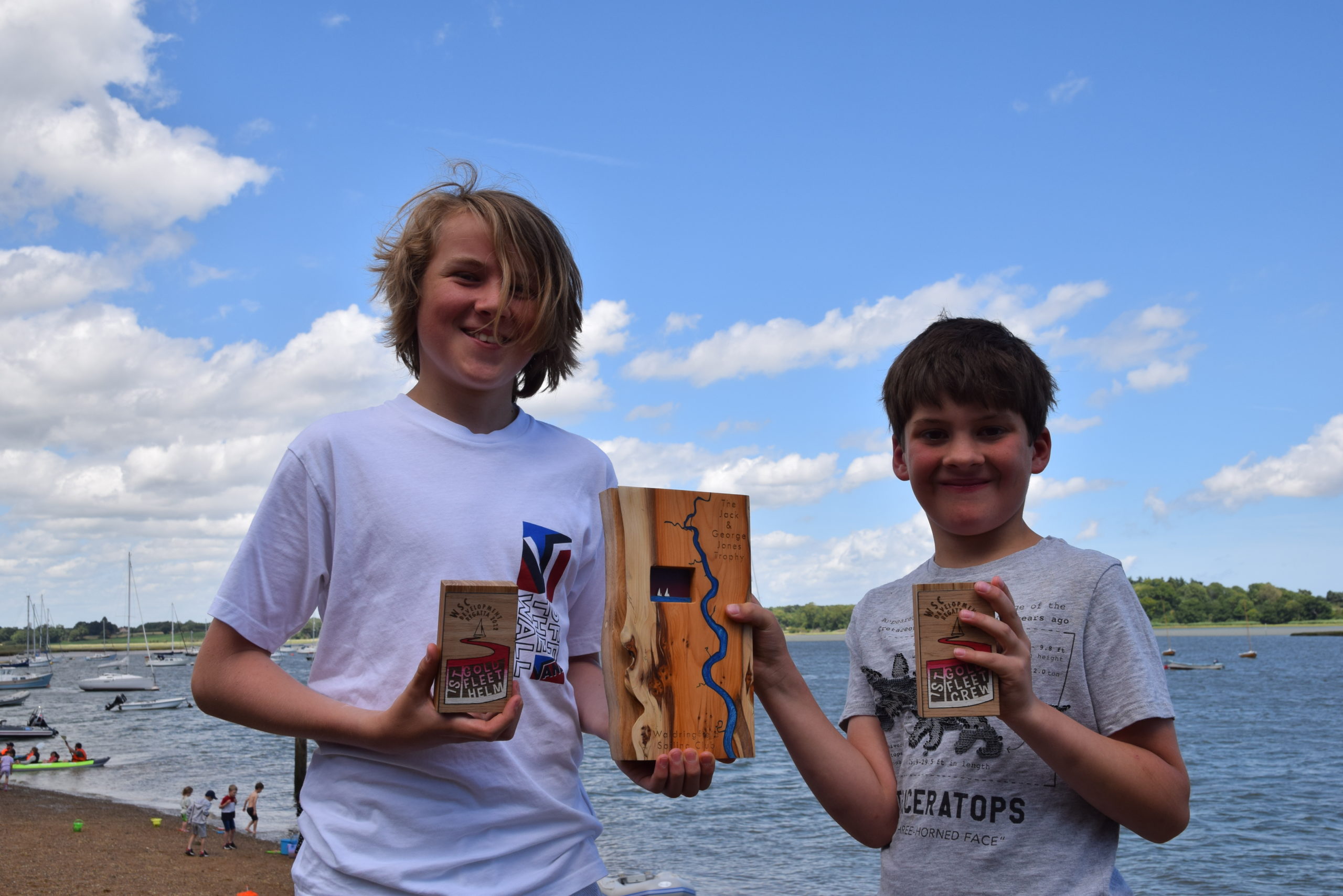 Gold fleet champions Alex Enkle (helm, left) and Isaac Patten (crew, right).
The WSC cadets have many adventures ahead of them before next summer, including National and European Championships in Torquay, and for some the World Champs in Australia. Following all that, the development squad will be back next year to keep progressing this cohort and to start a new bunch of children on their sailing journeys.
For anyone interested in joining next year please contact [email protected].
Frank Thorogood
Frank Thorogood is a member of WSC and has three children currently sailing in the cadet squadron there.